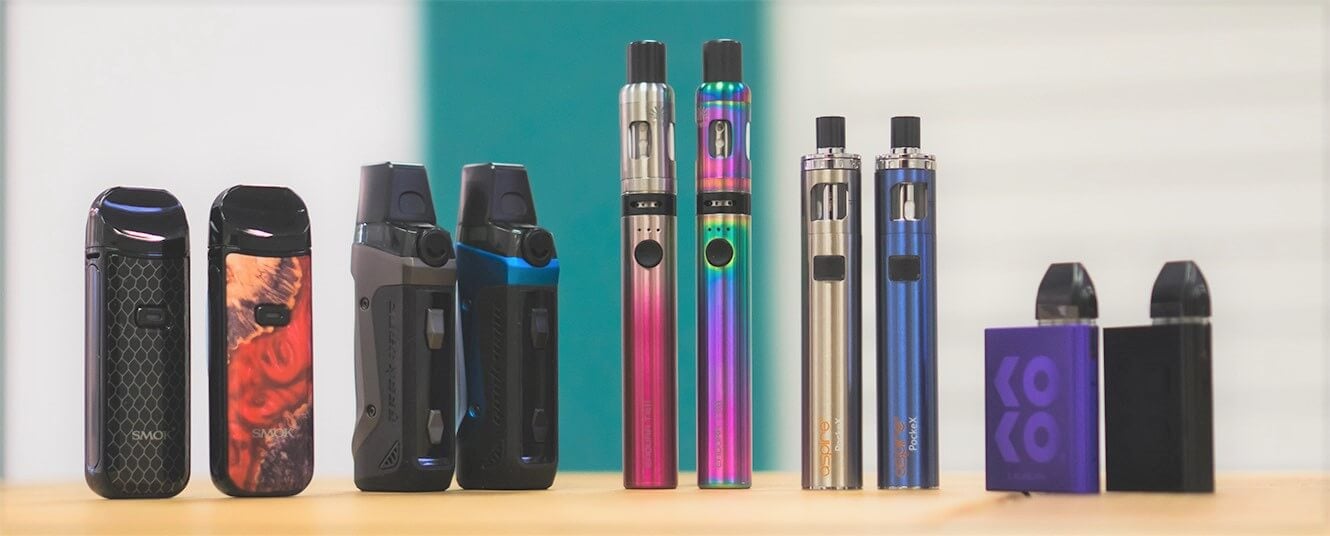 What are they and how do they work?
The enormous variety of e-cigarettes and vape kits available today can be both exciting and overwhelming to the uninitiated. There are hundreds of different brands and countless weird and wonderful flavours to choose from (raspberry sorbet, anyone?).
The vaping industry has enjoyed phenomenal growth since the first electronic cigarette as we know it was invented in back in 2003. Before we examine modern vapes in detail and look forward to where the industry might be headed, let's take a quick peek back at the history of the e-cig.
Vaping: a brief history
Fast forward to the 1980s and there were a few more attempts at electronic cigarettes: Jed Rose, the inventor of the nicotine patch, tinkered with something that he called 'distilled smoke' in his laboratory, but his vaping prototype was just too advanced for its day. During the same decade Phil Ray (best known as the father of the microprocessor) and Norman Jacobsen worked together to commercialise the concept of e-cigs, developing a way to inhale nicotine without combustion in the form of nicotine-soaked paper. Although their invention didn't take off, they did coin the term 'vaping'.
In 2001, enter Hon Lik, a Chinese pharmacist who was spurred on by his father's death from lung cancer to invent the modern e-cigarette that we recognise today. After experimenting with various liquids and vaporising systems to find one that would best emulate the sensation of inhaling tobacco smoke, in 2003 he landed on propylene glycol. Paired with vegetable glycerine his discovery remains one of the key e-liquid ingredients used today. He founded a company Ruyan ('like smoke') and manufactured the first electronic cigarette there in 2004. And thus, the vaping industry was born.
Choosing your vaping device
Starter vape kits
Starter devices are designed to make the transition from smoking to vaping as easy as possible. In the box you will find your new rechargeable device, a charger cable, pod or tank with coil and mouthpiece plus instructions, and some come with e-liquids to try. Simple to use, they are usually compact and small for easy transportation and are often less expensive than other vaping devices. Starter kits are usually designed for mouth-to-lung vaping and can be divided into the following categories:
Prefilled pod vape kits
Prefilled pod vape kits are an easy to use, compact option that are ideal for new vapers who are looking for a straight-forward way to get into vaping. There is no need to change the coil or refill with e-liquid with these devices, as the pods are purchased prefilled with e-liquid and can be clicked into place and used straight away. Once a pod is empty, just remove it and replace it with a fresh one.
There is usually a range of prefilled pods available in a variety of different flavours and sometimes even different nicotine strengths.
Refillable pod vape kits
Refillable pod vape kits offer the compact and convenient size of a pod kit, but allow you to choose the specific flavour and strength e-liquid you prefer and refill your pod as needed. This allows you to choose from the wide range of e-liquids available that suit your device, offering a wider range of flavours and nicotine strengths. The pods can be refilled multiple times before they need to be changed, offering a more economical pod kit option.
Vape pens and all-in-one vape kits
Vape pens are sleek, rechargeable battery powered devices. Discreet and fuss-free, they are very popular with first-time vapers making the switch. They are cylindrical and pocket-sized; some are button activated, others you simply draw on to activate. All-in-one kits come with a tank or pod that's specifically designed for use only with that particular device. These are popular with smokers starting out on their vaping journey as they are hassle free and usually come in simple one- or two-piece designs.
Sub-ohm vape kits
Advanced vape kits
Advanced vape kits are usually larger sub-ohm devices that offer more power output, greater battery capacity and greater choice for a more personalised vaping experience (adjustable power and airflow settings, temperature control and multiple functions).
These devices are ergonomically designed – often with beautiful tanks featuring complex multi-atomiser coil heads – and are satisfying to hold; they are popular with seasoned vapers who enjoy inhaling direct-to-lung and producing substantial vapour clouds. Tanks mostly feature adjustable airflow settings: the tighter the airflow, the more flavour you'll receive; the looser the airflow, the more vapour but less flavour intensity you'll experience.
Vape mods
Vape mods (or box mods) are generally bigger, chunkier and more customisable than regular vape pens or pod systems. Essentially, they are much the same as advanced vape kits, just without the tank. Very popular with hobbyists and cloud chasers, vape mods usually come with maximum power output and replaceable batteries, offering more power and flexibility. This flexibility includes variable wattage – which enables you to adjust the power setting to get more or less vapour from your device, temperature control modes and the flexibility to choose your favourite compatible tank.
The benefits of disposable vapes
Disposables vs rechargeable vapes: what's the difference
As we've discussed, rechargeable vape kits offer incredible variety and a truly tailored vaping experience, while disposables come with all the fuss-free convenience of a single-use product. And therein lies the difference. Cost-wise, disposables are much cheaper individually, although they aren't remotely cost effective for long-term regular use. Zero maintenance is required with disposables as everything is prefitted and prefilled, making them ultra-convenient – but they offer much less power and choice in terms of e-liquid flavours, style of device and nicotine strength (usually around 18-20 mg/ml).
Our verdict? Rechargeable vapes are ideal as your go-to, personalised, everyday device. Disposables make fantastic secondary devices for those times when carrying your primary vaping device around along with chargers, cables, e-liquids and other paraphernalia just isn't practical. Read our review of the top 5 disposable vape kits. Here are some of our favourites:
Brew Bar disposable devices are discreet and simple to use, prefilled with a range of tasty Ohm Brew liquids.
Geek Bar disposable vape device is sleek and colourful, coming in an array of mouth-watering flavours, including mango ice and blueberry bubblegum.
Elf Bar devices are ultra slim and lightweight, perfect to pop straight in your pocket. Their impressive range of flavours include lemon tart and banana ice.
The Power range of brightly coloured, stylish disposables come in a choice of delicious flavours, filled with Juice & Power premium liquid.
How to responsibly dispose of e-cigarettes
Whether you are using a disposable, rechargeable or fully integrated vaping device, it's really important that you dispose of your e-cigarette responsibly. Most external packaging is cardboard can be recycled normally. Nowadays plastic products should display a symbol indicating what type of material they are made from, so look closely at your e-liquid bottles and recycle them where appropriate, too.
Evapo offers a battery recycling service at every store, so why not pop in and leave your used recyclable batteries with us. Unfortunately, most disposable vapes aren't recyclable currently, something the industry is investigating. However Brew Bar for example are looking at other sustainability matters including planting a tree for every four disposable vapes sold in an effort to offset environmental impact.
What's next?
Modern vapes have evolved from basic electronic e-cigarettes to stylish and sophisticated devices offering a multitude of vaping experiences catering for all manner of preferences. What could the future hold?
Regulatory changes are coming
In regulatory terms, the government's recent announcement that it will support the prescription of e-cigarettes on the NHS is obviously very good news, as it underscores the UK's stance that vaping plays a key role in public health. More recently, health secretary Sajid Javid announced plans to introduce a 'vaping revolution' to help address inequalities in life expectancy and help the government on its mission to achieve its goal of a smokefree England by 2030. Broadly, the government understands and supports the vital role that vaping can play in helping people quit smoking. As such, it's likely to continue its support of the industry.
Revisions to the EU Tobacco Products Directive – which we currently still abide by – are also coming. It is hoped that before long the UK government will introduce its own set of vaping regulations to replace the TPD and resulting Tobacco and Related Products Regulations. Until then, we will be watching closely.
The evolution of disposables
The continued popularity of disposables means that these devices aren't going anywhere fast. However, we predict that disposables may continue evolving to offer a more refined vaping experience and a reduced environmental impact. We can expect to see more devices like the Elf Bar Mate 500 which functions as a hybrid between a disposable and a pod system. Coming with prefilled, disposable pods within a fully rechargeable device, it offers the fuss-free convenience of a disposable with the power and full-flavour experience of a pod system.
Smartphone controlled devices
Alternatives to smoking that connect to your smartphone might sound fat-fetched to some, but they are already here. Today you can operate some vape devices via your phone to check its status, enabling easier monitoring. Integrated technology is likely to further enhance the sector as vaping companies continue to produce ever more innovative, sophisticated devices. Who knows, you may even be able to vape through your smartphone one day.
If you are considering making the switch from cigarettes to vaping, we are here for you every step of the way. Pop in to one of our Evapo stores and say hello, or browse our website for all the latest vaping news, reviews and products.
Sources
gov.uk 29/10/2021
thetimes.co.uk 16/01/2022
nhs.uk 29/03/2019