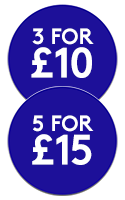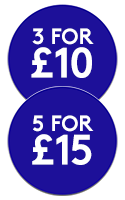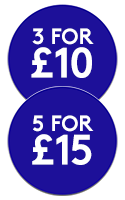 Double Brew Vape Juice
Double Brew Bar Series is the latest addition to the ever growing Ohm Brew family, and is a range comprised of delicious disposable vape style e-liquids that let you enjoy your favourite disposable vape flavours every day in your refillable vape kit.
The 16 flavours within this range are inspired by some of the most popular disposable vape flavours, including some from the BrewBox range, and offer the same nic salt formula for a smooth vaping experience and fast absorption to quickly satisfy cravings. They are also available in three different nicotine strengths: 5 mg, 10 mg, and 20 mg/ml, so you can choose the option that best reflects your personal needs, and have the option to lower your nicotine strength over time if you want.
Eight of the flavours are also available in a 50/50 short fill format, which allows you to stock up on your favourite flavours to pair with your favourite starter vape kit or pod system. Each 100ml short fill contains 100ml of nicotine free e-liquid in a 120ml bottle, which leaves room for the addition of nicotine shots if needed. You can add two 10ml 18 mg/ml nicotine shots to the short fill to create 120ml of 3 mg/ml e-liquid overall.
Many disposable vapes contain an e-liquid with more flavour concentrate than standard e-liquids for a more intense flavour. Double Brew Bar Series e-liquids have double the amount of flavour concentrate than that found in standard e-liquids, so you can enjoy the crisp and powerful flavour of a disposable vape in any compatible vape kit.
Using disposable vapes regularly can be a costly way to vape and can result in a lot of extra waste going to landfill. Transitioning to a reusable vape kit and disposable inspired e-liquids like Double Brew is not only good for your wallet but also has a reduced environmental impact.
The 50VG/50PG ratio of the Double Brew Bar Series range makes them ideal for use with starter kits like refillable pod systems and pen vape kits, ideal for new vapers and those looking for alternatives to disposable vapes.
More about Double Brew Bar Series
Double Brew Bar Series e-liquids are mixed and manufactured in Belfast in Ohm Brew's ISO 9001 accredited clean rooms. Each and every batch undergoes rigorous testing to ensure it is of the highest quality, and they are committed to using only the most premium ingredients and materials, all sourced from within the UK.
Keep up to date with everything Evapo
By signing up you consent to receive regular updates on new products and offers from Evapo Ltd by email and can unsubscribe at any time.
See our Privacy Policy for more details on how we take care of your personal data.
Accepted payment types
Our online vape store lets you shop our full range of products for delivery to your door. We accept payment from all major credit and debit cards using secure processing services.