Pink lemonade-flavoured e-liquid
You really can't go wrong with a good pink lemonade flavour. The combination of sweet berries and zingy citrus really is a match made in heaven, and our range of pink lemonade e-liquids includes options from big vaping brands like ELFLIQ and Double Brew.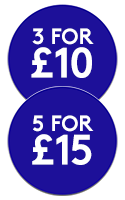 About pink lemonade e-liquid
This fresh and fruity beverage flavour is super popular among vapers, combining sweet and juicy berries with tangy and fizzy lemon, just like an ice cold glass of pink lemonade.
Our range includes some great pink lemonade options like the Double Brew pink lemonade e-liquid which includes notes of strawberry and raspberry and is available in a 5 mg, 10 mg, or 20 mg/ml nicotine strength so you can select the option that best reflects your needs.
We also have the ELFLIQ pink lemonade e-liquid, which is perfect if you enjoy the pink lemonade flavoured Elf Bar disposables, as they use the same flavour concentrates and smooth nicotine salt formula.
You can browse our full range of e-liquids online or in any of our UK vape shops, with over 200 options to choose from you are bound to find your new all day vape!
Pink lemonade e-liquid FAQ
What flavour is pink lemonade e-liquid?
The exact flavour combination will depend on the brand of e-liquid you are using as they will each use their own unique recipe, but they will all have a zingy lemonade base combined with a red berry. Some pink lemonade flavours are a strawberry lemonade, some are a raspberry lemonade, and others are a combination of red berries and lemonade, but they are all delicious!
What is the best pink lemonade vape juice?
Which pink lemonade e-liquid would best suit you depends on your personal preferences and what type of device you are using.
First identify which ratio of e-liquid best suits your device. A general rule of thumb is that pod vape kits and starter kits work best with a 50/50 or high PG e-liquid, whereas sub-ohm and advanced vape kits are better paired with a high VG e-liquid.
From there it's a case of finding which type of pink lemonade you prefer, strawberry, raspberry, or a combination. Then you can choose from the wide variety of delicious flavour options to find the one that best suits you.
Can I used pink lemonade e-liquid in a starter kit?
As long as you choose the right type of e-liquid for your device you can use any flavour you like. If you are using a starter kit it is likely that you will need to use a 50/50 or high PG e-liquid as this is easy for the coil to absorb.
Does pink lemonade vape juice have nicotine?
Pink lemonade vape juice can be found with or without nicotine depending on your preference. Many people, especially new vapers, prefer to use a nicotine containing e-liquid because it helps them manage their nicotine cravings as they make the switch from smoking to vaping. Because of this, e-liquids are also available in a variety of different strengths so you can select the strength that best reflects your previous smoking habits.
Keep up to date with everything Evapo
By signing up you consent to receive regular updates on new products and offers from Evapo Ltd by email and can unsubscribe at any time.
See our Privacy Policy for more details on how we take care of your personal data.
Accepted payment types
Our online vape store lets you shop our full range of products for delivery to your door. We accept payment from all major credit and debit cards using secure processing services.