Raspberry-flavoured e-liquid
Raspberry is easily one of the most popular flavours of vape juice, and there are many different variations on a raspberry flavour that are sure to set your tastebuds tingling.
Our range of raspberry e-liquids includes tonnes of options from all of your favourite vaping brands like Ohm Brew, Unreal, and Juice N Power, including both 50/50 and high VG formulas.
Whether you are looking for a nic salt, bar salt, or a short fill, you're bound to find the perfect flavour for you in a formula that will pair perfectly with your chosen vape kit.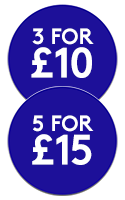 About raspberry vape juice
Tart yet sweet, it's hard not to love the delicious taste of raspberries, especially when the sun is shining.
No matter what type of e-liquid you are looking for, there are a hige amount of raspberry vape juice options to choose from, from top vaping brands like Punx by Riot Squad, IVG, and many more.
Raspberry e-liquid FAQ
What flavour is blue raspberry vape juice?
Although we have never actually seen a blue raspberry, that doesn't necessarily mean that they don't exist, right?
Most of our blue raspberry e-liquids are a combination of blueberry and raspberry, while others are simply a raspberry flavour, but we recommend checking out the flavour description of each of our e-liquids to find the specific flavour profile of an e-liquid.
What is a raspberry bar salt?
While disposable vapes have become very popular, they are only really designed to be used short-term, and using them all the time can actually become quite an expensive way to vape.
Bar salts are e-liquids which are available in the same flavours as your favourite disposable vapes and they offer a similar vaping experience, but can be used in any compatible vape kit and so offer a more budget-friendly option.
Do raspberry e-liquids contain nicotine?
Some raspberry e-liquids contain nicotine and some do not, and it is entirely your choice whether you use a nicotine containing e-liquid or a nicotine free one.
It is best to choose the nicotine strength of your e-liquid based on your previous smoking habits so that you can choose the option that best meets your needs and helps you manage any cravings.
What is a raspberry short fill?
Short fill e-liquids are bottles which contain more than 10ml of e-liquid. They have a nicotine free formula but leave room in the bottle so that the user can add nicotine if required.
For example, a 100ml short fill will contain 100ml of zero nicotine e-liquid in a 120ml bottle. If needed you can add two 10ml 18 mg/ml nicotine shots to this in order to create 120ml of 3 mg/ml e-liquid.
Keep up to date with everything Evapo
By signing up you consent to receive regular updates on new products and offers from Evapo Ltd by email and can unsubscribe at any time.
See our Privacy Policy for more details on how we take care of your personal data.
Accepted payment types
Our online vape store lets you shop our full range of products for delivery to your door. We accept payment from all major credit and debit cards using secure processing services.