Fruit-flavoured e-liquid
No matter what fresh and fruity flavours you are looking for, you're bound to find a favourite in our fruit e-liquids range, featuring the best e-liquids from all your favourite e-liquid manufacturers.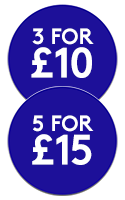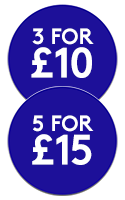 About fruit e-liquids
Fruit flavoured e-liquids are some of the most popular flavours amongst vapers, especially with new vapers who are experimenting with e-liquid flavours. This is because a good place to start when choosing a flavour is with ones you know you already like, such as your favourite fruit.
Whether you want something simple and classic like a sweet strawberry or a fresh blueberry, or a fruit medley like tropical or summer fruits, our range has every possible fruit flavour you could imagine.
Those using an advanced vape kit can choose from our wide range of high VG e-liquids which have been designed specifically to be easy for the large coil within these kits to absorb without becoming over-saturated.
On the other hand, if you are using a starter vape kit a 50/50 or high PG e-liquid will work best for you and your device. These e-liquids have a thin consistency that is easy for the small coils within these kits to absorb without drying out between hits.
If you are unsure which e-liquid will best suit your device take a look at our blog post 'How do I choose the right e-liquid?'
Fruit e-liquid FAQ
Do fruit e-liquid flavours contain real fruit?
While some of these e-liquids may taste uncannily like your favourite fruit, they are actually flavoured with food grade flavourings and not actually with fresh fruit.
This is because e-liquids need to have a specific formulation in order to be safely vaporized in a vape kit. These flavourings are mixed with the two base ingredients, vegetable glycerine and propylene glycol, to create the right formula for vaping.
What are the best fruit e-liquid flavours?
Which fruit flavour is best is very subjective, it really depends on your personal preferences. Our range includes a huge variety of fruit flavours from premium vaping brands.
If you're not sure which one to choose you can never go wrong with your favourite fruit, if you love the taste of it chances are you'll also love to vape it!
Can you get 50/50 fruit e-liquid flavours?
Yes, fruit flavours are the most predominant flavour of e-liquid, and there are a huge variety of 50/50 fruit flavoured e-liquids that work fantastically with starter kits and pod systems, and are available in a range of different nicotine strengths.
Can you get high VG fruit e-liquid flavours?
Yes, high VG e-liquids are best paired with a sub-ohm or advanced vape kit as they are designed for large coils and huge cloud production. As fruit flavours are the most popular there are a wide variety of fruit flavoured short fills available from all the biggest vaping brands.
Keep up to date with everything Evapo
By signing up you consent to receive regular updates on new products and offers from Evapo Ltd by email and can unsubscribe at any time.
See our Privacy Policy for more details on how we take care of your personal data.
Accepted payment types
Our online vape store lets you shop our full range of products for delivery to your door. We accept payment from all major credit and debit cards using secure processing services.