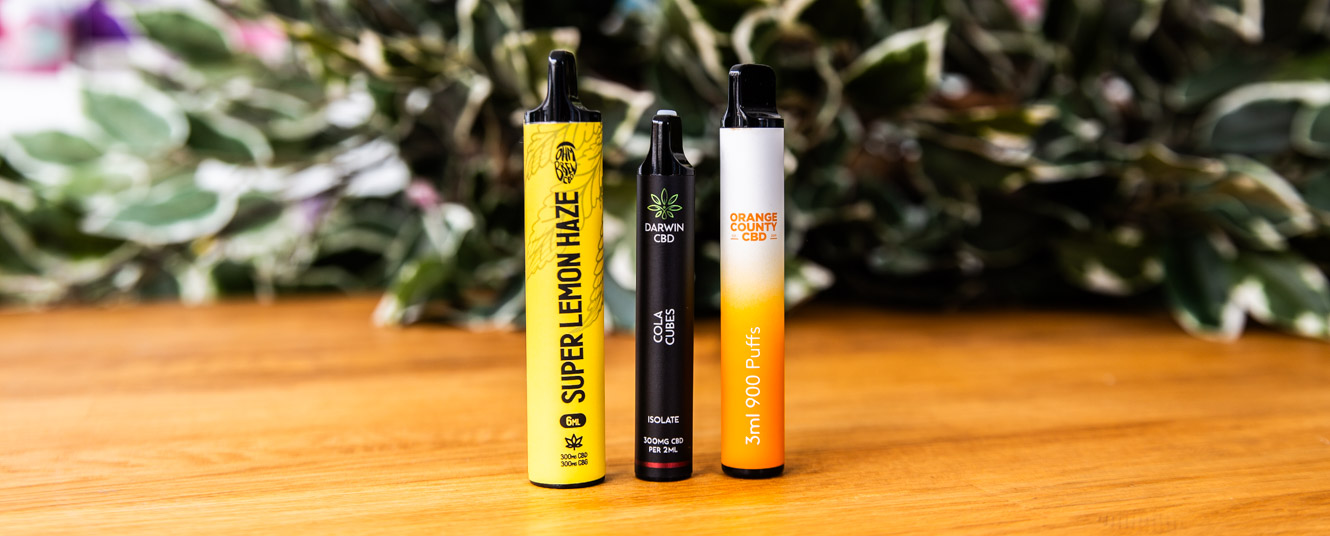 Disposable vapes are the latest vaping trend to take the market by storm. These compact devices are one of the easiest ways to vape, so it just makes sense to combine them with CBD for a convenient way to get your daily CBD supplement.
What are disposable vapes?
Disposable devices are a type of small e-cigarette that is sold pre-charged and pre-filled with e-liquid. They are designed for short-term use and as the name suggests they can be disposed of once the device is empty.
These kinds of devices are ideal for travelling, nights out, or when you're generally on-the-go as they have a simple, user-friendly, and compact design that fits easily into a pocket or bag, ready to go whenever you need them.
Which CBD disposable vape is right for me?
When choosing which CBD disposable will best suit you there are a couple of different factors to consider.
Firstly, think about which CBD strength you prefer to use. Our CBD disposables range includes a number of strength options, and the strength of the CBD will affect the price of the device. If you are looking for a lower strength CBD the Go CBD Puff Bars are a great option, with 150 mg per device. However, if you would prefer a high strength the Ohm Brew CBD disposables offer 600 mg strength of CBD + CBG per device or the Orange County CBD disposables are available with a 1000 mg strength of CBD + CBG which may be more suited to you.
Different devices will have a different battery power and e-liquid capacity which will affect the average number of puffs each device will offer.
Although the number of puffs you will get out of the device will differ from person to person based on the length of your draw, frequency of use, etc. each device offers an idea of how many puffs you should expect to get from it. If you are looking for a device that will last a little longer, you may want to consider which option will offer the most puffs per device. For example, the Darwin CBD disposables offer around 600 puffs per devices while the Ohm Brew CBD have a more powerful battery and contain more e-liquid so they offer approximately 1200 puffs per device.
Finally, disposable CBD vapes are available in a variety of different flavours to help make your vaping experience as enjoyable as possible. Ohm Brew CBD disposables are available in similar flavours to many popular nicotine disposable vapes, like kiwi passionfruit guava and fizzy cola ice.
If you tend to prefer traditional flavour profiles, Go CBD Puff Bars could be a fantastic option for you as their range keeps it simple with delicious fruit flavours.
If you prefer a more complex flavour profile, or a cool menthol option, Darwin CBD offer a variety of options ranging from crisp fruity menthols to sweet candy flavours.
On the other hand, if you prefer the natural taste of CBD, Go CBD and Ohm Brew CBD both offer a natural option which lets you enjoy the herbal flavour of the hemp plant.
What is CBD?
CBD, also known as cannabidiol, is a popular health supplement derived from the cannabis plant. Although it comes from the same plant as cannabis CBD is processed to remove any THC making it completely devoid of psychoactive properties and legal to buy and sell in the UK.
Cannabidiol is one of the most prevalent cannabinoids found in the plant, and our bodies actually contain cannabinoid receptors which help to regulate many different functions. CBD is similar to the endocannabinoids which our bodies naturally produce.
CBD products come in a number of different forms, including e-liquids, tinctures, edibles, and topical ointments. Vaping has been found to be one of the most effective ways to use CBD, as it ensures a high level of absorption and allows the CBD to enter the blood stream quickly.
Many people use CBD as a daily supplement as part of a balanced diet and healthy lifestyle.
Ohm Brew CBD
Orange County CBD
Darwin CBD
Go CBD Puff Bars
If you want to find an easier way to include CBD in your daily routine check out our range of CBD disposable vapes, or take a look at our wider CBD range to find the best solution for you.