Beverage-flavoured vape juice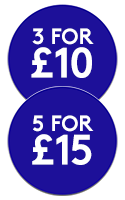 About beverage e-liquids
If you are partial to a beverage flavoured e-liquid, whether it be cola, lemonade, or something a little more exotic, our range of e-liquids includes all the delicious beverage inspired flavours you could ask for in both high VG and 50/50 formulas.
Those using an advanced vape kit will require a high VG e-liquid with a thick consistency that is well suited to the large coils within the device. These e-liquids are most often available as short fills, which are bottles which contain over 10 ml of e-liquid and leave room for the addition of enough nicotine shots to create a 3 mg/ml e-liquid. For example, a 50 ml short fill will contain 50 ml of nicotine free e-liquid in a 60 ml bottle, leaving room for the addition of one 10 ml 18 mg/ml nicotine shot to produce 60 ml of 3 mg/ml e-liquid.
Our beverage inspired e-liquids range also includes 50/50 options, available in 10 ml bottles that are well suited to starter kits and refillable pod systems. These e-liquids are available in both freebase nicotine and nicotine salts, in a variety of different strengths that allow you to choose the strength that best suits your needs.
Beverage e-liquid FAQ
What is the best beverage e-liquid flavour?
All of the e-liquids we sell are high quality, premium vape juices, but which beverage e-liquid will best suit you is entirely down to personal preference.
A good place to start is with flavours you already know you love, so if you love cola or pink lemonade, chances are you will like them as e-liquids. A big part of finding your favourite flavour is trial and error, so don't be afraid to try different flavours and experiment with new brands.
What are nic salt e-liquids?
Nic salts are a popular type of e-liquid which are made using nicotine salts, a form of nicotine that closely replicates the way that nicotine naturally occurs in the tobacco plant.
Nic salts are known for offering a smooth feeling inhale with minimal throat hit, even at high nicotine strengths. They are a great option for those who find freebase e-liquids too harsh. They are also known to absorb within seconds into the bloodstream so can satisfy nicotine cravings quickly.
What does short fill mean?
Short fills are bottles than contain more than 10ml of e-liquid, they are most commonly available as 50ml or 100ml short fills.
They are called short fills because, even though they are sold as a nicotine free e-liquid, they are not filled all the way to the top of the bottle to leave room for the addition of nicotine shot/s if needed.
What flavourings are used in e-liquids?
The flavourings used in e-liquids are known as flavour concentrates and are food grade flavourings. Alone they have an extremely strong and concentrated flavour that would not taste particularly pleasant and are not a consistency that can be vaped.
In order to make e-liquids these flavour concentrates are added to a base mix of vegetable glycerine (VG) and propylene glycol (PG) to dilute the flavour and create an overall liquid that can be vaped.
Keep up to date with everything Evapo
By signing up you consent to receive regular updates on new products and offers from Evapo Ltd by email and can unsubscribe at any time.
See our Privacy Policy for more details on how we take care of your personal data.
Accepted payment types
Our online vape store lets you shop our full range of products for delivery to your door. We accept payment from all major credit and debit cards using secure processing services.