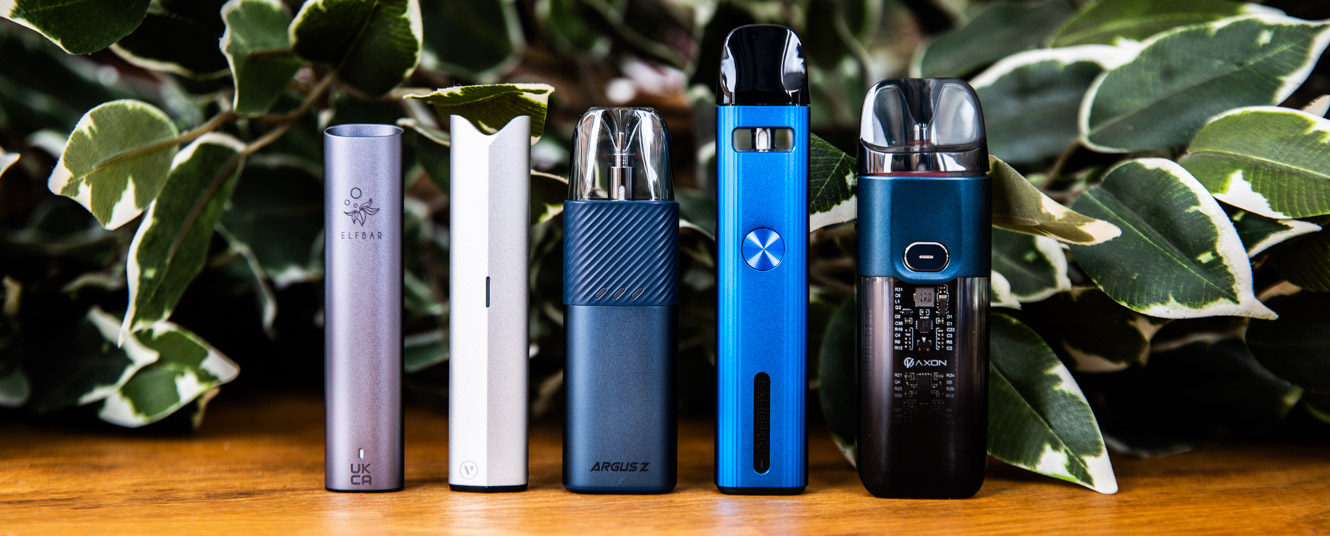 Pod vape kits are a fantastic option for new vapers looking for a simple and fuss-free device, but they are not exclusively aimed at new vapers. We're taking a look at the different types of pod kit available to help you choose which one might be right for you.
What is a pod system?
Pod systems tend to be small and lightweight, with a built-in battery that is easily charged and minimal buttons for usage.
They do not have a tank, but rather a plastic pod which, depending on the device, can either be purchased pre-filled with e-liquid, or can be filled with your choice of compatible e-liquid.
Most pod vape kits produce a small amount of vapour with an airflow design which closely resembles the pull of a cigarette, making them ideal for new vapers who are making the switch from smoking to vaping.
However, there are also intermediate and advanced pod kit options that allow you to upgrade to a more powerful device while still enjoying the compact design of a pod system.
Pod kits for new vapers
If you are thinking about making the switch from smoking to vaping, a pod kit can be an excellent place to start. The two types of starter pod kits are prefilled and refillable, and which option will best suit you will depend mostly on what you are looking for from a device.
Prefilled pod kits
Prefilled pod kits like the Elf Bar ELFA kit are some of the easiest to use, especially if you are new to vaping. They make a great option if you are looking for a device that doesn't require much vaping knowledge or maintenance, or are frequently on the go and need a small and simple device to accompany you.
They have a small, compact battery design that makes them extremely lightweight and travel-friendly. Because the batteries are quite small they charge quickly via USB cable, like the Vuse ePod 2 kit which reaches an 80% charge in just 35 minutes, while still offering plenty of power to get you through the day.
The main benefit of these devices are the pods, which can be purchased already filled with e-liquid and ready to use straight out of the packaging. Because the pods come prefilled, you do not need to carry spare e-liquid and worry about refilling the pod whenever it is empty. Instead, you can simply remove the empty pod, dispose of it, and replace it with a new one in just a click.
The pods are available in a wide variety of flavours which will vary from brand to brand, like the Elf Bar Mate 500 device which has over 25 different flavour options to choose from in the P1 pod range which are designed specifically to fit this device. Some ranges will even offer different nicotine strength options so you can select the one that best suits your needs.
Refillable pod kits
Refillable pod kits, like the VOOPOO Argus Z, are a great option if you like the simplicity of a pod kit but also want the freedom to choose from a wider range of e-liquids.
These devices also have a small and compact design, along with an airflow designed with new vapers in mind. However, the pods for these devices can be repeatedly refilled with your choice of compatible e-liquid, allowing you to choose the exact flavour and nicotine strength that most suits your needs.
Some devices, like the Vaporesso LUXE Q kit, utilise pods which can be refilled multiple times until the coil within starts to burn out, and at this point the whole pod can be disposed of and replaced with another one. Other devices, like the Uwell Caliburn G2, have replaceable coils which means that when the coil starts to burn out you can replace just the coil without having to replace the entire pod.
Most refillable pod systems are best used with a 50/50 or high PG e-liquid, which are available in a huge variety of flavours and in multiple nicotine strengths. This allows you to not only choose all of your favourite flavours, but also lets you select the exact nicotine strength that best suits your needs.
Intermediate and advanced pod kits
Pod vape kits are not only a great option for new vapers, but there are also a number of pod kits aimed at intermediate and advanced vapers too.
If you have been vaping for a while and are looking to upgrade to a device that is slightly more powerful but still maintains the smaller size and compact design of a pod kit, devices like the Vaporesso LUXE X pod kit could be a fantastic option.
These devices have a more powerful battery and have a higher wattage output, they often can facilitate direct-to-lung vaping and utilise sub-ohm coils for larger clouds.
If you are using a sub-ohm pod kit like the SMOK Nord 5 kit you may find it actually works better with a high VG e-liquid which is more suited to sub-ohm vaping.
Some intermediate and advanced pod kits will allow you to personalise your vaping experience through features like adjustable airflow and variable wattage.
Adjustable airflow allows you to manually select the amount of airflow that passes through the coil, so you can choose how loose or tight the inhale is and find the setting that is most comfortable for you. Variable wattage allows you to change the power output of the device, and some devices like the VOOPOO Drag E60 have multiple different coil options so you can select the power setting that best suits your chosen coil.
More advanced pod kits like the VOOPOO Drag H80S may even utilise external batteries, meaning that they use 18650 batteries which can be removed and replaced. This is a great option for those who tend to spend a lot of time out and about, as you can keep spare charged batteries with you and swap them out as needed without having to wait for the device to charge.
Although most people think of advanced vape kits as being large and weighty, pod kits are much more compact, making them a great option if you want a smaller device but still want plenty of power and vapour production.
If you're interested in finding out more about the pod vape kits we have on offer why not pop in to your local Evapo store or reach out to our friendly Customer Service team for advice and recommendations on which one may best suit you.