Lemonade-flavoured e-liquid
It doesn't get more refreshing than a cool glass of lemonade on a hot summers day. Enjoy that feeling every day no matter what the weather may look like with our range of deliciously zingy lemonade e-liquids.
With options from all your favourite vaping brands, including Juice N Power, ELFLIQ by Elf Bar, and Bar Salts by Vampire Vape, you know you're getting a quality lemonade vape juice that will be positively bursting with flavour!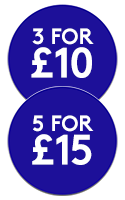 About lemonade vape juice
If your go-to is a lemonade e-liquid you will truly be spoilt for choice with our wide range of lemonade vape juice options, whether you are looking for a short fill or nic salt, a 50/50 e-liquid or a high VG one.
Take a look at our delicious lemonade options to find your new all day vape!
Lemonade e-liquid FAQ
What is a lemonade short fill?
Short fills are bottles of e-liquid which contain more than 10ml of e-liquid. They have a nicotine free formula but there is room left in the bottle to allow the user to add nicotine shots if they would prefer a nicotine containing e-liquid.
For example, a 50ml short fill contains 50ml of e-liquid in a 60ml short fill bottle. This leaves room for you to add one 10ml 18 mg/ml nicotine shot if preferred, to create 60ml of 3 mg/ml e-liquid.
Do lemonade e-liquids contain real lemon juice?
No, while the flavour may remind you of freshly squeezed lemons, e-liquids need to be made using very specific ingredients in order to be safe for vaping.
The flavours are achieved using food grade flavour concentrates which can be blended together to create the exact flavour and then mixed with the base ingredients of vegetable glycerine and propylene glycol.
What is a lemonade bar salt?
Bar salts are a type of e-liquid which has only recently joined the vaping market, and are designed to taste just like all the most popular disposable vapes.
They let you enjoy the flavours of all of your favourite disposable vapes in any compatible refillable vape kit, for a more economical and environmentally-friendly option.
What is a lemonade nic salt e-liquid?
Nic salt e-liquids are one of the most popular types of e-liquid, easily recognisable by their smooth inhale and minimal throat hit which makes them a really comfortable option for those who find freebase nicotine a bit too harsh on their throat.
Nic salts also absorb into the bloodstream within seconds, which means that they can quickly satisfy nicotine cravings in only a few puffs.
Keep up to date with everything Evapo
By signing up you consent to receive regular updates on new products and offers from Evapo Ltd by email and can unsubscribe at any time.
See our Privacy Policy for more details on how we take care of your personal data.
Accepted payment types
Our online vape store lets you shop our full range of products for delivery to your door. We accept payment from all major credit and debit cards using secure processing services.