50/50 Vape Juice
Take a look at our wide range of 50/50 e-liquids, whether you're looking for a smooth nic salt or a freebase liquid with a bit of a kick, there's something for everyone!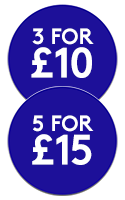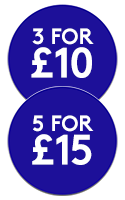 About 50/50 Vape Juice
50/50 e-liquids are the perfect option for new vapers as they offer not only a huge range of flavours, but also a variety of different nicotine strengths. Being able to choose between multiple strength options lets you select the exact one that best matches your previous nicotine intake from smoking. If you are unsure about which nicotine strength would best suit you, take a look at our blog post 'Which strength e-liquid should I use?'
50/50 e-liquids are so called because they contain equal amount of the base ingredients VG (vegetable glycerine) and PG (propylene glycol). They have a relatively thin consistency which is best suited to starter kits and pod vape kits as it is easy for the coils to absorb and suited to lower power outputs.
Our range includes 50/50 e-liquid options from all of your favourite e-liquid brands like Ohm Brew, IVG, Six Licks, and Nasty Juice. The range also includes both freebase nicotine and nicotine salt options depending on your preferences.
If you want to explore our full e-liquid range you can do so at one of our 35+ UK retail stores, where we have a team of vaping experts ready to offer advice and recommendations based on your preferences and device. You can also shop the full range on our online vape store which offers multiple shipping options for home delivery or local collection point Click & Collect. If you need any help our customer service team are on hand, you can contact them by phone on 020 3962 0965, by email on [email protected], or through the live chat function on our website. You can also check out our blog and YouTube channelfor lots more vaping info!
Keep up to date with everything Evapo
By signing up you consent to receive regular updates on new products and offers from Evapo Ltd by email and can unsubscribe at any time.
See our Privacy Policy for more details on how we take care of your personal data.
Accepted payment types
Our online vape store lets you shop our full range of products for delivery to your door. We accept payment from all major credit and debit cards using secure processing services.