Strawberry-flavoured e-liquid
Strawberry is such a versatile flavour, and is not just an extremely popular flavour, but is often included in fruit medley flavours too.
Our range of strawberry vape juice includes a wide variety of options from big vaping brands like Ohm Brew, Vampire Vape, ELFLIQ, and many more. It also includes different e-liquid formulations so you can select the exact strawberry e-liquid type that best suits you and your vape kit.
Our strawberry vape juice range also includes bar salt e-liquid options like Double Brew strawberry ice and ELFLIQ strawberry kiwi which have been formulated to replicate the taste of your favourite disposable vapes, making it easy for you to make the transition from disposables to a refillable vape kit.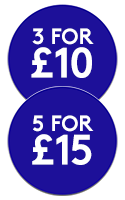 About strawberry vape juice
Strawberry e-liquid FAQ
Do all strawberry e-liquids contain nicotine?
Not necessarily, e-liquids are available with and without nicotine, allowing you to select the option that is best suited to yourself.
Nicotine containing e-liquids are available in a range of different nicotine strengths so you can match the e-liquid strength to your needs to help you manage your nicotine cravings.
What is the best strawberry vape juice?
There are so many strawberry vape juice options available, it can be hard to choose which one will be best for you. This really depends on what kind of flavour you are looking for, whether you fancy a simple strawberry, something with an icy finish, or strawberry blended with other complimentary flavours like kiwi or candy.
Our range includes a huge variety of different takes on a strawberry e-liquid from big vaping brands like Ohm Brew and ELFLIQ.
What are strawberry bar salts?
Bar salts are a type of e-liquid which have been specifically formulated to replicate the flavour and vaping experience of disposable vapes. Many people will start using disposable vapes only to find that they quickly become quite an expensive way to vape.
Bar salts allow people to make the transition from disposable vapes to a refillable vape kit which is not only a more cost effective way to vape, but also helps limit the amount of waste that ends up in landfill.
What is a strawberry short fill?
A short fill is a bottle of e-liquid which contains more than 10ml of e-liquid. They are a convenient way to be able to purchase plenty of your favourite flavour without the need to carry lots of little bottles with you.
Nicotine containing e-liquid cannot be sold in bottles larger than 10ml, so short fills have a nicotine free formula but do leave room for the addition of nicotine if the user needs it. This is achieved by adding nicotine shots, which are 10ml bottles of unflavoured e-liquid with an 18 mg/ml nicotine strength, and can be mixed into the short fill. A short fill will usually leave room for enough nicotine shots to create a 3 mg/ml strength overall, for example, a 50ml short fill will contain 50ml of e-liquid in a 60 ml bottle, leaving room for one nicotine shot.
Keep up to date with everything Evapo
By signing up you consent to receive regular updates on new products and offers from Evapo Ltd by email and can unsubscribe at any time.
See our Privacy Policy for more details on how we take care of your personal data.
Accepted payment types
Our online vape store lets you shop our full range of products for delivery to your door. We accept payment from all major credit and debit cards using secure processing services.