Slushie-flavoured e-liquid
If you're feeling nostalgic and fancy some flavours that will transport you back to your sweeter memories, nothing could do that better than a delicious slushie flavour.
Combining delicious fruit juices with a cool icy finish, they are the perfect balance of refreshing and sweet, and unlike your favourite slushie drink these e-liquids will not turn your tongue blue!
There are many different slushie vape juice options to choose from, with different formulas available to suit different types of vapers. If you are using a starter vape kit we recommend using a 50/50 or high PG e-liquid. On the other hand, advanced vape kits are better paired with a high VG e-liquid.
Browse our range to find the perfect slushie flavour for you!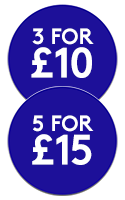 About slushie vape juice
Our wide range of slushie vape juices includes so many different types of e-liquid, from bar salts which replicate the taste and feel of a disposable vape, to CBD e-liquids which help you take your daily CBD supplement in an effective and tasty way.
Check out our range to find a slushie e-liquid that perfectly suits your preferences and your vape kit.
Slushie e-liquid FAQ
What are slushie CBD e-liquids?
CBD is a cannabinoid which many people use as a daily supplement. Vaping CBD in the form of CBD e-liquids is one of the most effective ways to use CBD.
Users anecdotally report that CBD can assist in better sleep, pain management, and ease anxiety, although medical research into the uses of CBD are ongoing.
What are slushie bar salts?
Bar salts are a relatively new type of e-liquid which offer an alternative to disposable vapes by replicating the taste of them in an e-liquid that can be used in any compatible refillable vape kit.
The flavours have been specifically curated to taste just like your favourite disposable vapes, for a more budget friendly way to vape.
Do slushie e-liquids contain nicotine?
Slushie e-liquids are available both with and without nicotine, allowing you to select the option that best suits you.
If you are making the switch from smoking to vaping you may benefit from a nicotine containing e-liquid which can help you manage your nicotine cravings during your stop smoking journey.
Which slushie vape juice is best?
Which slushie e-liquid will be best for you really depends on what kind of flavour you are looking for.
There are many different fruits that can be paired with a slushie finish, so take a look at the different options available to find the perfect slushie vape juice for you.
Keep up to date with everything Evapo
By signing up you consent to receive regular updates on new products and offers from Evapo Ltd by email and can unsubscribe at any time.
See our Privacy Policy for more details on how we take care of your personal data.
Accepted payment types
Our online vape store lets you shop our full range of products for delivery to your door. We accept payment from all major credit and debit cards using secure processing services.