Cherry-flavoured e-liquid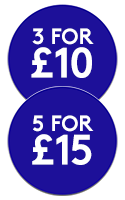 About cherry e-liquid
Our range of cherry vape liquids has so many options to choose from, you're bound to find a new favourite!
Whether you're looking for a simple cherry flavour, or something a little bit more adventurous, we carry options from big vaping brands like IVG and Riot E-liquid, so you know you can find a quality option packed with flavour.
Cherry vape juice FAQ
Which cherry vape juice is best?
There are so many different cherry flavoured e-liquids available, and which one is best really depends on your own personal preferences as well as what kind of vape kit you are using. We all have different flavour preferences, so there is really no way to say which flavour is the best among such a fantastic bunch.
Our range includes simple cherry flavours, fizzy cherry colas, and delicious medleys that combine cherry with other complimentary flavours.
Do all cherry e-liquids contain nicotine?
No, e-liquids are available with varying nicotine strengths but they are also available without nicotine if this is an option that would better suit your needs.
While many people choose to user a nicotine containing e-liquid to help them manage their nicotine cravings while they make the switch from smoking to vaping, not everyone will need nicotine. Very low or infrequent smokers may feel that they do not actually need any nicotine, while other vapers may have lowered their nicotine strength over time and feel they are now ready to move on to a nicotine free e-liquid.
What is a cherry short fill e-liquid?
A short fill is a type of e-liquid which comes in the bottle larger than 10ml. They offer a way to buy your favourite e-liquids in a larger bottle, however, they in accordance with UK law they are sold without nicotine.
The reason they are called short fills is that they are filled short of the top of the bottle, leaving room for the addition of nicotine shots if the user needs to a add a nicotine content. For example, a 50ml short fill will contain 50ml of nicotine free e-liquid in a 60ml bottle, leaving room for the addition of one 10ml nicotine shot which will create 60ml of 3 mg/ml e-liquid overall.
Which cherry e-liquid will work best with my vape kit?
Different types of vape kit need different types of e-liquid in order to perform at their best. As a general rule, starter kits and pod vape kits need a thin consistency e-liquid like a 50/50 or high PG, which is easy for the coil to absorb quickly between pulls. Sub-ohm and advanced vape kits on the other hand usually pair better with a thicker high VG e-liquid, as the large coils can absorb the e-liquid well without becoming over saturated.
If you are unsure which e-liquid formula is best to use with your vape kit why not pop in to your local Evapo store and speak to a member of our team, or reach out to our Customer Service hub for advice and recommendations.
Keep up to date with everything Evapo
By signing up you consent to receive regular updates on new products and offers from Evapo Ltd by email and can unsubscribe at any time.
See our Privacy Policy for more details on how we take care of your personal data.
Accepted payment types
Our online vape store lets you shop our full range of products for delivery to your door. We accept payment from all major credit and debit cards using secure processing services.