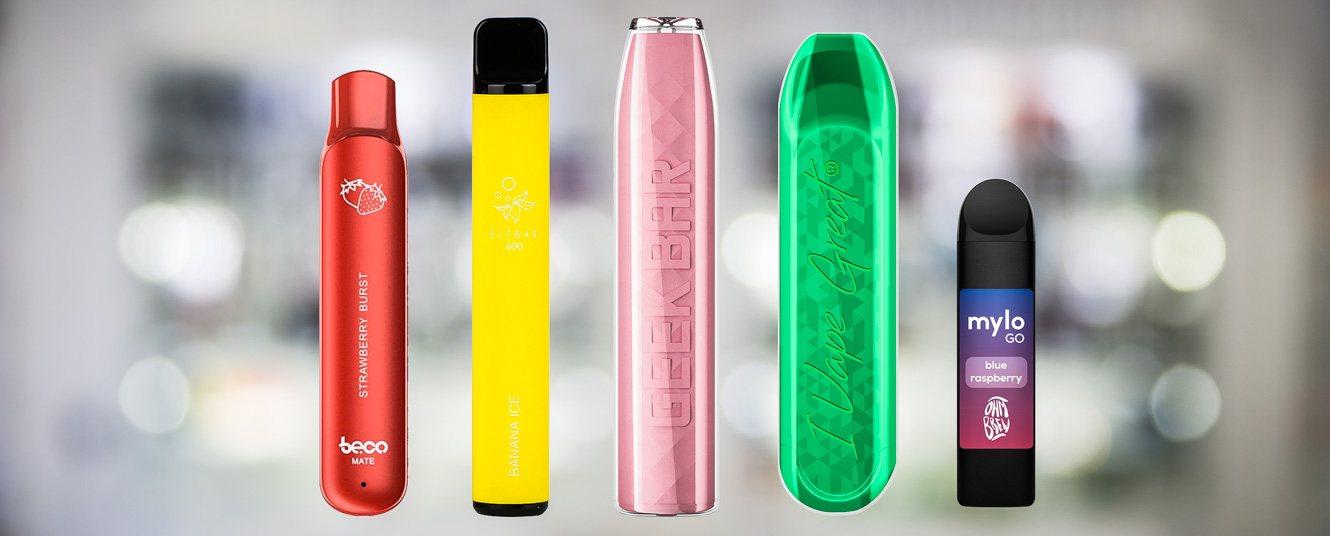 Disposable vapes are a really convenient option as a secondary device, especially when you're heading on holiday or to events where you would rather not take your full set up. To help you choose which disposable is right for you, we've compared some of the biggest brands; Brew Bar, Geek Bar, Mylo GO, Elf Bar, Beco Mate and IVG Bar, on everything from flavour range to price, so you don't have to!
What are disposable vapes?
Disposable vapes are compact devices that are pre-charged and pre-filled, and ready to go straight out of the box. They cannot be recharged or refilled, and offer a convenient device which can be used on the go and disposed of when finished.
These affordable devices are fantastic as a back up device, so you can pop one in your bag and know you've got hundreds of puffs without having to carry e-liquid or worry about charging. I love having these for when I'm going on trips, as I know that if I lose one I won't have to spend a fortune replacing it, and it means I can pack a little lighter.
Design
Disposable devices are some of the smallest vape kits available, this makes them perfect when travelling light.
Mylo GO took the top spot as the smallest device with a super simple design. It is only 82mm in height and incredibly lightweight. They kept it really simple with this design, making it super discreet.
I really like the rounded design of the Brew Bar, it feels so comfortable to hold, but is also extremely robust and sturdy. Not only does the device colour correspond to the flavour, but it also has the flavour clearly printed on the front in larger text than many other disposables, which is a small detail that for some can make a big difference!
The design and size of the Beco Mate devices is very similar to the others, but something that really stands out to me is the hygiene cap. I have a tendency to just throw it in my bag as I'm leaving the house, having a cap prevents the mouthpiece from collecting all the fluff and lint that's no doubt hanging out in there!
The Geek Bar has a really sturdy but sleek design. I can't tell you how many times I have dropped my Geek Bars but they have never shown any signs of damage, and I have never experienced any leaking, no matter how I store them.
IVG Bar has a solid exterior, comfortable mouthpiece and, as with many disposables, the colour of the device corresponds to the flavour.
I like the rubberised finish on the Elf Bar devices, as it offers some extra grip, and the colour of the rubberised section corresponds to the flavour adding a nice pop of colour. It has a comfortable duckbill mouthpiece like the Beco Mate and Mylo GO devices, but unlike the others which have a flatter design, the body of the device has a cylindrical shape which more closely resembles a cigarette.
Choice of flavours
When it comes to variety of flavours, Geek Bar and Elf Bar really stand out. Geek Bar have 33 flavours on offer, and Elf Bar have 22, so you're bound to find a flavour that you love.
Geek Bar have a number of 'ice' options, which have a refreshing cool finish, as well as some really interesting flavours such as blueberry sour raspberry and blueberry bubble gum. They even now offer some options filled with your favourite Vampire Vape flavours.
The Elf Bar range includes some delicious fruit medleys like kiwi passionfruit guava and apple peach, as well as some great options for those with a sweet tooth, like cotton candy and strawberry ice cream.
The IVG Bar range includes 16 flavour options, with a great mix of flavours both with and without a menthol finish. They mainly have fruity flavours, including some exotic blends like aloe grape ice and mango lychee.
Beco Mate have 8 flavour options available, they have opted primarily for single flavour options, such as apple, strawberry and banana ice, without any of the adventurous mixed flavours we see in the other brands. I actually thought this was quite a good idea, as it meant they have focused on making the flavours taste fantastic and leaves room for the range to grow.
Brew Bar have a relatively small flavour range for now, with three flavours currently available, but this will be growing soon so watch this space! However, the flavours are still varied with something to suit all different flavour preferences.
Mylo GO have four flavours on offer, they have kept it very simple, with the staple flavours of tobacco and menthol that newer vapers tend to prefer and two fruity options.
E-liquid quality
All of these devices utilise nic salt e-liquids offering a smooth inhale even with the high nicotine strengths. When it comes to the quality of the e-liquid Brew Bar, Mylo GO and IVG really stood out for me.
Brew Bar are manufactured by Ohm Brew and contain their delicious e-liquids. Ohm Brew are renowned for the quality of their e-liquids, and Brew Bar is the only option that offers multiple nicotine strengths. You can pick up Brew Bars in a choice of 9 mg/ml or 18 mg/ml, so you can select the strength that best suits your needs.
The Mylo GO also uses Ohm Brew e-liquids, so the flavour is absolutely fantastic and the nic salts incredibly smooth. Although the flavour range is limited, they make up for it with the complexity of the individual flavours, and the high-quality e-liquids used.
IVG are of course known for their fantastic e-liquids, and the IVG bars are no different. The formula is smooth and satisfying, and the flavours make you want to keep picking it up.
I found the Geek Bar and Beco Mate devices pretty comparable, the e-liquids are super smooth and flavourful, and some of those iced flavours really pack a punch!
While Elf Bar flavours are absolutely delicious, I did find their nic salt formula to be slightly harsher than the others. This would be great for those who like a bit of a throat hit, but might not be for everyone.
Number of puffs
When it comes to the average number of puffs per device, most of the devices are pretty much tied. Obviously, the amount of puffs you actually get out of a device will depends on how deep your draw is, but as the Brew Bar, Geek Bar, Elf Bar, Beco Mate and IVG Bar all contain the full 2 mls of e-liquid allowed in the UK, and a battery size of 450 – 550 mAh, they all offer between 550 – 600 puffs per device. This is equivalent to around 30 cigarettes!
However, with only 1.2 ml of e-liquid per device and a 280 mAh battery, the Mylo GO was behind the pack on this one, offering approximately 200 puffs per device.
Other attributes
Some of these devices are of course produced by big vaping brands, bringing with them years of experience and reputation.
Brew Bar are created by Ohm Brew, who have been industry leaders in e-liquid production for some time now. They pride themselves on offering options that cater to all vapers, including different nicotine formulas, ratios, and a huge range of flavours. They also conduct extensive tests on every batch of their e-liquids in their testing and compliancy lab to ensure that it is always the highest quality possible. Additionally, Ohm Brew have pledged to plant a tree for every four Brew Bars sold, in a bid to become more sustainable and reduce their carbon footprint.
The Geek Bar is produced by Geekvape, who have years of experience creating vaping hardware including the Aegis range. You can really see the experience behind the construction and execution of these devices, they really don't feel like disposable vapes with how sturdy and stylish they are.
Every aspect of the device has been well thought out, from the airflow design, to the way it looks, and the vaping experience is consistent from the first puff to the last. Geekvape are known for their innovative designs, and the Geek Bar is no different!
The Mylo GO combines the expertise of two vaping brands, with the fantastic design and internal workings coming from Mylo, known for their incredibly user-friendly pod kits, and the e-liquid coming from Ohm Brew. Ohm Brew are one of the biggest brands in e-liquid, with all of their flavours the result of meticulous research and testing, because only perfection is good enough. This shines through in the Mylo GO, and it is great that those using it as a secondary device can enjoy the flavours they know and love from Ohm Brew even in a handy disposable device.
IVG are an award winning e-liquid company, with a huge range of flavours enjoyed by vapers all around the world. They bring 5 years of experience to the table, and you can see it in the way they have produced their disposable devices, keeping it simple and letting the e-liquids shine through. Their countless e-liquid awards speak for themselves!
Price
Due to the nature of the device, disposables are extremely affordable. The most affordable of the group being the Mylo GO at £4.99 or 3 for £12. This is a great deal, but obviously you do have to consider that you are getting less e-liquid and puffs per device, so it makes sense for to be the least expensive option.
The Elf Bar is also £4.99, which a fantastic price considering that you get 600 puffs per device!
Finally, you can pick up the Brew Bar, Geek Bar, IVG Bar and Beco Mate devices for £5.99 each. When you consider that each device is equivalent to 30 cigarettes, it really puts into perspective how much you can save by making the switch to vaping. Not only this, but the Brew Bar, Geek Bar, IVG bar and Elf Bar are available in a mix and match 4 for £20 disposables deal, making them even more wallet friendly!
Overall winner
If you're interested in finding out more about disposable devices, and want to see the full range of flavours on offer, pop in to your local Evapo store or head over to our disposables section.
Top disposable vapes comparison video
If you want to take a closer look at the disposable vapes discussed in this post, check out our comparison video to see how the devices look and learn more about their features.