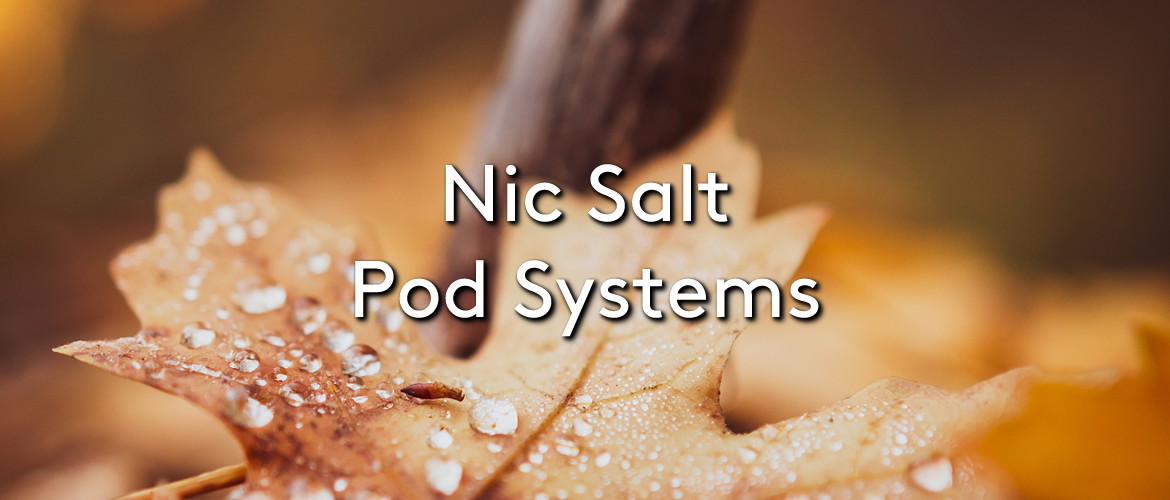 Nic Salt Pod Systems
Following our recent blog post 'The Benefits of Using Nic Salt E-Liquids' you may find yourself inclined to give nic salts a try and see if they could work for you.
They can be a very effective tool for giving up smoking, which combined with a no fuss and user-friendly pod system this could be the key to successfully kicking the habit for good.

What Are Nic Salts?
Nicotine naturally occurs in the leaves of the tobacco plant in a form of nic salts, and so e-liquids made using nic salts can feel like a more authentic nicotine hit than those made using liquid freebase nicotine.
Nicotine salts have an extremely quick absorption time, approximately 7-10 seconds after inhaling, and so they satisfy nicotine cravings quickly and efficiently.
Nic salts also have a minimal throat hit, even in high strengths, making for a smooth and comfortable vaping experience.
To learn and read more about nicotine salts check out our blog post: 'What Are Nic Salts?'

Pre-filled Pod Systems
Pre-filled pod systems eliminate the need for bottles of e-liquid and spare coils, which makes them ideal for new vapers or those looking for the most straightforward device available.
Once the e-liquid inside the pod has been vaped, you simply dispose of the empty pod and insert a new one, with no mess and no fuss.
Some of these pre-filled pod systems offer the user nic salt e-liquid pods, combining the simplicity and convenience of a pod system with the effective and smooth nicotine delivery of a nicotine salt.

Mylo
The Mylo vape stick is a sleek and discreet device which is easily charged via a built in USB and has a wide variety of 9 different flavour options for the pre-filled 18mg pods, which are all made using nic salts.
The Mylo has an airflow design that closely emulates that of a cigarette, helping it feel familiar and comfortable to new vapers, and is also available with refillable pods for when the user wants to decrease their nicotine strength.
To find out more about the Mylo head over to our blog posts 'Introducing the Mylo Vape Stick' and 'Mylo: The First Pod System with Pre-filled and Refillable Pods'.

JUUL
JUUL is one of the biggest names in the vaping industry, and this teeny tiny device packs a big punch!
Each little JUULPod contains the maximum 20mg nicotine strength nic salt e-liquid, available in 5 different flavours.
This incredibly popular pod system is inconspicuous in its small size and design that to the untrained eye may not even be recognisable as an e-cigarette.
Learn more about the JUUL and JUUL Pods in our blog post 'Introducing JUUL'.

MyBlu
The MyBlu is an uncomplicated device which is budget friendly and effective as a stop smoking tool.
With a charging time of less than half an hour and a simple design, this is a great e-cig for those who are always on the go or looking for an accessibly entry device to give vaping a go.
The regular MyBlu pods are made using freebase nicotine, however the Intense range are made using nic salts, giving users the option to experiment with both forms of nicotine to see which one better suits them. Check out our post 'Introducing Blu' to read more about the range.
If you are interested in trying any of the devices mentioned in this post, why not pop in to your local Evapo store and speak to a member of staff, or head over to our online vape store to shop our full range of products.