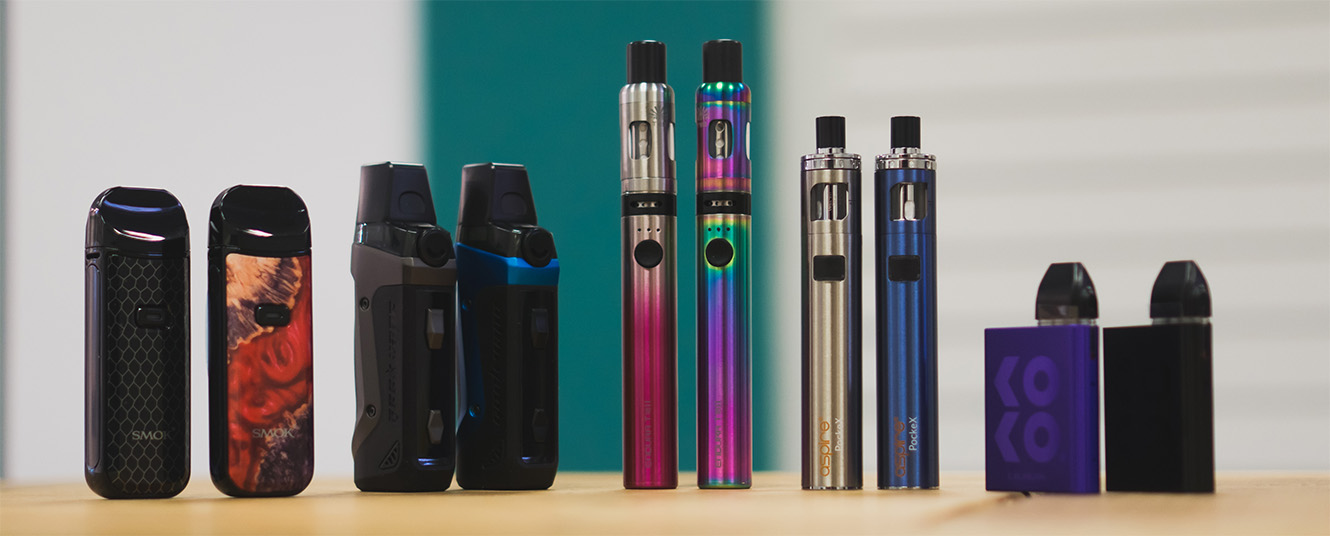 In light of COVID-19, there has never been a better time to make the switch from smoking to vaping, to help protect the health of yourself and your loved ones. To help make it easier for you to find the perfect starter kit to suit your needs, we have put together a list of our top 5 starter kits of 2020.
#QuitForCovid
Research undertaken since the beginning of the pandemic has found that smokers are more vulnerable to COVID-19, and suggests that smokers who contract the virus are likely to experience more severe symptoms than non-smokers.
This has led to the stop smoking initiative #QuitForCovid, which helps smokers get the support and advice they need to quit smoking, in a way that works around the current Government guidelines for social distancing. You can read more about this campaign in our previous post '#QuitForCovid'.
Making the switch
When you first make the decision to make the switch from smoking to vaping, it can seem like a daunting task! There are so many different devices and e-liquids, where on earth do you start?
That is why we are here! To help you find the perfect combination of device and e-liquid to give you the best chance at a successful stop smoking attempt. Our blog has all of the information you need to get started with vaping, from 'Switching made simple' and 'How to find the right ratio e-liquid for your device' to 'When and how to change a coil' and plenty of product reviews. You can also find in depth set-up guides on our YouTube channel, so you can get all the information you need from the comfort of your own home.
What is a starter kit?
As the name suggests, a starter kit is an e-cigarette that is designed with new vapers in mind. They are straight forward and simple to use, and are compatible with a range of different e-liquids so it is easy to find the perfect flavour and nicotine strength to suit your needs.
The tank or pod is often designed with an airflow system that replicates that of a cigarette, so it feels familiar to the type of inhale you are used to, and the devices tend to be quite small in size with a rechargeable battery.
In this post we have selected 5 of our favourite starter kits this year, with a mix of traditional All in one (AIO) devices and open pod systems. However, if you are looking for a device to dip your toe into vaping, but don't want to have to worry about e-liquids and coils, you might want to take a look at our post 'Comparing pre-filled pod systems'.
UWELL Caliburn KOKO Kit
The UWELL Caliburn KOKO kit is an incredibly user-friendly device that fits perfectly in the palm of your hand and is easily stowed away in a pocket or bag when not in use. The design makes it a perfect starter kit for new vapers as it has no buttons and is a draw activated kit, meaning you simply need to inhale through the mouthpiece to vape and don't have to worry about changing any settings or remembering to lock the device when not in use.
I like to use this device when I am at work, as the battery will usually last me the whole working day, but I can also charge it easily using the micro USB cable though my laptop should I need to.
The pods are easy to refill on the go, and have a small e-liquid window so you can keep an eye on how full the pod is and when to top it up. It also comes with a handy neck chain, so I don't have to worry about putting it down and forgetting where I put it!
I have found that the pods for this device have really good flavour pay off, and you can also use the pods from its predecessor the UWELL Caliburn so you have a choice of which pod best suits your vaping preference. To make life even easier, the KOKO does not have changeable coils, so when the pod starts to burn out you just un-clip it and throw it away, then replace it with a new one.
Of the starter kits in this post I would say that this is the most straight-forward and user-friendly device, but due to it's small size it does have the smallest battery power of these devices so this would be something to consider if you are out of the house for long hours or expect to be using the device quite heavily.
Innokin Endura T18 II kit
Innokin are well known for their range of fantastic starter kits, and the Endura T18 II is not exception to this rule. The device has a slim, pen style design and is an AIO device, meaning the tank and battery are connected cannot be used separately of one another. This also means that the tank and battery have been designed to work in perfect harmony, it also has a built-in 1300mAh battery which can be charged via micro USB.
I really like the look of this device, it has a sleek and stylish design with a number of beautiful colour options including rainbow, stainless steel, and coloured ombre. I love being able to choose a device that is bright and colourful!
The T18 II has once button that controls multiple functions, and can be used as the fire button, to lock and unlock the device, and to adjust the power output. It gives the option for three different power outputs, low 10.5w, medium 12w, and high 13.5w, so you can find the wattage setting that feels best to you.
The adjustable airflow on this device is a really nice addition, it allows you to make the inhale tighter or looser, to suit your preference. For example, pre-rolled cigarettes tend to have a looser drawn, where as hand rolled cigarettes tend to be a tighter draw. Being able to adjust the airflow will help make the inhale feel more familiar and gives you the chance to personalise your vaping experience.
I like that this device is a nice small size but also has a good battery life and multiple options to personalise your vaping experience, without becoming complicated or having lots of buttons. It also comes with a magnetic drip tip cap, which clicks over the mouthpiece to keep it clean and dust-free when not in use, which is especially helpful in the current climate!
Aspire PockeX
The Aspire PockeX is actually not a new device for this year, in fact it has been on the market for a few years now, but it is still one of our best selling starter kits and one of my all-time favourite devices.
The PockeX is another all in one device, with a built-in 1500mAh battery that will easily give a full day of uninterrupted vaping for the average vaper. It comes in multiple colour options, and is a really great size for when you are on the go.
My favourite feature on the PockeX is the placement of the coil. It is attached to the top of the tank, rather than the bottom like in most other devices. This means that you can change the coil without having to empty the tank first or risk losing a load of e-liquid in the process. The tank has a metal layer of protection, with two juice windows so you can see how much e-liquid is there. However, it is important to note that there is a max fill line on the tank, as you need to leave room for the coil or the tank will overflow.
I am guilty of breaking my fair share of glass tanks but dropping or knocking them, and as soon as a crack forms the vacuum inside the tank will be lost and the e-liquid will begin to seep out, no matter how small the crack is. For this reason, replacement PockeX glasses are readily available and can be easily changed should an accident occur.
The device is controlled with one button, to turn it on and off and as the fire button, and there is a light around the button that gives an indication of the battery level. Unlike the T18 II, this device has a set wattage output and also a set airflow design so there is no need to mess around with different settings, you can just vape and go!
GeekVape Aegis Boost
The GeekVape Aegis Boost kit is one of my favourite pod kits on the market at the moment, it's super lightweight but also designed to be really resilient and hardy, perfect for those who work in jobs where their e-cigarette is likely to get broke, or for clumsy people like me! It is both water and dust resistant, with the help of a charger port cover. It is also shock proof so it can handle to occasional drop or knock without breaking!
It is a lovely compact design, that is ergonomically shaped to fit comfortably into your hand and provide good grip. The only downside I have found to this device is that you have to use the charger cable that comes with it, due to the inset port, you also need to be sure to take care with the charging port cap as this is crucial to ensuring the device remains water resistant. But really this is quite a minor inconvenience and hasn't stopped me enjoying the Boost kit.
The coil life on the Boost coils is absolutely fantastic, and they have beautiful flavour payoff from the first pull! Depending on the coil, you can even use high VG e-liquids with this device, so once you have been using it for a little while you can branch out into thicker e-liquids with a bigger cloud production.
I personally use this device for a tight mouth-to-lung vape, but the variable airflow design gives you so much leeway to experiment with looser draws and even direct-to-lung vaping, and it also have variable wattage so you can turn the power output up and down to suit the coil and your vaping preferences.
Because this device has multiple options for personalising your vaping experience, I would recommend it more towards those new vapers who are looking for a device they can experiment with rather than those looking for something they can just vape and go. It is still a starter kit, but with aspects of a more intermediate device that make it slightly more complex and versatile, but also really fun to use!
SMOK Nord 2
The SMOK Nord 2 is the upgraded version of the super popular SMOK Nord device. It still has the same sleek and sophisticated design as the original device, but with a few added extras that make the device more versatile and offer more options to personalise your vaping experience.
The Nord 2 has a small OLED screen on the side, that shows the charge level, wattage and puff counter, and the fire button can be used to adjust the wattage output to suit the chosen coil.
It has a whopping 1500mAh battery, which is fantastic for the size of the device, and it can be used with both the Nord pod or the RPM pod, which gives a huge range of coil options. This is another device that I would recommend for more adventurous new vapers or as an upgrade from a smaller, simpler starter kit, because like the Aegis Boost kit it allows for more complex user functions like variable wattage and sub-ohm vaping, that will not be of interest to new vapers who want a simple device.
Because of the range of different coils available, the Nord 2 can be used with both 50/50 and high VG e-liquids, giving the user a choice of different e-liquid options as they progress with vaping. I will say that it is important to choose the correct coil if you are looking to start using high VG e-liquids with this device, and bear in mind that high VG e-liquids will burn the coil out slightly faster than 50/50 e-liquids.
If you are looking to upgrade from a smaller starter kit, to something that can be adjusted to suit your needs and offers more options to experiment with different vaping styles, this is a fantastic device to get you started!
If you are interested in any of the devices mentioned in this post, or would like to learn more about them, you can head over to our website or pop in to your local Evapo store. We have made it easy to get set up on your vaping journey from the comfort of your own home, with handy set up guides available on our YouTube channel, and if you have any questions you can reach out to a member of our team through the live chat function at any time!