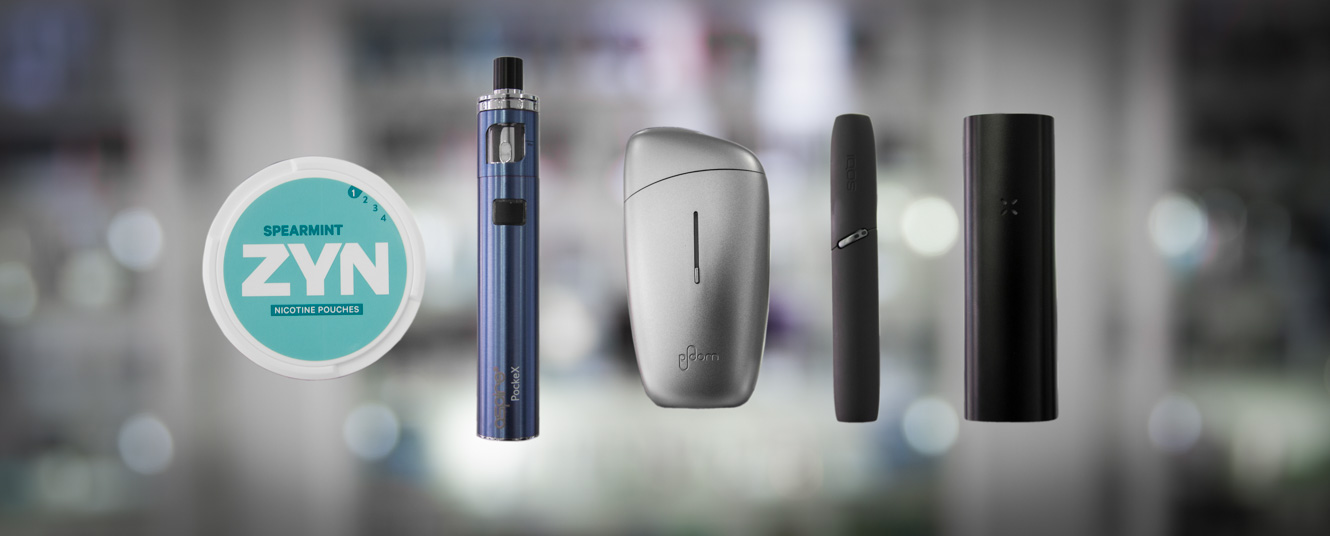 We are fortunately enough to live in a time where there are a number of easily accessible alternatives to smoking, that help you make the switch from combustible cigarettes to a less harmful alternative. We're going to be taking a look at the different alternatives to smoking available at Evapo, to help you find the solution that will best suit you!
E-cigarettes
One of the most popular alternatives to smoking currently available is e-cigarettes. These devices heat an e-liquid, which can be purchased both with or without nicotine, to create a vapour which is then inhaled.
E-cigarettes do not produce tar or carbon monoxide, which are two of the most harmful substances found in tobacco smoke, and have been found by Public Health England to be 95% less harmful than smoking.
They come in all different shapes and sizes, and offer a solution that feels very similar to smoking, effectively replacing both the feel of smoking and the physical habit.
There are many different starter kit options, designed with new vapers in mind, with a simple and user-friendly design that helps make the transition from smoking to vaping as easy as possible.
Vuse ePod 2
JustFog QPOD
SMOK Nord 2
All of these starter kits are best used with a 50/50 e-liquid, like the Ohm Brew 50/50 range, which is available in 39 different flavours and a variety of nicotine strengths.
Nicotine pouches
Nicotine pouches are an incredibly discreet and convenient alternative nicotine options, which can be used alone or alongside another nicotine alternative like an e-cigarette or heated tobacco device.
All you need to do is pop one of the pouches under your upper lip, and it will start to deliver a consistent release of flavour and nicotine. They can be held under the lip for between 5 minutes and one hour for the best results, and are a excellent option for when you need to tackle a nicotine craving but maybe can't use your e-cigarette or other nicotine alternative.
Nicotine pouches do not contain any tobacco, and are made using food grade ingredients which do not stain your teeth, and are available in a variety of different flavours and nicotine strengths.
Zyn
Heated tobacco
If you're not quite ready to give up tobacco, but want an option that lets you cut out some of the harmful substances released upon combustion, then a heated tobacco device is a fantastic option to consider.
The devices have specially designed tobacco sticks, and use heat-not-burn technology to gentle heat the tobacco and produce a vapour rather than smoke. This lets you enjoy the flavour and sensation you are familiar with, while also reducing the damaging effects of smoking.
IQOS & HEETS
Ploom & EVO
Dry herb vaporizers
If you are looking for a less harmful alternative for use with loose leaf, a dry herb vaporizer offers a convenient and discreet option that heats the materials in a specially designed oven, producing a smooth vapour.
These portable devices have built-in batteries, so you can use them at home or out and about, and simply charge when needed. They will often include multiple pre-set heating options, to help you choose the best setting to suit both your preferences and your chosen materials.
PAX 2
PAX 3
If you'd like to learn more about the range of alternatives to smoking that we offer, pop in to your local Evapo store and speak to a member of our team, or check out the options available on our website.