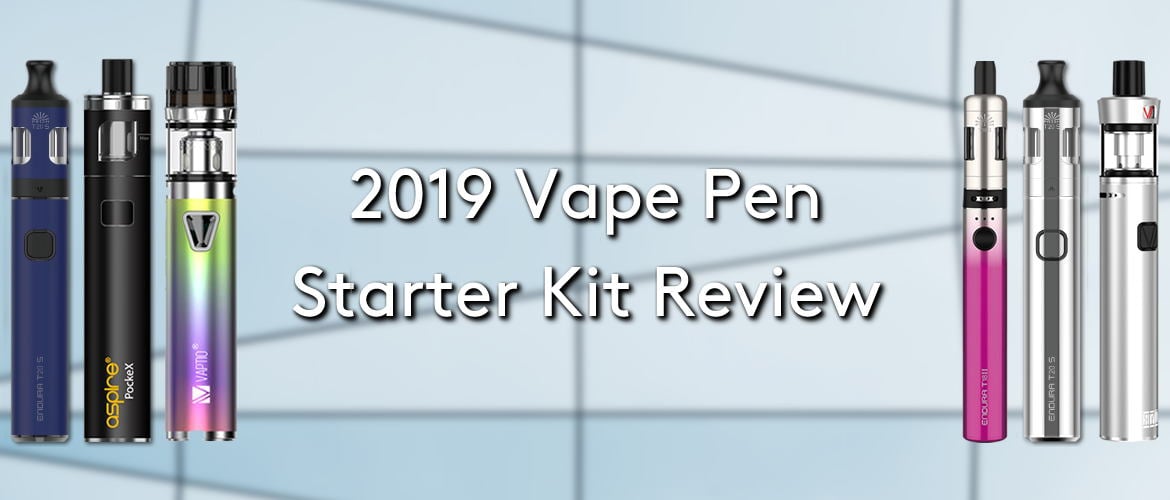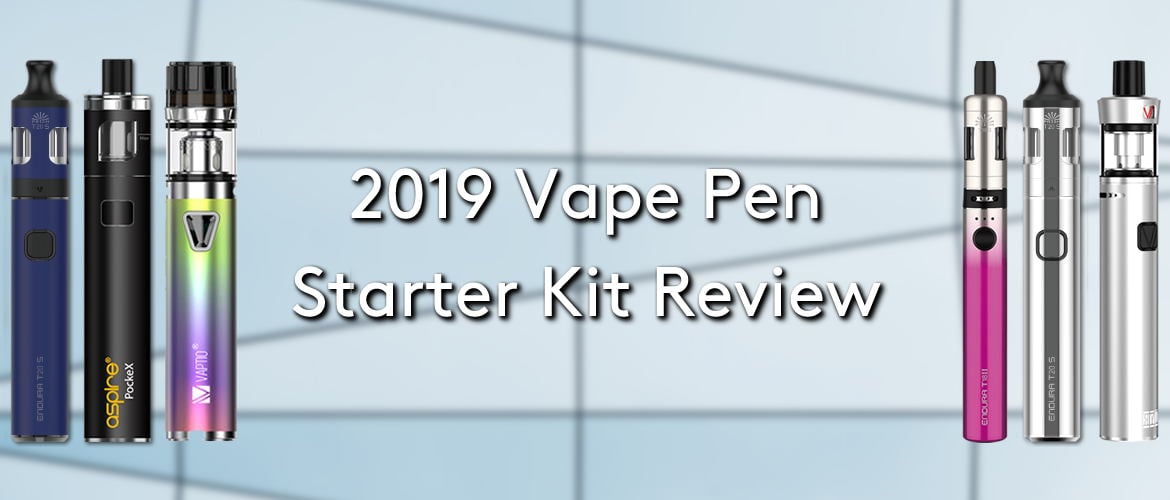 2019 Vape Pen Starter Kit Review
There is a huge range of options for starter vape kits available on the market today, this means that there is a device available to suit every preference, but to new vapers trying to find the right device for them this much choice could be confusing.
In this post we will be discussing some of our top picks for vape pen starter kits to help you find your perfect starter kit!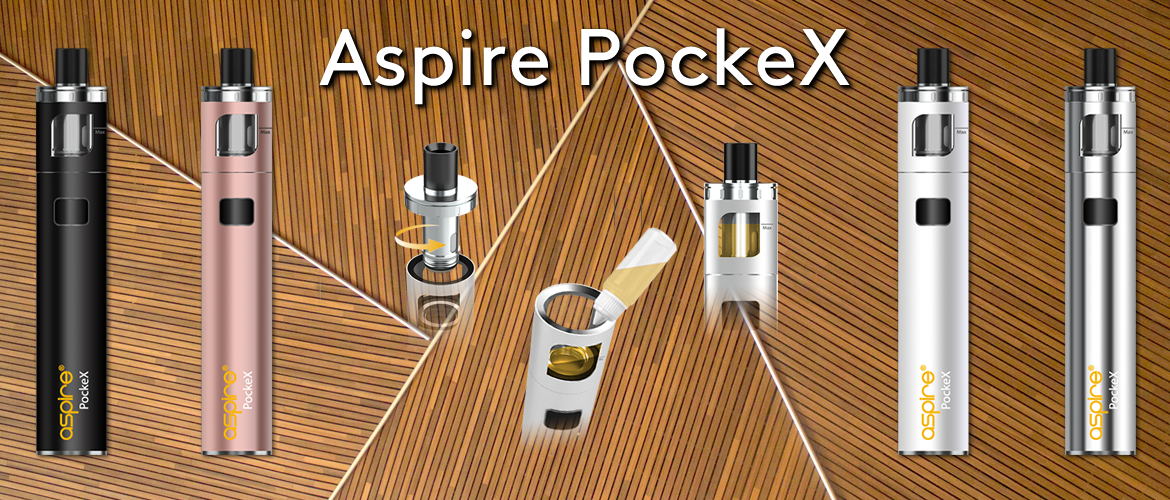 Aspire PockeX
The Aspire PockeX is a fantastic device for those who had been smoking pre-rolled cigarettes, as the airflow design replicates the pull of this form of cigarette well, although it may be too airy of a draw for those who previously smoked roll up cigarettes.
The device is an all in one style pen, meaning the tank is built in to the battery so they work in perfect harmony for a smooth and fuss-free vaping experience. The PockeX is an incredibly user-friendly device, and the placement of the coil means it can be changed without having an empty tank which is not something found in many devices, handy for on the go vaping!
The larger sub-ohm coil is what really makes this device stand out from other starter kits, it can be used with both 50/50 or high VG e-liquid, giving the user a wider range of e-liquid options to choose from.
If you are looking for a higher nicotine strength with a little throat kit to replicate smoking a cigarette choose a 50/50 e-liquid.
If you would like a smoother vape with slightly more vapour production pair the PockeX with a high VG e-liquid. It is important to bare in mind that a high VG e-liquid may burn the coil out slightly quicker than a 50/50 e-liquid.
This device is a versatile and sophisticated starter kit ideal for those who would like a wide airflow and the option to personalise their vaping experience.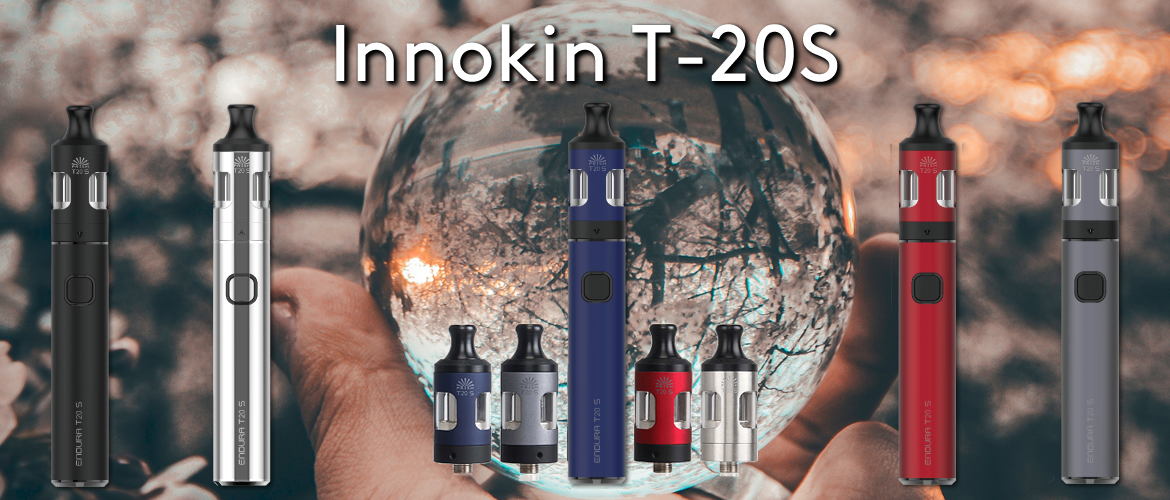 Innokin T20-S
The Innokin T20-S is a device designed with new vapers transitioning from smoking roll-up cigarettes, with a tight airflow paired with a slimline drip tip that will feel familiar and comfortable to these vapers.
The tank is ideal for use with a 50/50 e-liquid and will feel smooth even with a high nicotine strength, with an efficient 1500mAh battery that allows for all day vaping, including Innokin's 'vape while charging' technology meaning you can continue to use the device even when the battery is recharging.
The user has a choice of two different coils, one of each comes in the starter kit box allowing them to experiment with both to find their preferred coil. The 0.8ohm coil heats up quickly for a quick nicotine fix and slightly larger vapour production, while the 1.5ohm coil burns slightly slower to allow for full flavour.
The T20-S is a compact and sleek device ideal for vapers looking for a tight airflow design and uninterrupted vaping experience.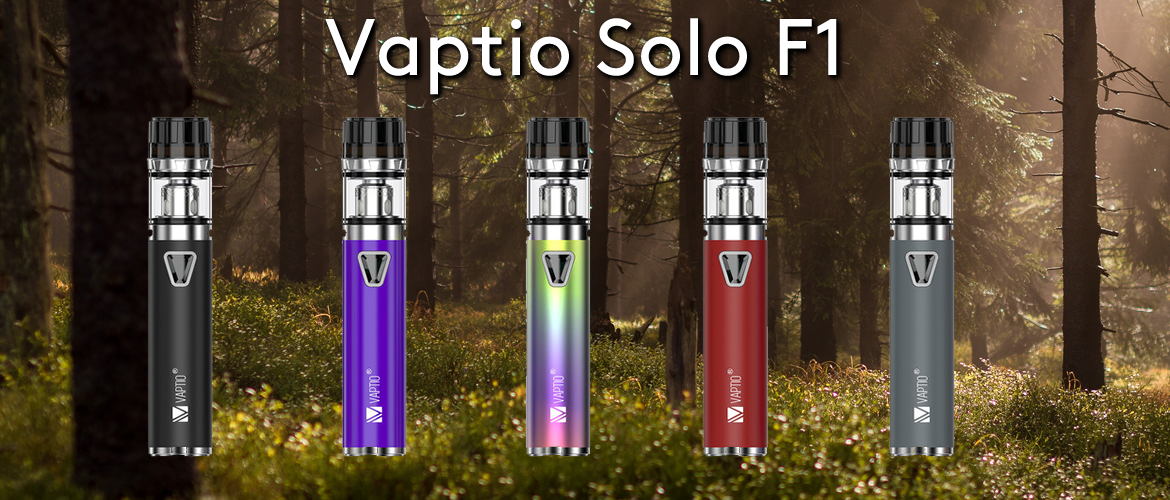 Vaptio Solo F1
The Vaptio Solo F1 is a surprisingly powerful device for its petite size, with a 1650mAh battery that powers a sub-ohm tank perfect for use with a high VG e-liquid. This device is ideal for vapers who have been using a smaller, less powerful device and are looking for a slight upgrade, or for those who were light smokers looking for a device with big airflow and dense vapour production.
The device features a handy magnetic cap which protects from any dirt, dust or germs that could otherwise end up in the drip tip, making the device ideal for those who will often keep it in a bag or pocket, or who work outdoors or in the construction industry where dirt and dust are prevalent. The standby feature is also fantastic for protecting against accidental firing when kept in a bag or pocket, as the device will automatically turn itself off after 5 minutes without use.
Because of the big airflow and sub-ohm tank it is not ideal for use with a high nicotine strength, and the large coil would not perform as well if used with a 50/50 e-liquid. However, the low resistance coil paired with the adjustable airflow allows for a fast hit and a dense and flavourful vapour which will both satisfy nicotine cravings and tingly the tastebuds!
The Solo F1 is ideal as an upgrade from a pod or less powerful starter kit, for those looking to try out a sub-ohm tank with a larger vapour production.
Innokin T18-II
The Innokin T18-II is a slimline pen style device which is discreet and simple to use. This new and updated device gives a range of options that allow for a personalised vaping experience, with three different power settings and adjustable airflow. The award-winning Prism T18E coils run perfectly on each of the different power settings and the airflow can be adjusted from a tight draw to an airier draw depending on the user's preference.
The LED indicator lights are a fantastic added extra, both indicating the remaining battery life and which power setting is currently in use. Knowing when to charge your device makes the T18-II ideal for on the go vapers, letting them plan when they will need to charge their device, which can be easily done using the micro USB cable.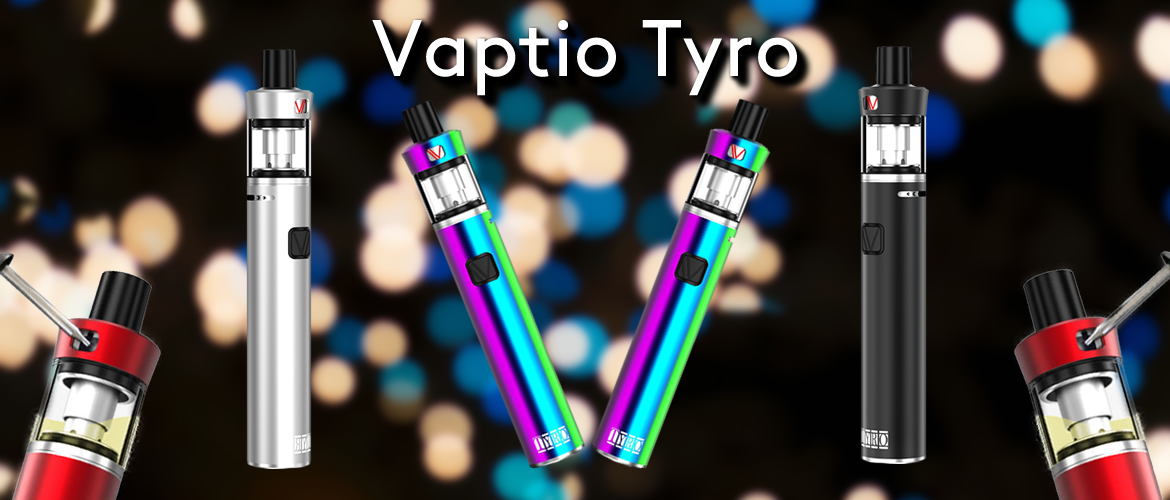 Vaptio Tyro
The Vaptio Tyro is a fantastic all rounder starter kit device, with a simplistic yet sophisticated design ideal for new vapers looking for a stop smoking tool. It features a sufficient 1500mAh battery power for satisfying hits throughout the day, charging in just over two hours.
The easy top side fill window allows for refilling the tank on the go without mess or any risk of leaking, simply twist the top of the tank to open the window and pour in more e-liquid, then twist back to close the window and seal the tank.
The patented adjustable airflow design which can be changed by turning the glass section of the tank means the Tyro can accommodate both mouth to lung and direct to lung vaping styles.
Ideal for use with 50/50 e-liquids, the choice of two different resistance coils allows the user to find their perfect combination of airflow and coil for a satisfying and comfortable vaping experience, making it easy to beat any nicotine cravings when giving up smoking.
Overall the Tyro is a sleek, efficient and incredibly user-friendly device designed with the customer in mind.
If you are considering the use of an e-cigarette as a stop smoking aid, or looking for a new vape pen starter kit device, and think one of the devices mentioned in this post would work well for you, pop in to your local Evapo vape store and speak to a member of our team to learn more.
You can also shop our full range at our online vape store, and read more vape related advice, news and reviews on our blog.