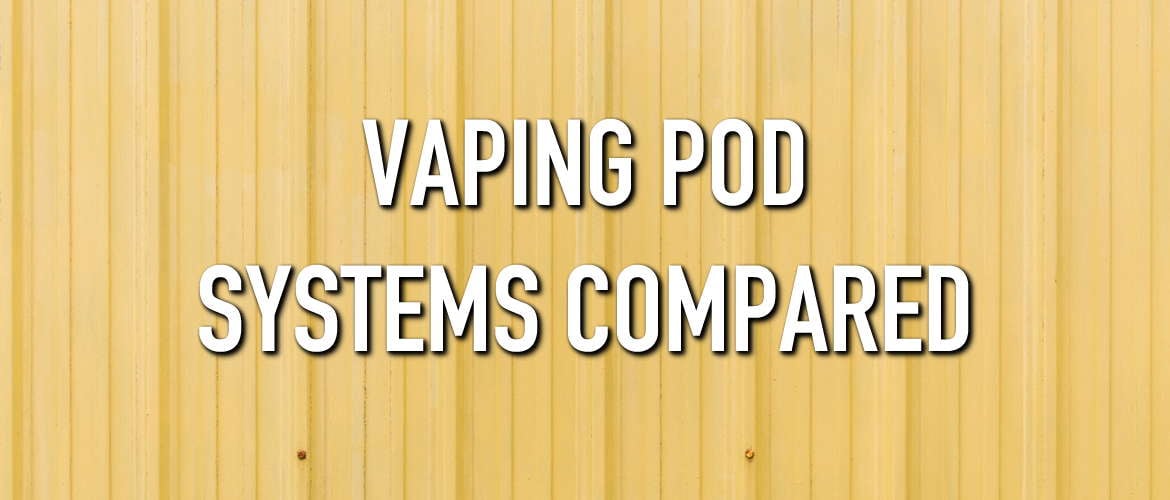 Vaping POD Systems Compared
We've been hearing a lot about POD system vape devices as late, and they are rapidly gaining popularity in the current market. Their simple and user-friendly design is popular with new vapers, but they are also becoming increasingly popular among experienced vapers as a second device for on the go vapes or as a more discreet alternative.
We've decided to put together a comparison of some of the POD systems that we sell here at Evapo to help you decide which one is right for you! All three of the devices we are comparing will be evaluated in two areas; size and appearance and power and battery life.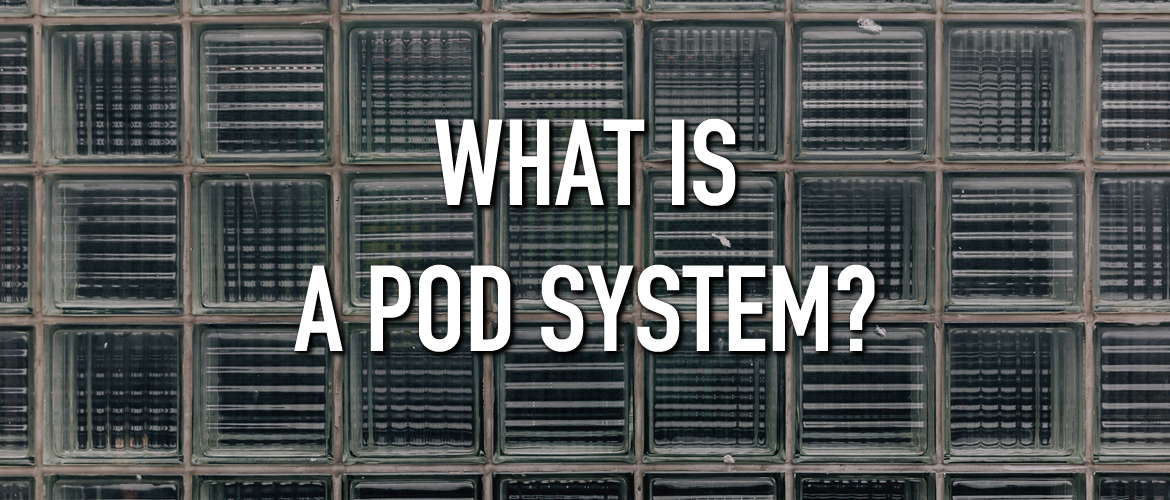 What is a POD System?
POD systems are devices that do not have a permanent tank with a replaceable coil, but rather a disposable 'POD' with an enclosed coil that can be refilled for multiple uses, or can come pre-filled for single uses, and is then disposed of when the coil starts to burn out and the whole pod is replaced.
These devices are often considered less messy because the coil being enclosed means the user doesn't have to worry about removing a coil that has been submerged in e liquid or taking apart their tank to clean inside.
Many people like to use eliquids made with nic salts in pod mods, we have written some blog post about them so check out 'What Are Nic Salts?' and Vaping Advice: Nic Salts to learn more, we recommend the Ohm Brew 50:50 range!
If you would like to read more about POD ecigarettes we have a handy blog post Vaping POD Systems that goes into more detail.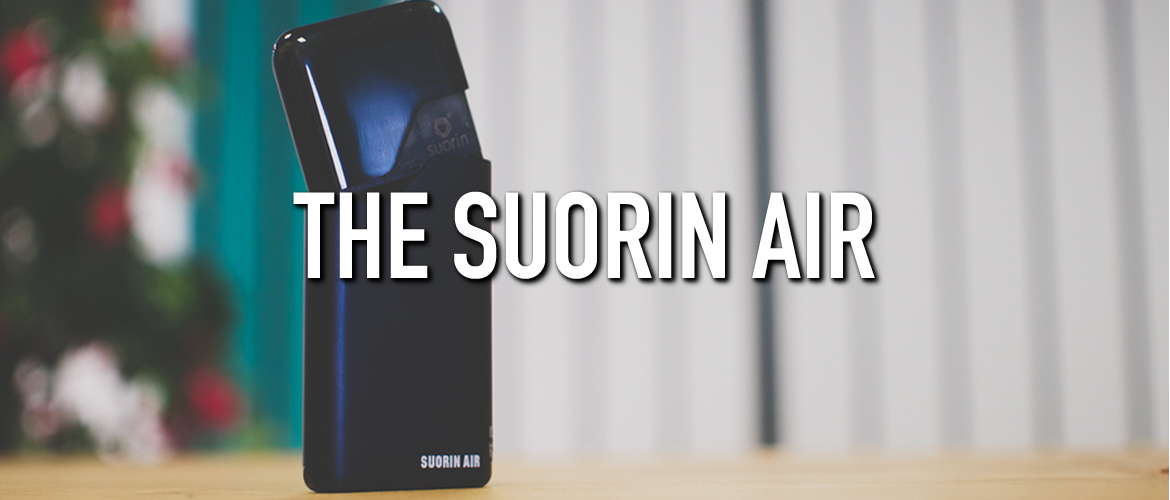 The Suorin Air
The Suorin Air is the first of our little POD devices. It may not look like much, it isn't even really recognisable as an e cigarette, but it most certainly can't be overlooked!
Size and appearance – The Suorin Air could easily be mistaken for some kind of key-card or many other nondescript items, but most people would not be able to recognise it as an e cigarette upon first glance. It is similar in size and shape to a credit card, and at less than a centimetre thick, it will easily fit in the card slots of most wallets. For those who would like an extremely discreet vape this is ideal!
Other than the product name in small print and the on/off switch the design is a simple matte black chassis with a shiny black transparent pod. We have rated the Suorin Air 3/5 for size and appearance because, although some would say it looks boring, others may be looking for exactly that!
Power and battery life – it has a reasonably low-power battery in comparison to other e-cigs but considering its tiny size the 400 mAh battery is actually pretty powerful and puts out 16watts. Battery life depends very much on the user as the length of the pull and how regularly it is vaped on varies from person to person. With regular use and 3-4 second pulls the average battery life is around 1 day.
Suorin Air retails for £19.99 in our shops and online store with a free bottle of Ohm Brew 50:50, if you would like to learn more about this device check out our Suorin Air blog post.

The Warlock PEAS
The Warlock Peas is the cheapest of the three devices we are comparing, retailing at £15 in Evapo shops and the online store. It is a popular starter vape kit and is probably the most straightforward of the three to use as there are no buttons or settings!
Size and appearance – The Warlock PEAS has a different shape to the Suorin and Mi-Pod as the design is long and slim as opposed to rectangular. This could feel more familiar to new vapers as the shape more closely resembles a cigarette. The device is very lightweight and comes in a choice of 4 different colours for the centre of the chassis. At one end is the pod which holds 1.8mls of juice, and the other end has the charger covered by a cap.
The device has no buttons, but the vacuum created when the user inhales at the mouthpiece triggers the device to fire, and a small light will show on the device when it is firing. We have awarded the Warlock PEAS a 3.5/5 for appearance as the device remains discreet in appearance but still offers the user a touch of personalisation in the colour that they choose.
Battery life and power – Despite being a bit bigger than the Suorin Air, the Warlock also has a 400 mAh, however it only has an output of 7watts. This lower wattage could be good for those who like a low power device or who prefer to take longer pulls. The battery life is similar to that of the Suorin, lasting approximately a day or a bit over, but the charge method on this device is slightly different to most vapes.
Rather than a requiring a micro USB cable to charge, the Warlock PEAS has a USB built into one end and can be plugged directly into a USB port such as the ones found on laptops etc. and the charge only takes around 40 minutes.
We recommend this device to new vapers or those looking to use a higher nicotine content eliquid such as a 12mg nic salt.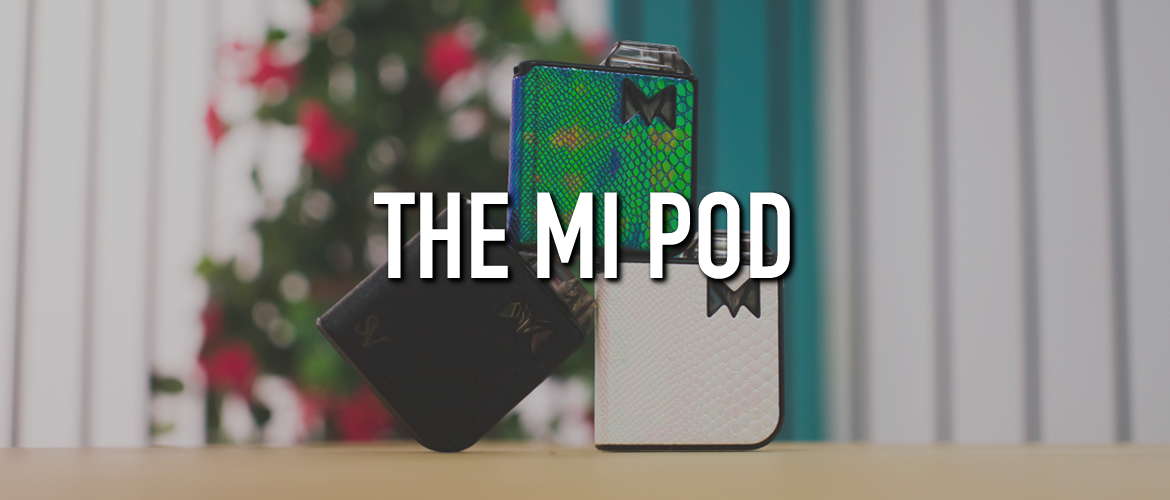 The Mi-Pod
The Mi-Pod is the newest of the three devices to have arrived your local Evapo store and our online site. It is very funky looking and certainly an eye catcher!
Size and appearance – Of the three the Mi-Pod is the biggest pod-mod, however it is still a very small and compact device. The mouthpiece on this is the most comfortable and it comes with a handy lanyard for easy on the go vaping. The three designs available at Evapo are the black sand, Sea dragon, and pearl dragon. These finishes are not as discreet as the other two devices, and the Mi-Pod is a bit more obviously an ecigarette, so may not be such a good match for those looking for a subtle device that could be mistaken for something else. However, for those that love to be unique this is a beautiful device!
Battery life and power – The battery life and power of the Mi-Pod is second to none when you consider its size. This dinky device has a whopping 950 mAh battery and kicks out between 3-4.2 volts. Because of this higher output the Mi-Pod is a favourite among new vapers and experienced vapers alike. The battery takes around an hour and a half to charge, but a full charge can last between 2-3 days depending on usage. This funky little device provides a really satisfying pull and has extremely good battery life!
The Mi-Pod retails on Evapo online and in stores for £39.99. To read up on the Mi-Pod checkout the blog post we wrote about it. The three pod-mods we compared all proved to be fab little devices, and all had qualities that made them stand out.
If you think the Suorin Air, Warlock PEAS, or Mi-Pod could be the perfect device for you then why not pop into one of our 25+ stores to have a closer look, or head over to our website.
Let us know what you think about these three devices by tagging us and using the hashtag #VapeWithEvapo !