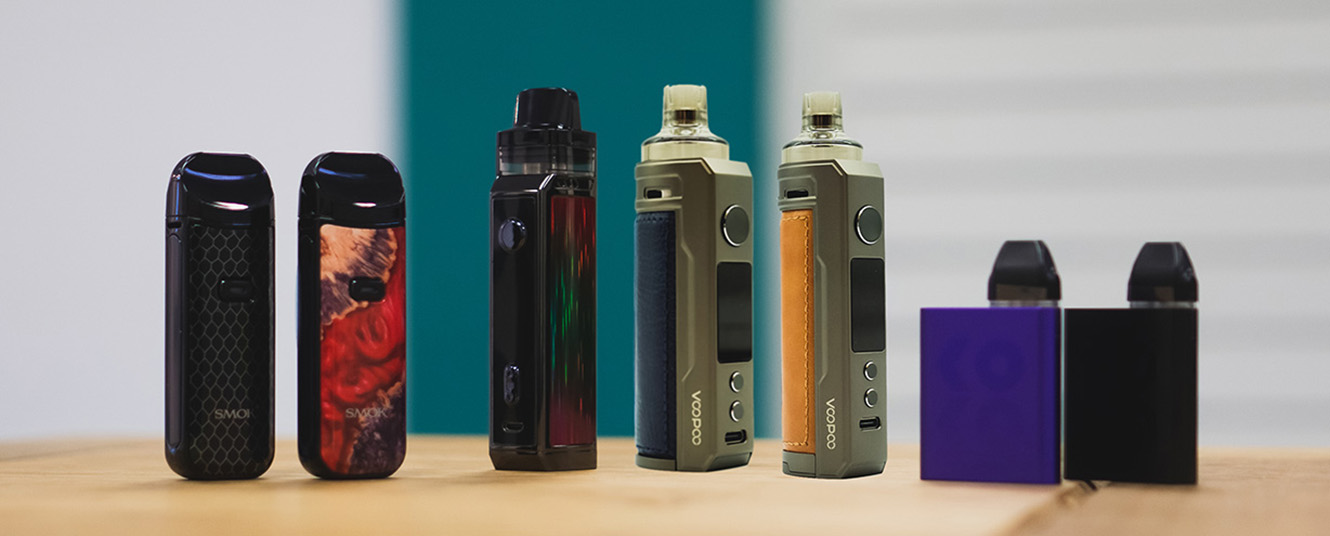 As we all know, pod systems have taken the vaping market by storm, and open pod systems are proving to be the perfect combination of ease and convenience, while still letting you customise your vaping experience. We have put together a list of our 5 favourite new open pod systems of 2020.
What is an open pod system?
An open pod system is a device which features a refillable pod, they are usually small and lightweight, with minimal buttons. These devices combine the compact size and user-friendly design of a pre-filled pod system, with the ability to choose any flavour and nicotine strength e-liquid offered by a traditional tank style device.
The plastic pods are robust and click snugly inside the body of the device, ideal for clumsy people like myself who are prone to knocking the glass on their tank!
Some open pod kits have an enclosed coil, so you just need to replace the pod when the coil starts to burn out, while others also allow you to change the coil, so you can use the pod for longer and just change the coil when needed.
Another perk to these devices is that you can have multiple pods on the go for different types of flavours. I like to have one pod for icy and menthol flavours, one for fruity flavours, and one for sweeter desert flavours. This way you can use whichever flavour takes your fancy that day without having to mix flavours, and the pods are very inexpensive in comparison to having multiple tanks for a traditional e-cigarette.
SMOK Nord 2
SMOK have released the upgraded version of their wildly popular Nord device, and it has already taken the market by storm!
It still has the sleek and compact design we know and love, with very minimal difference in size to its predecessor, but with a few new additions. The Nord 2 has a small OLED screen on the side, unlike the original Nord, this allows you to view the battery charge and puff counter. It is also a variable wattage device, so you can change the power output to suit your preference and the coil you have chosen to use, with a wattage readout shown on the screen.
As there is only one button you can only change the wattage in one direction, so in order to turn the wattage down you have to scroll all the way up to the max 40w and then back around to the desired wattage setting. This is a little inconvenient, but honestly I found that it didn't take long and does not take away from the device as having the variable wattage is a real plus.
It also has a 1500mAh battery, offering more power and longevity than the 1100mAh original Nord battery.
The kit comes with both a Nord pod and an RPM pod, so can be used with both the Nord and RPM coils, giving numerous different coil options including mouth to lung, direct to lung, and even a rebuildable option. Because of the coil range, the Nord 2 can be used with both 50/50 and high VG e-liquids, although only certain coils can handle a high VG e-liquid and this will decrease the lifespan of the coil. But it is really fantastic to have such a wide range of e-liquid options available to use in one device.
If you loved the Nord, you will definitely love the Nord 2, and it is both a fantastic upgrade and fantastic starter kit.
VOOPOO Drag X & Drag S
The Drag X and Drag S are probably my favourite looking out of the devices we have chosen; they have a really sleek and stylish design and feel incredibly comfortable to hold and use.
The Drag X and Drag S are primarily the same device, but offer different battery options. The Drag X is an external battery device, powered by a single 18650 battery, whereas the Drag S is an internal battery mod with a built in 2500mAh battery. Because of this the Drag X has a max wattage of 80w while the Drag S goes up to 60w. While they are extremely similar devices, this difference in battery can make them appealing to different vapers, and we couldn't choose just one of them for this list.
The Drag S & X both feature three buttons for use, the standard fire button and also a plus and minus button for adjusting the settings.
There are a range of PnP coils designed for use with these devices, but they can also be used with the Vinci coils which expands the range of coil options even further. Like the Nord 2, these Drag devices can be used with both 50/50 and high VG e-liquids, depending on the coil, and the devices also have variable airflow so you can really personalize your vaping experience to suit your needs.
Due to all of the variables and functions on these devices, I would recommend them as an intermediate device for those who have gotten to grips with vaping and are looking to upgrade to a more advanced device. They would also be great as a secondary device for advanced vapers as an alternative to their bigger advanced devices.
VOOPOO Vinci X
VOOPOO are really leading the pack on open pod systems this year, and there's no way we couldn't include the Vinci X on this list. This is of course the upgraded version of their previous Vinci device, with some awesome upgrades that have really taken the device to the next level.
Unlike it's predecessor, the Vinci X takes an external 18650 battery, so you can carry a spare battery or two and swap them out on the go for endless vaping. However, it does take the same pods as the Vinci device, which is great news for those looking to upgrade from the original Vinci!
A nice feature is that there are two difference airflow options so you can choose between a looser draw or a tighter draw, simply by taking the pod out, turning it around and reinserting. The pod is also held in by a magnetic connection so it is really secure, which is ideal for people like me who often have their vape rattling around in the bottom of their bag!
One of my favourite features on the Vinci X is that the device will detect what coil you are using and will set the wattage cap to match the recommended wattage range for the coil, for example, if you are using the PnP – VM1 0.3 coils which have a wattage range of 32 – 40w, the device will auto-adjust your wattage to 32 and will max the wattage out at 40. This means you can't accidentally run the wattage too high and born the coil, and prevents dry hits.
One feature that is missing from the Vinci X that it's predecessor did have is an autofire option. In the previous Vinci kit you could select the autofire option which would allow you to vape by inhaling without having to press the fire button. However, the Vinci X is exclusively a button fire device. This is not something that bothers me personally as the autofire is not a function I use, but may be something for Vinci users to consider when they look at upgrading.
As with the VOOPOO Drag X & S, I would consider the Vinci X an intermediate device, as many of the functions and features are a bit more advanced than what a new vaper would really need from a starter kit.
UWELL KOKO Kit
After the huge success of the Caliburn, UWELL have released the KOKO kit, an incredibly user friendly device that fits into the palm of your hand. The device is petite and compact, it is a perfect starter kit for new vapers and pairs perfectly with 50/50 e-liquids at any nicotine strength. Unlike the other devices mentioned in this post, the KOKO is a draw activated kit, so it has no buttons and you simply need to inhale through the mouthpiece to vape.
It may be small, but the KOKO still packs a 520mAh built-in battery, which I have found easily gives me a full day of vaping, and is easily charged via a micro USB cable. I like this device for when I am at work, as I can charge it though my laptop should I need to, and the e-liquid window makes it easy to keep track of when I need to refill the pod. It also comes with a handy neck chain, so I can keep it close and don't lose it when my desk gets a little messy!
The pods for this device have excellent flavour pay off, and it is also compatible with the original Caliburn pods so you can have a choice of which pod best suits your vaping preference. Because the device has a set wattage output, you don't need to worry about running the pod at too high of a wattage and burning out the coil prematurely, and unlike the other open pod kits we have mentioned, this device does not have changeable coils. This makes using it much easier for those who are new to vaping, as you don't have to faff around with changing the coil when it burns out, you just need to removed the burnt pod, dispose of it, and insert a fresh pod.
This device may not be as complex as the other devices, but I think that is one of the things that makes it so fantastic! While some people are looking for a pod system that offers variable wattage, multiple coil options, and other functions and features, others just want a device that is easy to use, compact and will help them on their stop smoking journey, and that is exactly what the KOKO does, while still looking nice and giving a great quality vaping experience.
If you are interested in any of the devices we have mentioned in our post, they are all available for convenient home delivery on our online vape store. You can also pop in to your local Evapo store and speak to a member of our team to learn more about any of the devices mentioned, or any other products in our range.