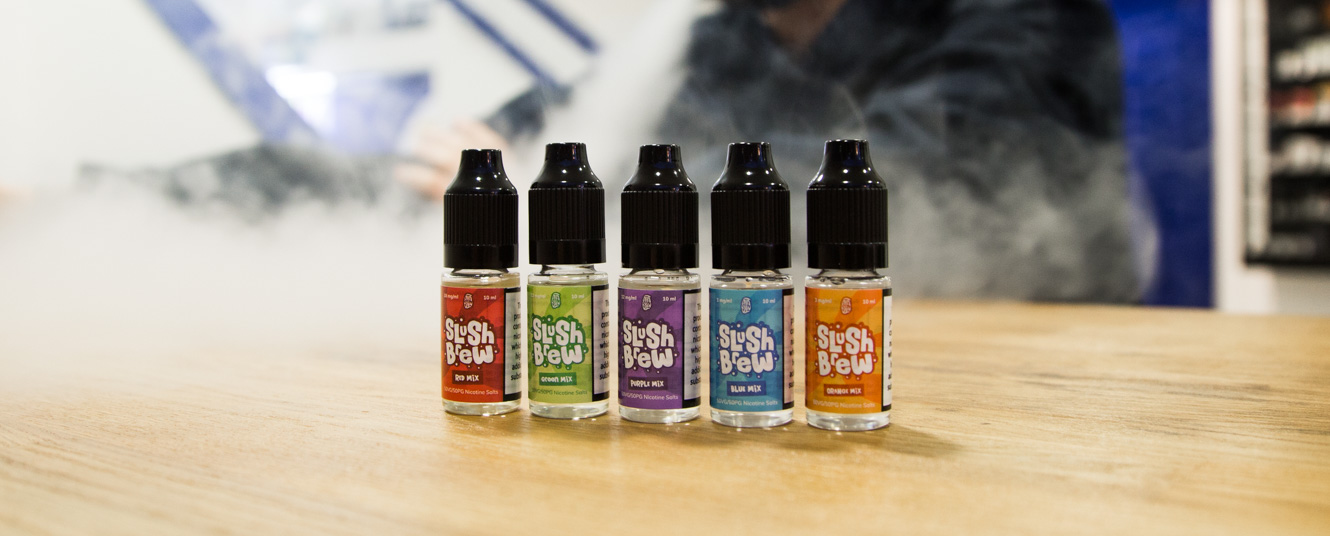 Ohm Brew are well known for their comprehensive range that makes delicious, premium e-liquids available to all vapers, no matter what their device or preferences. Their Slush Brew range offers some perfectly nostalgic slushy inspired flavours that would make even Mr. Frosty himself shiver, and they have now expanded the range to include nic salt options!
What are nic salts?
Nic salt e-liquids are made using nicotine salts, which are extracted using an acid base and closely resemble the way that nicotine occurs naturally in the tobacco plant.
They are perfect for use with starter vape devices, for their 50/50 formula and range of nicotine strengths. Due to the extraction process, nic salts offer an extremely smooth inhale, even at high nicotine strengths, and the nicotine is absorbed quickly into the bloodstream to satisfy cravings in seconds.
The mixes
Slush Brew have taken their range of delicious slushy inspired flavours and given them a smooth nic salt formula, so all vapers can enjoy the range no matter what device they are using. The range was previously only available in 50 ml high VG shortfills, which are best used with sub-ohm devices, but the new nic salt range is great with smaller devices such as starter kits and pod systems.
These flavours will let you take a trip down memory lane, bringing back childhood memories of sipping on a fresh and frosty slushy drink in the sun!
You can pick up the Slush Brew nic salt range in 10 ml bottles, with a choice of a 3 mg, 6 mg, 12 mg, and 18 mg/ml nicotine strength, so you can select the perfect strength to satisfy your cravings.
Red mix
Blue mix
Green mix
Purple mix
Orange mix
The Slush Brew range are also available in high VG shortfills, with 50 ml of nicotine free e-liquid in a 60 ml bottle, leaving room for a nicotine shot if needed. So even the sub-ohm vapers can enjoy a delicious slushy treat!
If you fancy giving Slush Brew e-liquids a try, pop in to your local Evapo store and speak to a member of our team, or shop the full Slush Brew range on our website.