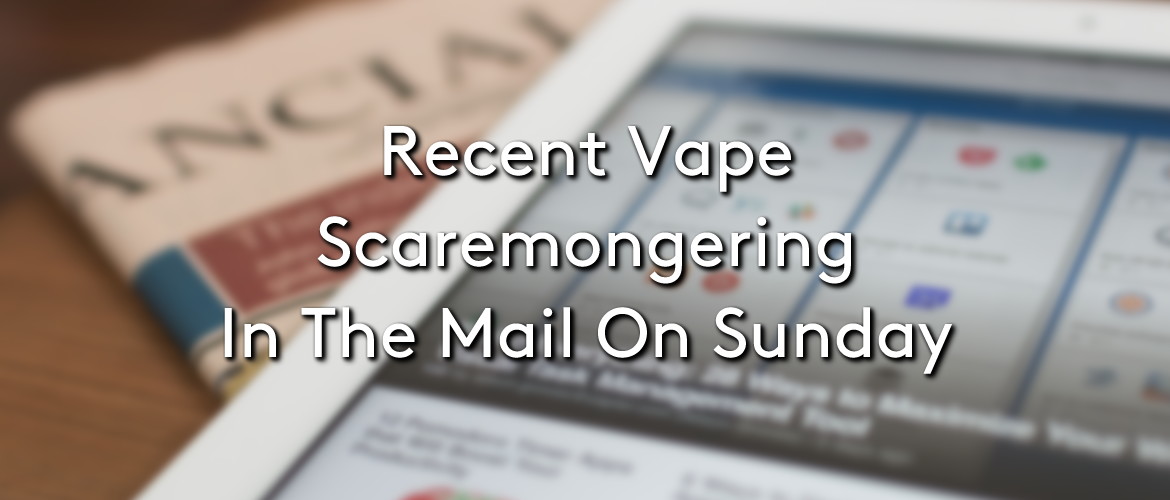 Recent Vape Scaremongering In The Mail On Sunday
It can be said that the main source of scaremongering and misinterpretation in regards to the use of e-cigarettes comes from the news and media, an unfortunately truth that could be stopping many from making the switch from smoking to vaping.

The Article
The latest of these articles was posted in the Mail on Sunday and it perpetuates a twisted view on the recent data which shows the number of young people who have tried an e-cigarette has doubled since 2014, referring to this an epidemic.
However, what the article neglects to recognise is that this same data found that although more young people have tried vaping, the number of regular users remains extremely low.
While it is true that 1 in 6 young people have experimented with e-cigarette use, only 1 in 500 profess to regular use, defined as using an e-cigarette at least once a week.
We recently discussed this in our blog post 'Young People Vaping Remains Low' and highlight the lengths that vape stores and the vaping industry as a whole go to to prevent the sale of e-cigarettes and e-liquids to people under the legal age of purchase.
As the article does state, there is no hard evidence linking e-cigarette use with breast cancer, or any other form of cancer; however, the article continues to suggest that in years to come many young women will be diagnosed with avoidable cases of breast cancer brought on by vaping, without any scientific evidence to support this view.
It is unfortunate articles like this providing contradicting information that could be scaring people away from switching from smoking to vaping, falsely leading them to believe that vaping is just as harmful as smoking.
As the article mentioned, PHE (Public Health England) have published research finding e-cigarettes to be 'at least 95% safer than smoking', a statement that they would not publicly make without having a substantial amount of research and data to back it up.
The professor whose opinions are expressed in the article himself states:
'Of course, I understand there is currently no hard-and-fast evidence linking prolonged e-cigarette use with cancer in general, or breast cancer in particular.

E-cigarettes may be less harmful than tobacco but there could be serious long-term consequences of vaping.

And I fully appreciate that e-cigarettes are much less harmful than tobacco, and would encourage smokers to switch.'
It is important to recognise that continued research into prolonged e-cigarette use is important, however, to pre-emptively assume the results to be so negative is unnecessarily causing smokers to refrain from making the switch to a healthier lifestyle.

UKVIA – The UK Vaping Industry Association
UKVIA (UK Vaping Industry Association) has given the following statement in response to this article:
'Organisations such as ASH and Public Health England have found little evidence of youth uptake of vaping products in the UK, but the UKVIA is clear that it is completely unacceptable for any vape products to be marketed at children. While many adult vapers enjoy the variety of sweeter flavours available, all members of the UKVIA are committed to maintain and raise standards across the industry.

To emphasise this, we have recently launched a new code of conduct for all members. This includes requiring retailers to use "Challenge 25" in stores, have robust online age sales verifications and ensure products are only marketed towards adult smokers or vapers.'
If you would like to learn more about e-cigarettes take a look at our blog or head in to one of our Evapo vape stores and speak to a member of our team.
Sources: – https://www.dailymail.co.uk/news/article-6818217/Vaping-epidemic-teenage-girls-lead-breast-cancer-later-life-warns-surgeon.html