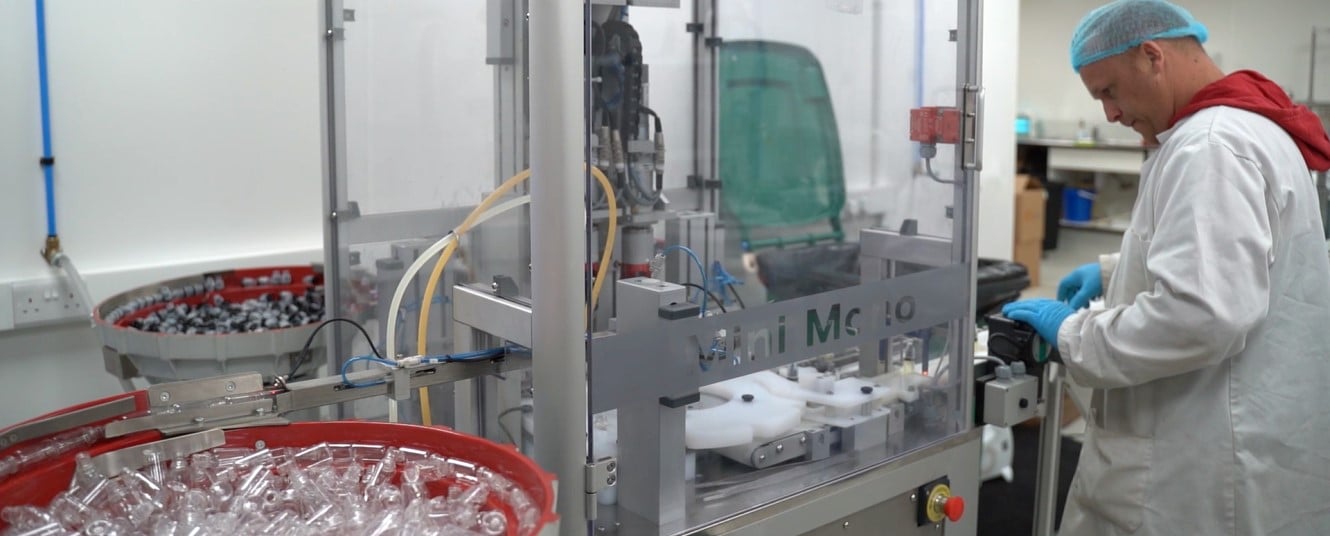 Alongside our Evapo vaping stores we also produce and manufacture a number of our own e-liquids, from our e-liquid manufacturing facilities in Belfast, Ireland. A lot of work goes in to creating a new e-liquid, from the first concept to the product being available on the shelves, and we complete the whole process in house from start to finish.
Our manufacturing facilities
Our Belfast based manufacturing facilities are ISO accredited, and have been for the past three years. This is a voluntary accreditation that is globally recognised, and means our products are produced to the highest quality, and we are regularly audited on behalf of ISO to ensure we maintain our accreditation, and that our standards are of the highest possible. The ISO standards dictate the whole manufacturing process, from how we handle the raw materials, to how we store the finished product. We think that having this accreditation is really important, as we know that we are producing the best product that we can, and this is globally recognised by a reputable organisation.
Within our facilities we have two automated lines which mix and bottle the e-liquids, ready to be added into inventory and sent out for customer's orders.
One of the things we pride ourselves on is that all materials we use, including packaging, is sources from within the UK. Additionally, ever flavour we produce is specific and unique to our brand, and is the result of hours of research, development, and trials. We won't bottle an e-liquid until we are 100% sure that the flavour is spot on, and our customers are going to absolutely love it!
A day at our facilities
When mixing up a batch of e-liquid, we start with a specific formulation calculation that shows us what quantities of the four components we need to mix that specific e-liquid. This will include the ratio of VG (vegetable glycerine) and PG (propylene glycol) which is the base for all e-liquids, as well as the flavour and nicotine needed.
Quality is the most important thing to us, so we test every batch of e-liquid produced through our testing and compliancy laboratory, to make sure every batch is up to our standards and mixed perfectly. Our two automated lines use cutting edge technology to run up to 1,800 bottles an hour, and we use a batch manufacturing record throughout the system as a quality checker.
Once the e-liquid has been mixed and bottled, we affix the label and box it up ready to go to our warehouse for delivery to stores and to customers for online orders. This whole process can be completed within three hours.
All of our e-liquids are fully TPD compliant and feature an ECID number on the label. TPD and TRPR are the standards that e-liquids must meet in order to be legally sold in the UK. In order to ensure compliance, manufacturers need to enter a TPD submission for each e-liquid, including the results of numerous tests. Once an e-liquid has been approved it will be given a unique ECID number to be featured clearly on the label, as evidence that the e-liquid is TPD compliant and has been subject to the appropriate testing.
What we have achieved
Our facilities have grown and evolved as the industry has, and we are now capable of producing much more complex flavours with multiple molecular components, so we are always innovating and developing new flavours to grow our range.
So far we have developed 75 individual e-liquid flavours, and produced over 500 different products. Our facilities, and hardworking production, warehouse and logistics teams are capable of producing up to 22,000 bottles per day, and can manufacture up to 3 million bottles every year.
Our team are constantly working to make sure that all of the e-liquids you need are available on Evapo shelves and online when you need them. They're also always striving to develop more and more interesting flavours, e-liquid formulas, and continue to expand the range to make sure we offer the perfect solution to suit every vaper's needs.