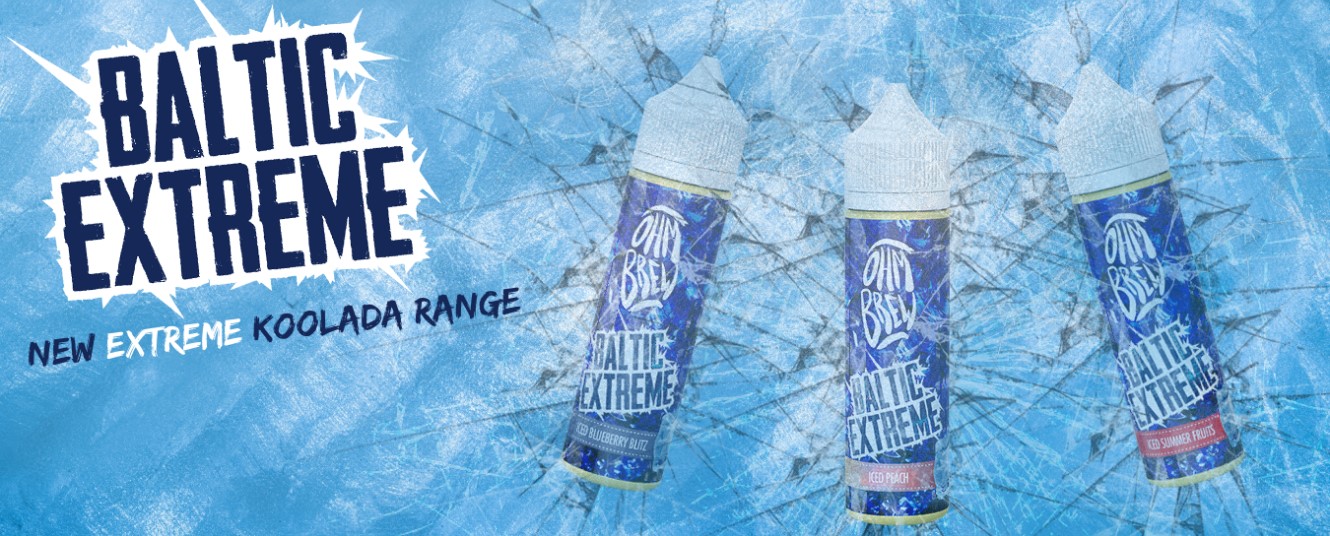 Ohm Brew have been at it again, with two new e-liquid ranges for summer!
Baltic Extreme
If you are a fan of the Ohm Brew Baltic Blends range, you are going to love Baltic Extreme!
As the name suggests, these juices pack an extreme koolada kick, for a super cool vape that will keep you refreshed all day long during summer.

99 problems but a peach ain't one! The juicy nectar of freshly picked peaches is perfectly paired with a mountain of crisp, crushed ice.

Iced Blueberry Blitz is a beautifully refreshing flavour, with fresh and juicy blueberries, frozen for an incredibly cool kick.

Nothing cools you down on a hot summers day like an exotic mix of tropical fruit juices with a big scoop of ice. Lay back and relax with this mix of mandarin, golden apple, and melon, with a hint of citrus and an arctic finish.

Now this one is for the menthol lovers!
You thought it couldn't get any colder than Sensation X, but the Ohm Brew mixologists have been working away and have taken it to the X-treme with this ultra-cold blend.

Walking down the beach with a nice big scoop of raspberry sorbet is my idea of summertime!
Now you don't even have to leave your house to experience super cold sorbet, with tart raspberries and just a hint of vanilla for sweetness.
All of the Baltic Extreme flavours are available as high VG shortfills, with 50ml of 0mg e-liquid in a 60ml bottle, with room for a nic shot if needed.
Menthol Blast
It's not just the sub-ohmers who get a summer treat from Ohm Brew! They also have the new Menthol Blast range of 50/50 nic salts, perfect for use with starter kits and mouth-to-lung tanks.

This flavour is perfect for new vapers who are beating the menthol cigarette ban by making the switch to vaping.
It offers the perfect blend of cool menthol and mild tobacco, to help make the switch as smooth as possible.

Perfect for a hot summers day, this deliciously sweet flavour is reminiscent of a blue slushy, but with a North Pole breeze!

An absolute classic!
This pairs the deep and rich flavour of perfectly ripe blackcurrants with a cool menthol finish.
The Ohm Brew Menthol Blast range are available in 10ml bottles of 50/50 nic salt e-liquid, with a choice of 3mg, 6mg, 12mg, or 18mg nicotine strength.
If you fancy something new to keep you cool this summer, you can shop the new Ohm Brew ranges online, or pop in to your local Evapo store.