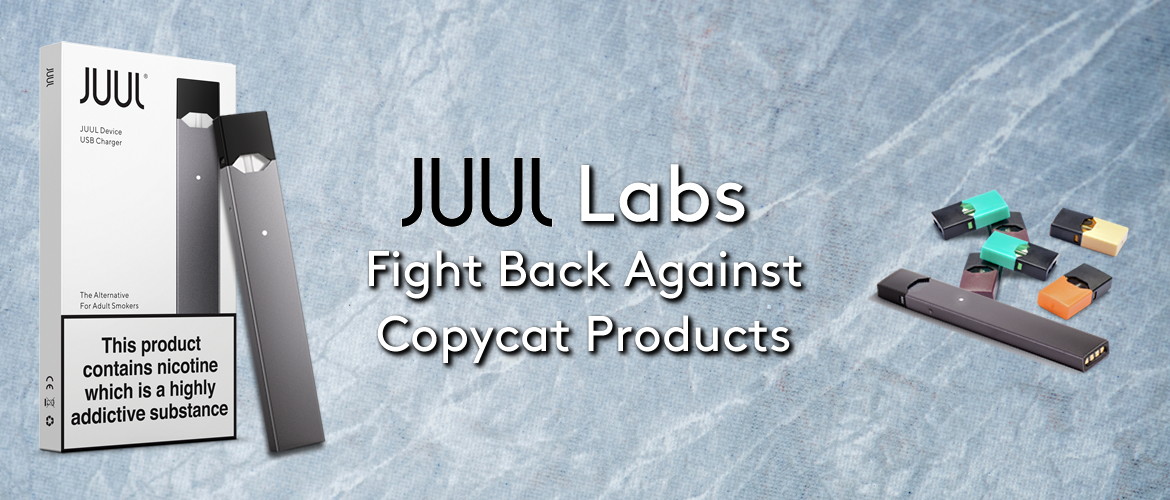 In the three and a half years since the JUUL device hit the US vaping market it has become the most popular form of e-cigarette in America.
Unfortunately, this success has led to a number of copycat products also hitting the market, as well as counterfeit devices and JUUL pods. JUUL Labs are now fighting back against these companies in a bid to protect both their intellectual property and users of their products.
JUUL have enlisted a top team of Washington lawyers to help them crack down on the sales of counterfeit JUUL products and help them confront the new companies that are popping up with extremely similar products looking to cash in on the success that JUUL Labs have built.
A representative from JUUL Labs has released a statement explaining that while JUUL welcomes legitimate competition in the vaping market from brands who are releasing new and innovating products, they are not content to allow the sale of products that are quite clearly in breach of the patent that JUUL hold on the JUUL and JUUL pod designs.
In addition to protecting their intellectual property, they are also concerned that some of these products may have not been through the vigorous quality checks and testing that legitimate JUUL products undertake, making them of inferior quality and possibly even not fit for use. Furthermore, JUUL have worked hard to crack down on the sale of their products to minors, making it difficult for anyone under the age of 18 to get their hands on a device. However, these copycat companies are not taking the same precautions that JUUL Labs are taking, and so underage people may find it easier to buy them.
The 15 entities that have been subject to investigation are based in the United States, France and China, and are mostly new companies that have produced very obvious replicas of the JUUL device as a way to enter the Electronic Nicotine Delivery System (ENDS) market. They also filed trademark claims against a further 30 business' who were producing counterfeit JUUL devices and fake JUUL pods, leaving some customers under the assumption they had purchased legitimate products.
JUUL Labs have helped pave the way for further innovation in the vaping industry, and it is completely understandable that they should want to protect the name they have built from copycats and counterfeit devices which are looking to cash in on their hard earned success and dupe existing JUUL users.
To learn more about JUUL Labs and the device that has taken the vaping market by storm, check out our blog posts Introducing JUUL, JUUL Pods UK and JUUL Taking Steps to Advance Vaping Tech.
If you're interested in getting yourself or a friend a JUUL starter kit for a birthday or Christmas, then head over to one of our Evapo Vape Shops or our Evapo online vape store.