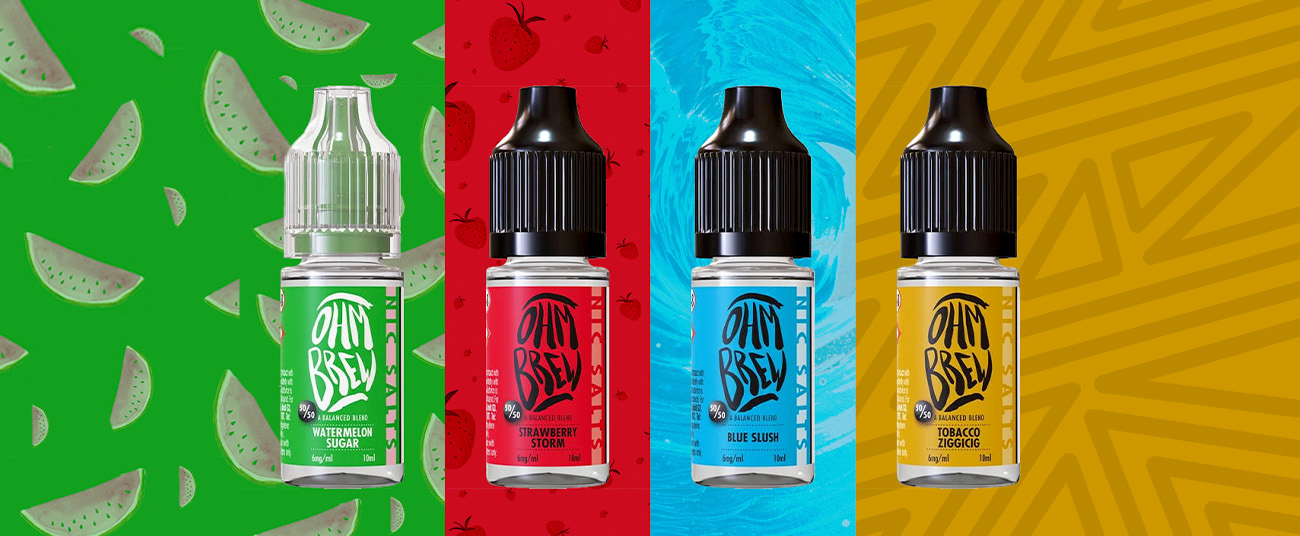 If you're looking for a new flavour profile or you're keen to try some of the best new Ohm Brew flavours around, then you're in the right place.
We've put together a list of some of the best Ohm Brew flavours currently available, so you can see if there's an e-liquid you'd like to try. Whether you are new to vaping or already a fan of Ohm Brew, here's a little inspiration for filling your vape.
What are Ohm Brew e-liquids?
The e-liquid is the part of the vape that supplies both flavour and nicotine. Ohm Brew is a very popular brand that produces flavourful e-liquids. In fact, they're one of the biggest names around and it only takes a look at the sheer number of flavour variations they have available to understand why.
Not only do Ohm Brew offer many different flavour profiles, they also offer a variety of different formulas which are suitable for different types of vape kits.
If you are using an advanced or sub-ohm vape kit, their high VG e-liquids are available in both 50ml and 100ml short fills, in their Badass Blends and Badass XL ranges.
Whereas, if you are using a smaller vape kit like a starter kit or refillable pod kit, you can enjoy Ohm Brew's phenomenal flavours in a 50/50 formula with their 50/50 nic salts, Ohm Brew CORE, and Double Brew ranges, which are available in a variety of nicotine strengths.
Their Ohm Brew CBD range also brings you many of their most popular flavours with a combination of CBD and CBG, for a delicious and effective way to take your daily dose of CBD.
With Ohm Brew, you can create the vaping experience you like best, whether you're an experienced user or someone just starting out.
What are PG and VG e-liquids
There are a few basic components that are included in e-liquids, including VG and PG. VG stands for vegetable glycerine, which usually comes from palm or coconut oil. It also tends to have a slightly sweet taste and is transparent. PG is short for propylene glycol, which is known as a petrol by-product but, like VG, is perfectly safe to consume.
VG tends to be a little thicker than PG and produces more vapour. However, PG tends to have a more pronounced flavour, which lots of people enjoy. PG products are also less likely to cause an allergic reaction and PG is often used in things like medical products. You'll also find VG used in lots of common items, like soap and toothpaste.
What are PG vs VG ratios?
PG vs VG ratios are a way of describing how much of each component is used in an e-liquid. So, 50/50 e-liquids are ones that are made up of equal parts propylene glycol and vegetable glycerine. This is the most common ratio, but you can also get e-liquids that have a high VG formula, such as a 70/30 or 80/20 ratio.
Want to know more? Have a look at our guide to VG and PG vape juices.
Best fruit flavours
If a light and fruity flavour is your favourite, we have a few great suggestions. Enjoy some fresh new flavours.
Super Citrus
When you're in the mood for something zesty and refreshing, this blend of lemon, lime and raspberry might just hit the spot. Ohm Brew's lemon & lime lolly has got a little zing and a lovely, sweet flavour, reminiscent of ice lollies. Or there's the super lemon haze in the CBD selection, which had a zingy and balanced flavour.
Tropical Twist
Whether it's summer and you're looking for a way to cool down or it's chilly outside and you'd rather be kicking back in paradise, tropical twist is the ideal choice. Not too sweet and with a gentle cooling effect, this is a satisfying medley of tropical fruit notes. Tangy twister from the Badass Blends range offers a refreshing option of tropical fruit with an icy swirl.
Raspberry rhapsodies
If you like things sweet but not too sweet, then rockin' raspberry sorbet is the Ohm Brew e-liquid for you. It's got a tart, lemony hit alongside luscious raspberries, vanilla and a hint of sugar and is a great choice when you're in the mood for something refreshing. Another great pick is blueberry sour raspberry  from the Double Brew range, which balances the two fruits perfectly.
Cherry candy
For those with a sweet tooth, cherry candy packs plenty of punch. It's got a nice and juicy cherry flavour with an extra blast of candy, giving you a fun and fruity flavour that's a little bit different. There's also a cherry candy in Ohm Brew's Badass Blends range, which has a VG/PG 70/30 mix.
Best dessert flavours
Check out a few of the delicious flavours inspired by popular desserts and see if there's one that tempts your tastebuds.
Banana caramel waffle
This is a delicious combination of banana, soft caramel and buttery, sweet waffle. Banana caramel waffle is perfect when you're looking for a vape that feels rich, indulgent and like a real treat for your senses.
Salted caramel
The salted caramel craze isn't just for chocolates, it's also a popular flavour for e-liquids. Ohm Brew's Badass Blends salted caramel is a blend of salted and sweet, with rich caramel notes.
Loco lemon tart
When you love a rich dessert but also enjoy a little blast of citrus, Ohm Brew's 50/50 loco lemon Tart or loco lemon Badass Blends is perfect. It's got a light and tangy flavour, combined with that irresistible sweetness of a morish tart.
Rhubarb custard
A play on a firm favourite when it comes to desserts, rhubarb custard is a great option whatever the weather. The sweet tang of rhubarb pairs perfectly with the rich sweetness of custard, and Ohm Brew have captured the flavour combo with skill.
Vanilla bean ice cream
There are some flavours that are instantly recognisable and vanilla ice cream is one of them. Enjoy the smooth and intensely indulgent taste of vanilla bean ice cream in this creamy e-liquid.
Best mint & menthol flavours
Whether it's a light and minty or an icy blast you're looking for, Ohm Brew have plenty of great mint e-liquids to choose from.
Spearmint
If it's a subtle and sweet minty flavour you're looking for, then Ohm Brew's spearmint might be just the ticket. It's got a mellow vibe and is refreshing without being too in your face.
Baltic Blasts
For a menthol blast that takes you to a whole new level, why not enjoy Baltic Blast sensation x-treme? This ultra-cold blend is a great choice if you want an extreme sensation.
Ice menthol
Perfect when you're looking for a pure and icy blast, ice menthol is a truly refreshing experience. It offers a cooling sensation as well as a more subtle and sweet minty overtone, and particularly perfect for those making the switch from menthol cigarettes.
Sensation X
For those looking for an intense minty experience, there's Ohm Brew Sensation X e-liquid. It's a super cold blend of mint, menthol and ice that ensures you get an icy blast every single time.
Best soda flavours
Sweet and flavourful, it's no surprise that sodas are the inspiration for lots of fun e-liquid flavours. Here are a few of our top picks.
Fizzy cola flavours
Enjoy a classic cola flavour with Ohm Brew's fizzy cola. It's got that blend of subtle fruity and sweet flavours we all know and love, all in one handy liquid. Switch it up with Double Brew fizzy cola ice, which gives you a sweet flavour and a cold exhale.
Fizzy cherry cola
The combination of fizzy cola and yummy cherry is well loved, and Ohm Brew have captured it perfectly in its fizzy cherry cola e-liquid. It's got a strong cherry note alongside the familiar cola blend.
Pink lemonade
Enjoy a refreshing mix of strawberries, raspberry and lemonade in the fizzy and refreshing Ohm Brew CBD pink lemonade. This tangy e-liquid is like a nice big fresh glass of juice.
Blue slush
Enjoy all of the great flavours of a blue slushy, without the ice. Ohm Brew's blue slush e-liquid is a sweet and nostalgic blend of blueberry and raspberry, perfectly replicating the morish flavour of the popular slushie. Choose Blue Slush from the CORE range to get the great flavour alongside a freebase kick. There's also Slush Brew blue, a short fill that lets you add your own nic shots.
Killa kola
Want to feel as though you're enjoying a chilled drink? Then Ohm Brew's Killa Kola is a great pick. It's got that much-loved cola flavour as well as a wonderfully cool sensation, without even a hint of mint. You can also get an intense cola flavour with Badass Blends killa kola..
Want to know a bit more about the ins and outs of e-liquids? Check out our handy guide, e-liquids explained.