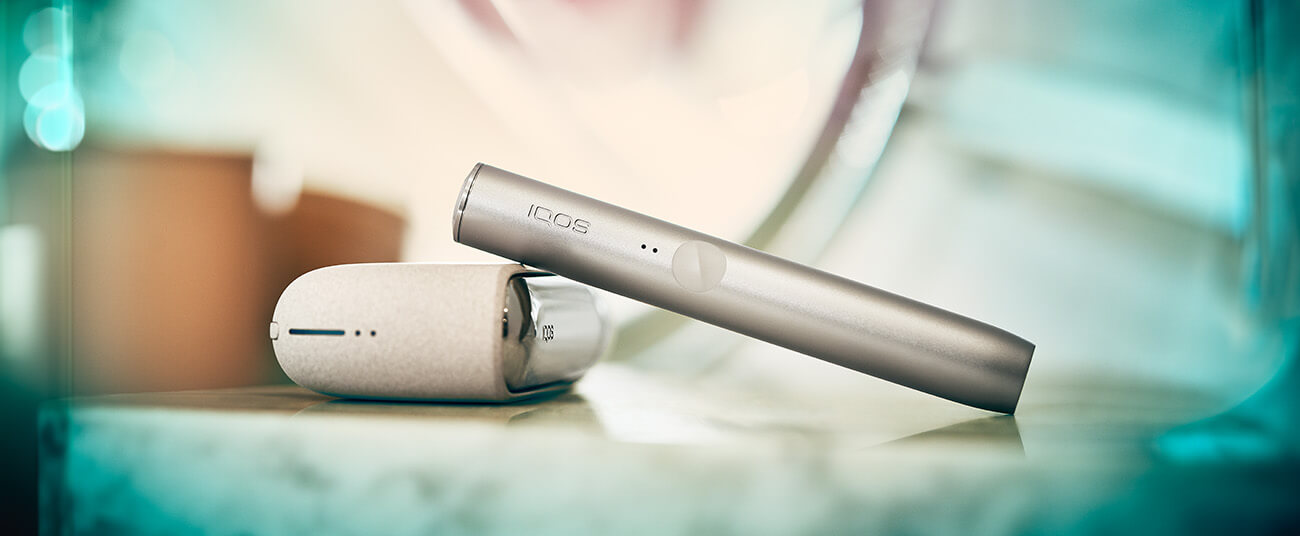 IQOS have recently released their range of ILUMA heated tobacco devices which have replaced their IQOS DUO range. We're taking a closer look at the difference between the devices and what exciting new features IQOS have incorporated into their products.
What are heat-not-burn devices?
Heat-not-burn devices, also known as heated tobacco devices, are an alternative to smoking that allows the user to continue using tobacco but in a way that cuts down on the harmful chemicals that are found in cigarette smoke.
These devices work by heating tobacco sticks to the point where they create a vapour, instead of burning it. IQOS report that their devices release an average of 95% less of the nine harmful chemicals which are recommended for a reduction in smoking by the World Health Organization, compared to regular cigarettes.
Because these devices still use real tobacco, they offer an authentic flavour and cigarette-like satisfaction which helps users manage their nicotine cravings in a way that can allow them to quit smoking and move entirely to this reduced harm option.
As they are smoke-free, heated tobacco products also create less smell than smoking, so users can rest assured that the smell of smoke is less likely to linger in their clothes and on their skin.
IQOS DUO
IQOS are one of the leading manufacturers of heated tobacco products, and the IQOS DUO range was a game-changer for smokers who wanted a less harmful alternative to smoking but were not yet ready to give up tobacco completely. The range included the IQOS 3 DUO and the IQOS Originals DUO.
These devices had a similar size and shape to a vape pen, but instead of a tank they had a heating chamber in which the user could insert specially designed HEETS tobacco sticks. The chamber contained a blade which would penetrate the tobacco stick and gently heat the tobacco in order to create a vapour.
Because the blade inside would penetrate the stick, tobacco residue could remain inside the chamber and the blade would need regular cleaning, so the devices came with cleaning tools to assist the user in maintaining their device between uses, which would ensure the best vaping experience.
Every device came with the pocket charger, which could keep the device charged between uses and provide a convenient way to store the IQOS DUO when not in use.
The IQOS ILUMA range
The IQOS ILUMA range has built on the heat-not-burn technology first debuted in the DUO range, improving it to become even more efficient, satisfying, and easy to use.
The ILUMA is comprised of the IQOS ILUMA and the ILUMA ONE, and features the same ergonomic, stylish, and robust design as previous models. However, they incorporate state-of-the-art new bladeless technology which eliminates the need for cleaning the device between uses. The SMARTCORE INDUCTION SYSTEM™ utilises an innovative induction coil which works in unison with the heating element inside the actual tobacco stick, heating from within without the need for a penetrating blade.
This improved heating chamber not only helps you enjoy a rich and satisfying vapour, but also offers improved taste consistency. Unlike the IQOS DUO range which were only compatible with the HEETS tobacco sticks, the ILUMA range needs to be used only with the TEREA tobacco sticks, which contain the heating element needed to create a vapour.
The main difference between the ILUMA and the ILUMA ONE is the inclusion of the pocket charger. The IQOS ILUMA comes with the pocket charger which can recharge the device up to 20 times before itself needing to be recharged, which is ideal for those who are often on-the-go and need a device which can keep up with their busy lifestyle.
The IQOS ILUMA ONE on the other hand is a more affordable option which does not include the pocket charger. The device can offer up to 20 consecutive uses between charges, which is plenty to get the average user through a full day of vaping. It can then be easily recharged via the USB cable that comes with the device, and reaches a full charge in approximately 90 minutes. This is a great option for those looking for a more budget-friendly option, or for those who do not feel they need the pocket charger. We have taken a more in-depth look at these two devices in our blog post 'Compare IQOS ILUMA devices'.
The ILUMA range has successfully continued on where the IQOS DUO left off, maintaining the user-friendly and robust design for which the IQOS range has been known, but incorporating innovative new technology to create an even more satisfying vapour and a cleaner user experience.
IQOS tobacco sticks
The IQOS DUO and the IQOS ILUMA range use different tobacco sticks which have been specifically designed to work in harmony with the device. This is owing to the different heating methods used in the devices, which require a different type of tobacco stick in order to work effectively.
It is important to remember that while these tobacco sticks look very similar to regular cigarettes, they have a very different composition and should not be smoked.
IQOS HEETS tobacco sticks
The HEETS tobacco sticks are designed exclusively to be used with the IQOS DUO devices, and are still available for those who are using these devices. They are available in a choice of ten different flavour options, including various tobacco blends, menthol tobacco flavours, and even a flavour which incorporates notes of menthol and forest fruits.
HEETS are available in packs of twenty, which is equivalent to one pack of regular cigarettes, and one stick can last up to 4 minutes or 14 puffs.
IQOS TEREA tobacco sticks
The new TEREA range is exclusively for use with the IQOS ILUMA range of heat-not-burn devices, and contain a metal heating element which works with the coil inside the device as part of their SMARTCORE INDUCTION SYSTEM™.
The range is made up of eight different flavour options, many of which you will recognise from the HEETS range. This means that those who have upgraded from an IQOS DUO device to a new ILUMA device can continue to use the flavours they know and love.
The TEREA tobacco sticks have a cigarette-like inhale which replicates the way it feels to smoke cigarettes, perfect for those who are quitting smoking and moving to a reduced risk option.
Each TEREA tobacco stick lasts for 14 puffs or six minutes, whichever comes first, which is approximately the same as the duration it takes to smoke a cigarette. Because each TEREA is equivalent to one cigarette, it makes it easy for users to match the tobacco use they are used to and to manage their nicotine cravings effectively.
TEREA sticks are sold in packs of 20, which is equivalent to a pack of cigarettes, but are less than half the price of the average pack of cigarettes, helping uses save money by moving exclusively to using a heated tobacco device.
While IQOS heat-not-burn tobacco products are not completely risk free, they do offer users a reduced risk alternative to cigarettes and the chance of a smoke free future. If you are interested in finding out more about heated tobacco products you can speak to a member of our team in your local Evapo store or reach out to our friendly Customer Service Hub.
This product is not risk-free and provides nicotine, which is addictive. Only for use by adults.