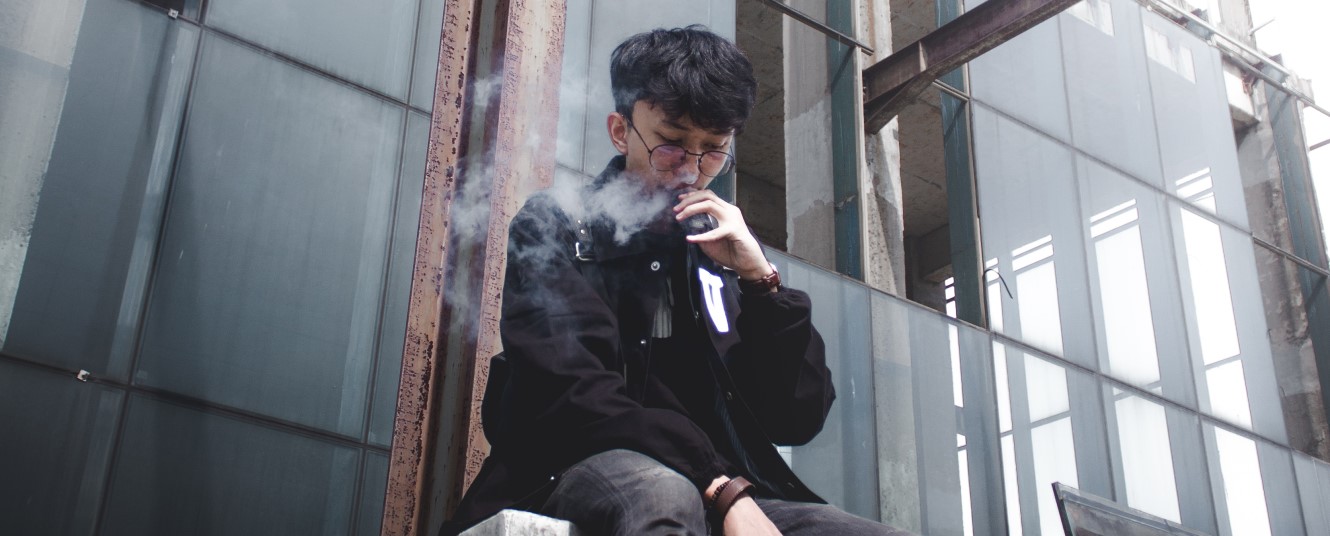 Disposable vape devices have become an extremely popular e-cigarette option over the past year, offering a small and discreet vape for travelling and occasions like festivals. However, there are growing reports of disposable devices with over twice the legal nicotine content being purchased in the UK. As a reputable vaping retailer, Evapo never sell any products that are not fully compliant with UK regulations and we exclusively source our products from trusted suppliers. We are assisting with the work of UKVIA, the MHRA and Trading Standards in combatting the sale of these illegal products.
Illegal e-cigarette sales
Concern is growing as reports come out of increasing sales of high nicotine disposable like the Geekbar Pro, a disposable vape with a 50 mg nicotine content that is not legal for sale in the UK as per UK and European regulations.
At Evapo all of our products are approved by the MHRA and meet all of the legal requirements for sale, including the appropriate warnings on packaging and nicotine contents within the legal limit. We never stock any products that do not meet these regulations, such as the Geekbar Pro.
In the UK, products with a nicotine content higher than 20 mg, or 2%, are not permitted to be sold by law. However, when investigating these reports, the UK Vaping Industry Association (UKVIA) found;
"There is a significant amount of non-compliant products entering the UK and being sold in particular by convenience shops and on major e-commerce platforms."
It has also been found that many of these high nicotine devices do not have the necessary nicotine warnings on the packaging which are also a legal requirement in the UK.
In a recently released statement addressing this growing problem, John Dunne, director general at the UKVIA, says;
"We are calling upon regulators and major e-commerce platforms to robustly enforce current regulations and do much more in order to "clean up" the disposable vapes market… The vaping sector's reputation, that the industry has taken years to build up, and which has made it one of the most successful business markets in the 21st century to date, is being threatened by a minority intent on making a quick buck out of a popular product, and we will not stand back and just watch it happen. Disposables have a major role to play in the vape market, but like all products they need to adhere to the legislation."
In a bid to tackle the problem, Evapo are working with the MHRA and Trading Standards as part of UKVIA to crack down on illegal sales of vaping products, and offer guidance to vaping retailers on official distributors and disposable e-cigarettes. We are also reporting any illegal products we become aware of through Trading Standards to ensure they are removed from sale as quickly as possible.
E-cigarette use among young people
These high nicotine disposable devices are being used primarily by minors, despite it being illegal to sell vaping products to those under the age of 18.
At Evapo we have extremely strict policies to prevent underage sales, both in our retails stores and through our website. As a member of UKVIA, we operate their recommended 'Think 25' initiative in all of our retail stores, meaning anyone who is lucky enough to look under the age of 25 will be asked to provide valid ID before any products can be purchased. We also run age verification checks on all new online customers to ensure they are of legal age to purchase from us.
High levels of nicotine can be harmful to young people, and it has always been recommended that those who do not smoke do not commence use of an e-cigarette. However, in the UK, regular e-cigarette usage among young people has remained consistently low.
In the most recent 'Use of e-cigarettes among young people in Great Britain' report by Action on Smoking and Health (ASH) from June 2021, they found that only 1.2% of 11-17 year olds report using an e-cigarette at least once a week, and 2% reporting using them less than once a week. It has also been found that those young people who report regular e-cigarette use are almost exclusively current or ex-smokers.
E-cigarette were designed as an alternative nicotine source for smokers, and have been found by Public Health England to be 95% less harmful than smoking. E-cigarettes play an important role for many in their stop smoking journey, and we are extremely lucky that due to our strict regulation in the UK we have not experienced the high numbers of youth vapers that has been seen in places like the US.
How Evapo ensure compliance
Here at Evapo we exclusively work with trusted suppliers who only offer us fully TPD compliant e-liquids and hardware, which have been approved by MHRA. These products are all uploaded to the MHRA TPD portal once approved, where retailers can check each product to ensure it is approved for sale. We stock a range of disposable devices, including the Geekbar range, all of which have been approved and are within the legal nicotine content which is allowed under UK law.
Andrej Kuttruf, CEO of Evapo, explains;
"Ensuring all products are fit for sale and safe for our customers to use is of the utmost importance to us as a company, along with ensuring that our customers are all of the legal age to use vaping products. Our aim has always been to provide smokers with a less harmful alternative nicotine source, and to hear that some rogue traders are offering products that have not been approved for sale is extremely disappointing. We hope our hard work alongside UKVIA, the MHRA, and Trading Standards will quickly tackle any illegitimate and underage sales that are occurring, so the vaping industry can continue sharing the benefits of e-cigarettes as an alternative nicotine source."
We highly discourage any consumers from purchasing products that report having a higher nicotine content than legally allowed in the UK, and individuals can report products to their local Trading Standards if they have concerns about their legitimacy or legality.
Sources
https://www.ukvia.co.uk/ukvia-issues-compliance-guidance-to-retailers-for-sale-of-disposable-vape-products-in-the-uk/
https://ash.org.uk/wp-content/uploads/2021/07/Use-of-e-cigarettes-among-young-people-in-Great-Britain-2021.pdf
https://www.dailymail.co.uk/news/article-9961055/Health-fears-new-craze-young-people-super-strength-nicotine-devices.html