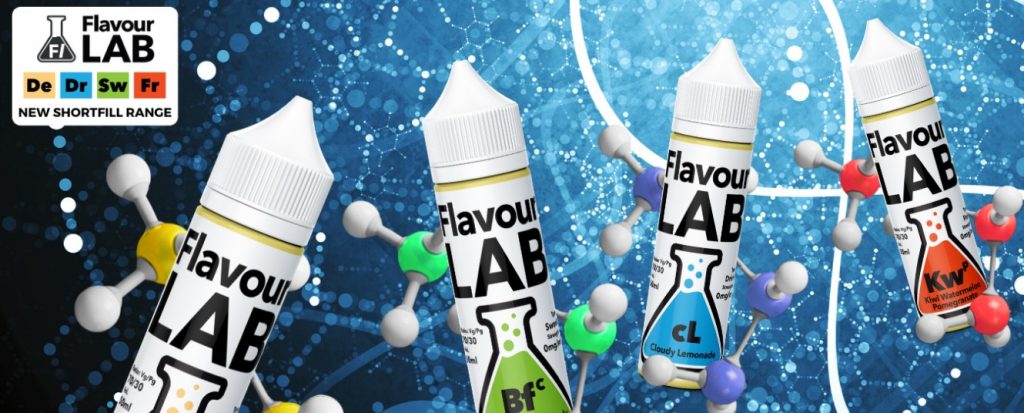 From the creators of Ohm Brew, Flavour Lab is a brand new line of e-liquids comprised of eight exciting flavours just waiting to become your new all day vape!
About Flavour Lab
Flavour Lab is the latest range to hit the market, from the master mixologists that created Ohm Brew. I'm really excited about this range because there are 8 flavours but they have been curated to include four different flavour categories; candy, drinks, desserts, and fruits. Most small e-liquid lines tend to stick to one flavour profile such as desserts or sweets, but having such a diverse range means there is something to cater to almost anyone's flavour preferences.
It is gears towards sub-ohm vapers, as it is a range of high VG shortfills, with a 70/30 ration. The range is available in 50ml shortfills, with 50ml of 0mg e-liquid in a 60ml bottle, leaving room for an 18mg/ml nic shot (sold separately) if required, to produce 60ml of 3mg/ml e-liquid.
Desserts
Custard
You really can't go wrong with a good custard flavour, luxuriously rich and creamy with a hint of vanilla to sweeten the deal.
Strawberry Donut
Jam packed with fresh strawberry goodness, with the perfect balance of fluffy dough and sticky sweet jam.
Candy
Banana Foam Candy
These sweets are a personal childhood favourite of mine, and Flavour Labs have captured it perfectly! This creamy, sweet banana flavour is so nostalgic, it will transport you back to your fondest childhood memories.
Bubblegum Candy
Enjoy this delicious confectionery treat without the jaw ache! Flavour Lab have really hit the nail on the head, blending the perfect concentrates to produce a bubblegum that will always keep you coming back for more.
Drinks
Cloudy Lemonade
Lemonade are some of my favourite e-liquids, and this one is so amazingly well balanced, with just enough zesty and zingy lemon, to sweetness, with a slightly fizzy finish. What could be more refreshing than an icy glass of fresh lemonade on a hot summers say?
Cola Ice
A deep and satisfying cola, poured over a generous serving of ice, incredibly refreshing and fizzy, it's cola ice ice baby!
Fruits
Grape Melon Strawberry
This medley of tart grapes, lusciously juicy melon, and freshly picked garden strawberries just screams summer time to me. It will have your mouth watering and your tongue tingling with every cloud.
Kiwi Watermelon Pomegranate
This fruity blend boasts notes of kiwi, watermelon and zingy pomegranate, with all this flavour packed into each bottle, you won't be able to put it down. It's got this lovely exotic flavour that feels like cocktails on a tropical beach, and who couldn't use a bit of that right now?
I'm really impressed with this range, the fact that it has such a diverse variety of flavours makes it a one stop shop for sub-ohmers. The flavours are so clean and simple, but positively bursting with flavour. They are really enjoyable to vape, producing lovely dense clouds and even the sweeter flavours are kind to coils.
But don't just take my word for it! You can shop the full range on the Evapo online vape shop or by popping in to your local Evapo store.