General Vape Kit Safety
It's always better to be safe than sorry when it comes to safety, especially making sure that your Vape batteries are safe! A recent emergency evacuation at Euston station in London caused by an e cigarette accidentally activated in a bag highlights how important it is to take care – and we can help!
The most basic & yet the most important part of Vaping Safety is remembering to switch your unit off or lock the device when it's going in your pocket, bag or you're finished using the device. This ensures that the device won't be firing when not in use.
Integrated batteries
If you've never had to put batteries into  your device then you most likely have a built-in (or 'integrated') battery.
Devices such as the Innokin CoolFire Mini Slipstream Kit features a lock system, click the power button 3 times in succession to lock/unlock the device!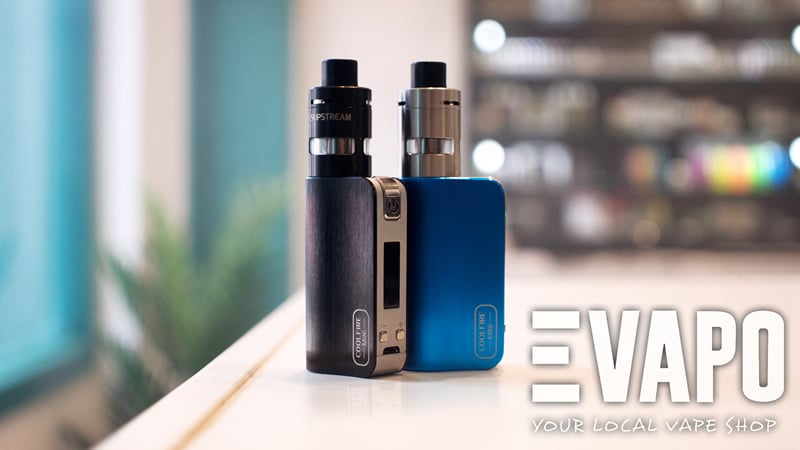 Some devices come with certain features to increase safety such as short circuit protection. Vaping kits such as the SMOK Stick V8 comes with short circuit and low voltage protection.

For those of you using external batteries such as 18650, 20700, 18350, 26650 then there are a few things you need to make sure you are doing to ensure that your batteries are stored safely at all times!
 Replaceable batteries (18650, 20700, 22650, etc)

If you're already used to changing your batteries there are several ways to ensure that your 18650, 20700 or any other batteries for that matter are kept safe!
Storing Your Batteries
Lithium-ion batteries are perfect for storing large amounts of power and perfect for high powered vaping devices! Storing these batteries safely whilst at home or on the move are paramount to ensuring they stay completely safe.
You can use silicone battery sleeves such as the Evapo battery sleeves or the Ampking sleeves that come with the Innokin Oceanus 110w vaping kit to protect the 20700 batteries that come with the kit! There are also small plastic cases for batteries if you have large amounts of batteries!
Battery Safety – What to Do & What not to Do
The Do's
Always deactivate your device when not in use
Most vape kits come with a three or five clicks on/off feature using the main fire button on a separate on/off switch. Always turn the device off at the end of your vaping session – especially if you are then storing it in your back pocket – to prevent accidental activation.
Store your batteries safely at all times!
Use items such as cases or silicone sleeves.
Purchase your batteries from a reputable vaping retailer!
Make sure when you buy your batteries they're from a vaping retailer with a good reputation!
Use a reputable branded battery charger!
To charge your batteries you need to make sure you're using a branded and fully compliant battery charger! The EFEST LUC V4 LCD Charger includes features such as overcharge, over-voltage, short circuit & reverse polarity protection! It will even automatically stop when it detects your batteries are fully charged!
Use the charging cable that came with your device!
Different chargers charge at different rates; you don't want to overcharge your devise by using the wrong cable!
Temperature – Batteries are most safe when kept between 50°F and 115°F!
Keeping them out of direct sunlight is key here! If you're going on holiday to somewhere sunny & warm then it is recommended you try to keep your batteries as close to room temperature as possible!
When purchasing brand new batteries, it is recommended you use them till they run low then put them on for a full recharge! Recharging from 10% up to 100% instead of 50% up to 100% will mean they retain their battery life for longer!
The Don'ts
DON'T leave your batteries charging over-night or unattended!
Always best to keep your batteries charging somewhere you can keep an eye on them.
DON'T charge your device on top of anything flammable!
This includes items such as bed covers, tea towels, pillows, blankets etc!
DON'T USE damaged batteries!
Any damage to the batteries wrapping, or any exposed areas!
DON'T let your batteries get wet!
Just like any other electrical device; avoid getting it wet!
DON'T surpass the Amps of your battery!
If you're a coil builder, Mech MOD/RBA user then understanding Ohm's Law is a key part of making sure your coils aren't pulling too much power from the battery; this is called 'Exceeding the Batteries Rating'.
Keeping your batteries safe is highly important and the better you look after them, the longer the life span which means you don't need to replace them as quickly! 
If you have any queries on battery safety or need to get hold of either silicone sleeves or battery cases you can visit any of our 21 UK stores, message us on Facebook/Instagram or contact us using our websites live chat!
Keep safe and #VapeWithEvapo!