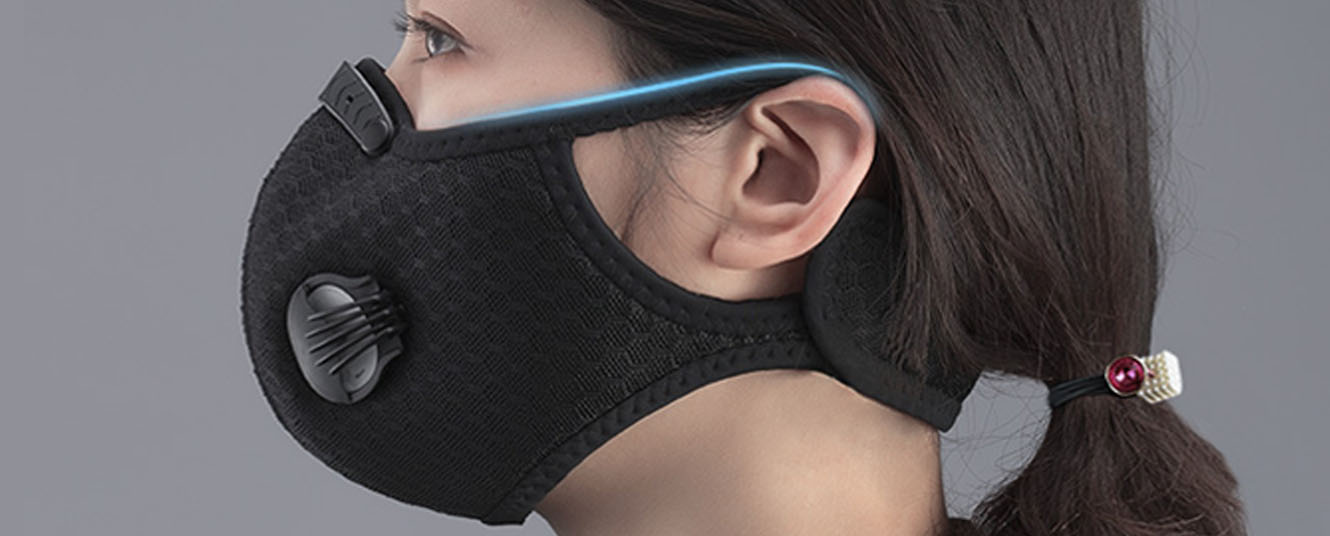 As the strict rules of the COVID-19 lock down begin to relax, it is important that we stay safe while we embrace our new normal. The government has been working hard to identify ways the public can minimise risk, while still being able to return to some of the everyday activities that have not been possible over the last couple of months.
For many, public transport is a part of their daily routine, helping them get to and from work or school, so helping the public stay safe and protected on public transport has been a high priority.
Face coverings to become compulsory on public transport
On June 4th, the government announced that as of June 15th it will be compulsory to wear a face covering on all forms of public transport, including buses, trains, planes, and ferries. There will be some exceptions to these rules, such as small children, disabled people, and those with breathing difficulties. The government have stressed that wearing a face covering does not substitute for the two metre social distancing rule, and people should continue to maintain the two metre distancing wherever possible.
From the 15th wearing a face covering or mask will be a condition of travel, and Transport Secretary Grant Shapps has warned that commuters may be turned away from the service or even face a fine if they do not comply with these new measures.
It is hoped that this new measure will help prevent a new surge of infections as the lock down is relaxed. While wearing a face mask does not necessarily protect the wearer, it can protect those around them from any larger droplets that could spread the virus when coughing, sneezing, and speaking.
It is advised that face coverings do not have to be medical face masks, they simply need to sufficiently cover the nose and mouth so as to avoid the spread of the virus through coughing and sneezing. This can include medical face masks, homemade reusable face masks, socks of t-shirts which have been repurposed as face coverings as shown in a number of online tutorials, or bandannas and scarves.
The latest advise from WHO
The World Health Organisation (WHO) have thus far been reluctant to take a stance regarding the use of face masks and coverings during the COVID-19 pandemic, due to lack of evidence regarding their benefits. They have now announced that they recommend that everyone over the age of 60, or those with health conditions that make them more vulnerable, should wear a medical grade mask any time they are out of the home.
They have also advised that those under 60 should also wear a three layer face mask or covering when out of the home, not necessarily medical grade, but this should be worn when social distancing is harder to maintain, such as at supermarkets, social gatherings, work or at places of worship.
This is in addition to their pre-existing advice that anyone caring for someone who is ill should wear a medical grade face mask any time they are in the same room as the person. They have also stressed the fact that a face mask does not substitute for social distancing, and should be considered an extra level of protection at times when it is difficult to maintain a 2 metre distance, but that people should still strive to continue good social distancing at all times where possible.
Our new Care range of PPE
In line with these new measures, we have launched a new care range of PPE, including both disposable and reusable face masks, disposable gloves, and hand sanitiser, to help make sure our customers have access to the items they need to protect themselves and those around them.
One of the products available in the range is a pack of 50 disposable 3-ply face masks, perfect for those who will soon be recommencing their daily commute to work via public transport. The masks are medical grade and breathable, with ear loops to help keep them secure.
For those looking for a reusable PPE solution for use during more active trips like bike rides or runs, the running face mask helps provide protection without impeding your workout. Designed for comfort and breath-ability, it features a one size fits all format that is secured by both ear loops and an adjustable head strap. It is also equipped with two valves to reduce heat and moisture build-up, as well as filtering out bacteria. The running mask is made up of five layers, each designed to optimise effectiveness, including a replaceable filter which should be changed approximately every 30 days.
The fluid repellent surgical IIR face masks are available in a pack 50, and are ideal for those caring for someone at home who is poorly. As recommended by the WHO, anyone caring for a loved one who is sick should wear a medical grade face mask any time they are in the same room as the person, and it is understandably difficult to keep a distance from the person you are caring for, so these masks offer a fluid repellent outer layer that will protect you in the instance of any unavoidable coughs or sneezes.
If you have returned to work, or will be soon, a comfortable and durable face protection which will last all day is a key piece of PPE. The KN95 face masks come in a box of 20, and offer comfortable and breathable protection without being as restricting as the pleated face masks. They have high bacteria filtration efficiency and can be used for up to 8 hours before being changed.
The 3-ply disposable child face masks have been specifically designed to fit younger children and offer a high bacteria filtration efficiency, without feeling uncomfortable. The non-elasticated ear loops hold the mask securely in place, without being tight or feeling restrictive, and help children receive a high level of protection.
Our WeCare hand sanitiser comes in handy 100ml bottles which can be popped in your bag for protection while out and about or commuting, or stores in your workplace or home for use throughout the day.
Our disposable gloves are made from high quality natural latex, making them biodegradable and strong. They are powder free and ambidextrous so they are perfect for the home or office, as you can pull out a pair when needed without needing to check they are a matching pair or leaving a powdery residue on everything you touch.
You can shop our full Care line on our online store, where we offer home delivery across the UK, with free delivery on orders over £20.
Sources
https://www.gov.uk/government/news/face-coverings-to-become-mandatory-on-public-transport
https://www.independent.co.uk/life-style/lifestyle-lowdown/face-masks-coverings-england-public-transport-rules-travel-a9549866.html#gsc.tab=0
https://www.standard.co.uk/news/transport/face-coverings-public-transport-new-rules-explained-a4460291.html#gsc.tab=0
https://www.theguardian.com/world/2020/jun/04/face-masks-to-be-made-compulsory-on-public-transport-in-england
https://www.theguardian.com/world/2020/jun/05/who-changes-advice-medical-grade-masks-over-60s
https://www.theguardian.com/world/2020/jun/05/uk-under-pressure-to-rethink-face-masks-in-wake-of-who-advice#maincontent