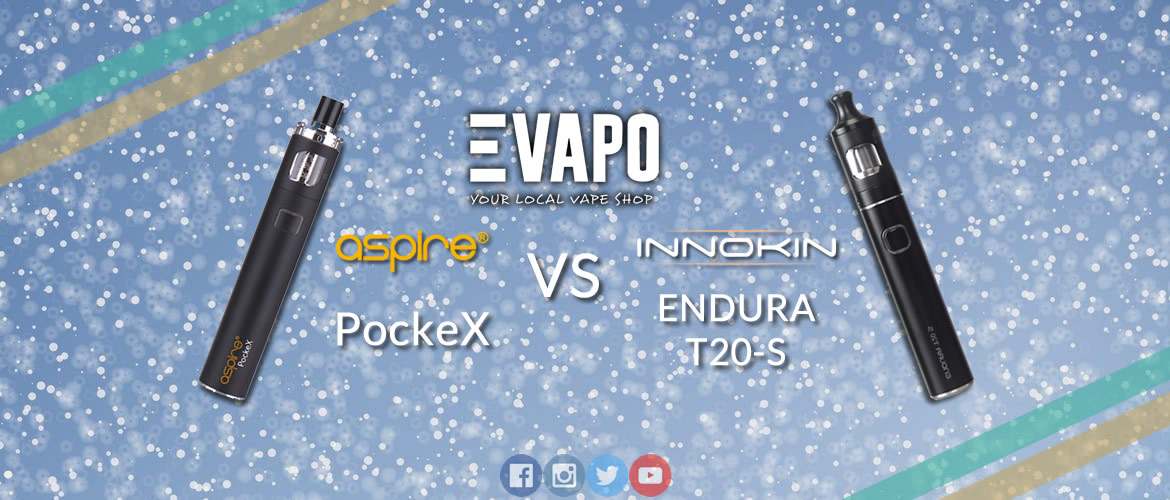 Aspire PockeX VS Innokin T20-S
When deciding between vape kits, which can be difficult alone, due to the array of different devices out there; devices such as the Warlock Pea or the Innokin Pocketmod being incredibly small and pocketable or the SMOK G PRIV 2 with a touch screen & vast amounts of power.
A vast majority of people looking to get into vaping usually start on pen style devices and gradually work their way up the scale; although some people still stick to pen style today. Devices such as the Aspire K3 and Aspire K4 are both pen styled devices but considerably different devices in terms of operation.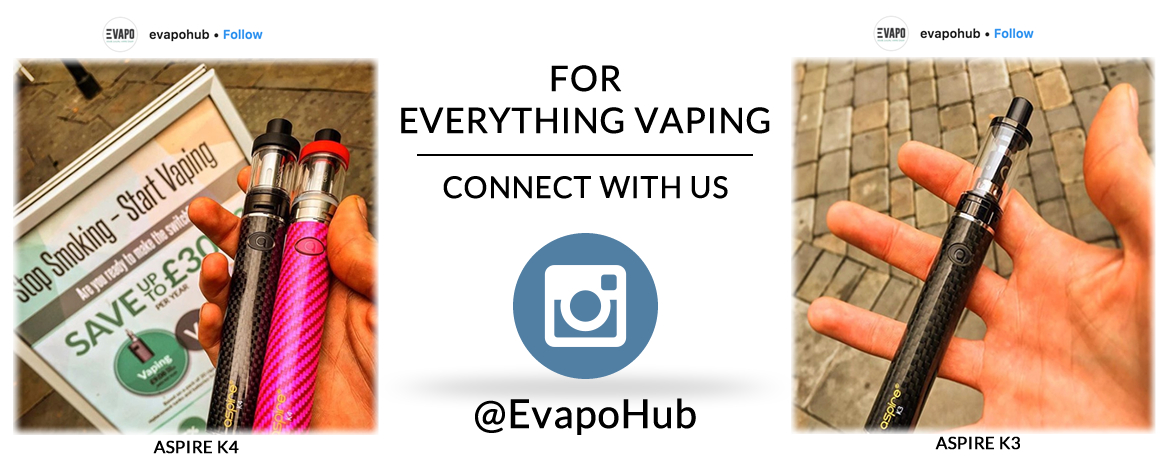 This blog post will be looking at two flagship brands, Aspire & Innokin and a pen style device in the same sort of area when comparing vape kits; starter kits. Looking more specifically at the Aspire PockeX and Innokin T20-s.
Aspire PockeX (AIO)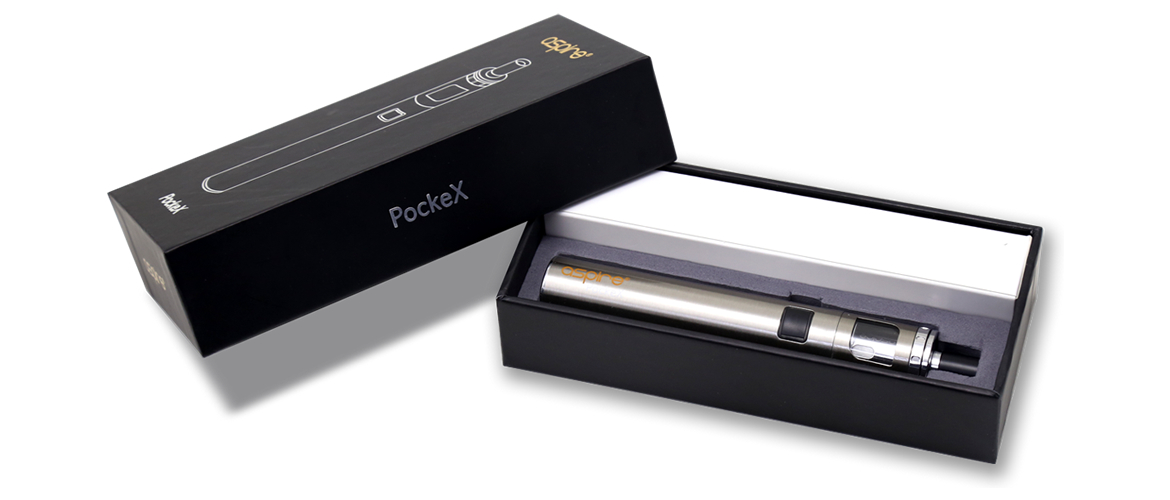 The Aspire PockeX (AIO) all-in-one, pen styled device is only a little shorter than an iPhone 5s meaning it is the ultimate pocketable device! Specifically designed with a wider drip-tip and larger top-airflow for increased vapour production, you can see Aspire have gone out of their way to make sure it's one of the best starter vaping kits out there right now.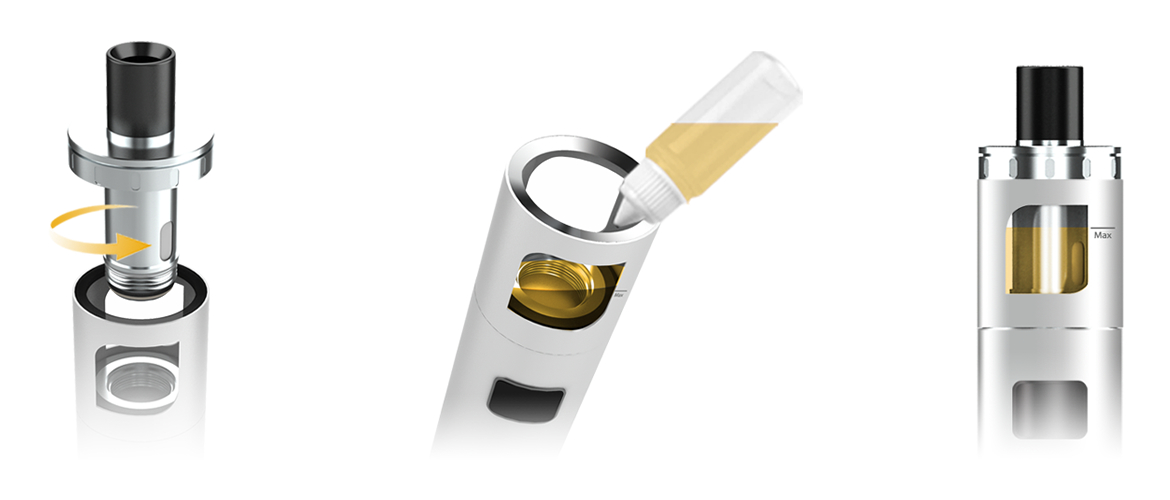 The tank is super easy to fill, just turn and un-screw the top & fill the e liquid up to the fill line on the glass tank; don't forget to leave it 10 minutes if it's a brand new coil! Make sure to check out our PockeX unboxing video on our YouTube channel below!
The PockeX's discrete size and low profile sub-ohm-vapour production makes this device one of the handiest to have on-the-go. Great for the stealth vapers out there!
Make sure to subscribe! Click HERE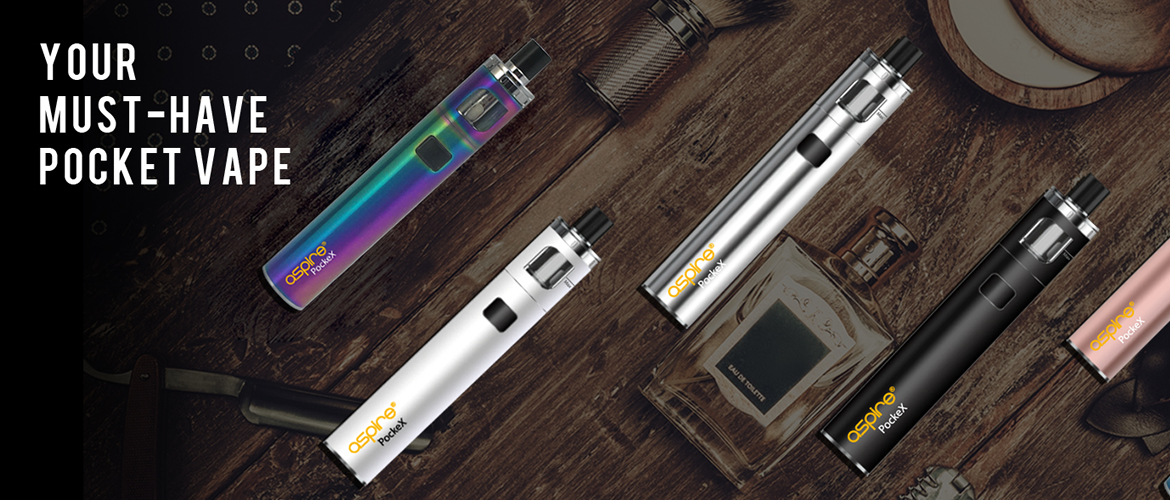 Available in 5 colours: Silver, Black, White, Rose Gold & Rainbow.
Innokin T20-S
The sleek design of the Innokin T20-S and the colour choice of standard black and stainless steel, they are discrete and tastefully designed.
With an internal 1,500 mAh internal Li-Po battery, several safety protections, the loved 'Vape While Charging' technology, tri-colour LED power indicator, allowing you to clearly see the remaining level of power your battery has! Make sure to check out the video of us unboxing the Innokin T20-S; it shows you a great breakdown of what is inside the box, how to change the coil & fill with e liquid. 
We have also just added loads of new e liquids over the Christmas & New Year period so be sure to check out our Christmas & New Year – Brand New E Liquid Ranges showing you a break down of all the new products we brought in just before 2018!
Standing at only 132mm tall and featuring the Prism-S tank the next generation tank and coil system focusing on pure flavour and throat hit via a simple mouth-to-lung (MTL) tank, helping provide an exceptional experience in how it vaporises your favourite e liquids.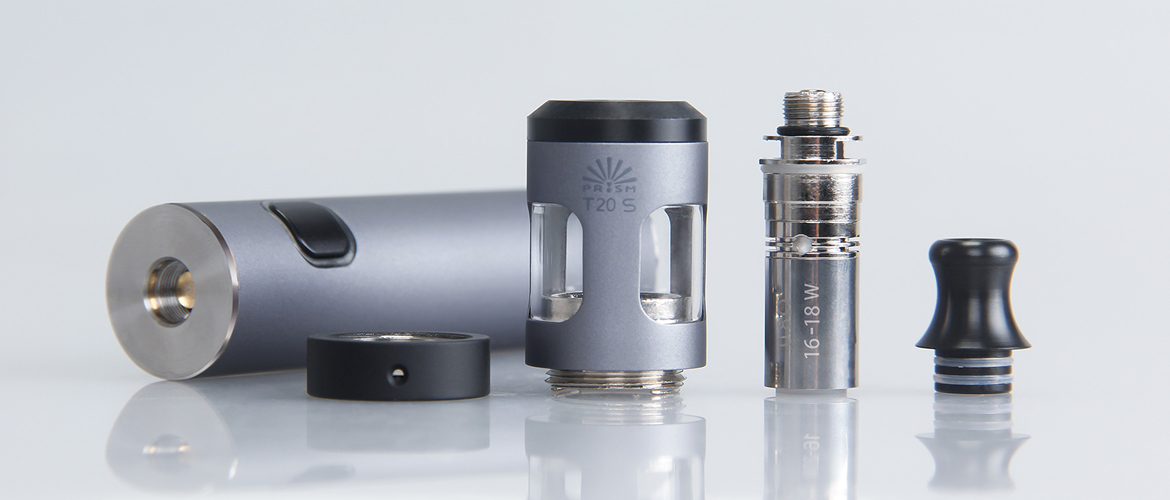 The Prism-S Coil will let you taste flavours like never before! It's super simply to fill with your favourite e liquid by simply unscrewing the cap from the top & filling around the coil; make sure to leave it for 10-15 minutes to allow the coil to soak if it's a brand new coil!
Make sure you also adjust the airflow on the tank to allow you to find what works perfectly for you as everyone is different.
Both the Aspire PockeX & Innokin T20-s are perfect starter vape kits created by two highly prestigious vaping manufacturers in the vaping industry to date; Aspire & Innokin.
If you require any assistance with anything vape related you can pop into your local vape shop and speak with any of our enthusiastic and knowledgeable members of staff. Alternatively, if you can't make it into any of our stores you can connect with us over social media; Facebook, Twitter, Instagram & YouTube.
Keep vaping & #VapeWithEvapo