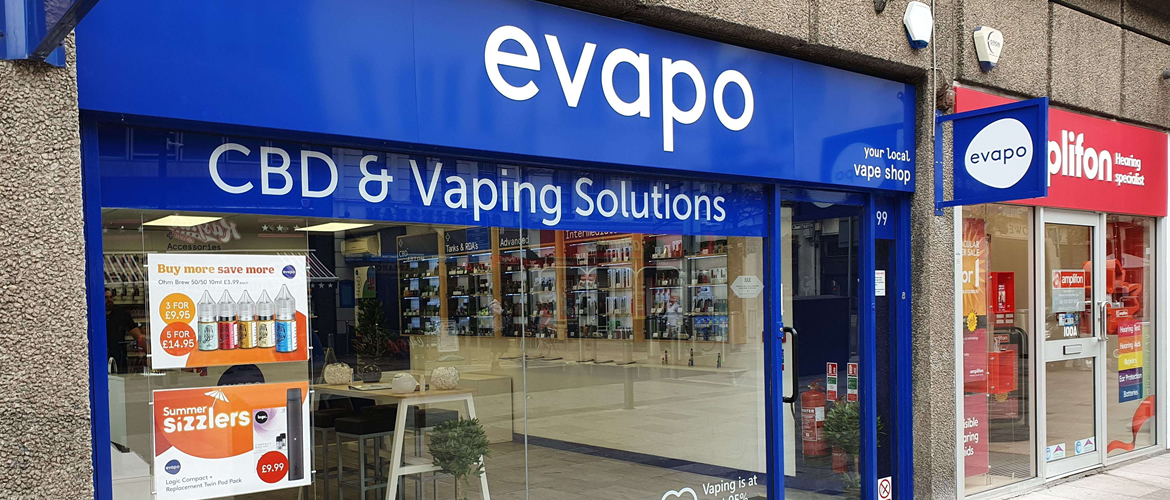 Cardiff Vape Shop
Our new Cardiff vape shop is the most recent addition to our Evapo family, and our first store in Wales!
We caught up with the Evapo Cardiff team to find out about the new store and meet the team.

Meet The Team
Our new Cardiff store has a team of expert vapers there to answer any questions you might have and offer advice at any stage of your vaping journey. Store manager Wayne heads up the team, joined by Assistant Manager Nathan and Sales Assistants Jen and Ella.
Every member of the team started vaping as an alternative to smoking, in pursuit of a healthier lifestyle. So, they all understand how daunting it can be to kick the habit, but they are all equipped to help you find the perfect device and e-liquid combination to give you the best chance at a successful quit.
Wayne told us how he found vaping to be much more convenient than smoking, and have saved money by making the switch. Assistant Manager Nathan said,
'I started vaping to cut down on my smoking, and quickly gave up smoking altogether. Since then vaping has turned into a hobby and I now have countless devices, tanks and RDAs. I love being able to share my knowledge with our customers!' – Nathan, Evapo Cardiff, Assistant Manager
Jen shared that her favourite device is the JUUL with the Glacier Mint pods, and Ella uses the SMOK Stick V9 with tonnes of different flavours.

Why Visit Evapo Cardiff?
Evapo Cardiff has the most extensive range of hardware and juice in the area, with all the big names you know and love, like Ohm Brew, Innokin, Six Licks and Aspire.
You can sign up for a loyalty card and as part of the Evapo club you will earn points on your purchases, as well as extras throughout the year.
The flavour bar lets you try 200 different e-liquids before you buy, so you always know you're making the right choice, and the store holds DIY coil building masterclasses for the hobbyist vapers who are interested in learning to build their own coils for advanced RDAs.
If you haven't yet been to the new Evapo Cardiff vape store, pop in and say hi to Wayne and the team!