Choosing a device best suited to you is the perfect way to make sure you have the best chances of whatever you're trying to achieve.
Whether that's reducing your nicotine intake, avoiding tar, burning tobacco or smoke; with the correct device this task is made much easier!
Beginners – Vape Pens
Vape pens are ideal for new vapers as they are convenient and normally operating easily with a single button to activate. When choosing a vape pen kit, it is important to bear in mind 3 factors – internal battery capacity, vapour production and tank capacity.
The internal battery, which is measured in mAh (Milliamp Hours); generally the higher capacity the battery is the longer it will last between charges.
Vapour production is down to personal preference; some people want to exhale loads of vapour – some would rather not produce more vapour than a cigarette. For most vape pens this is driven by the resistance of the coil – the lower the resistance, the more vapour produced with each draw.
Tank capacity means how much liquid your tank can hold at a time; TPD law, that came into effect in May, means that all tanks are now limited to a maximum of holding 2 ml of liquid although some companies offer expandable glass sections to increase this.
Examples of Vape Pens and Kits for Beginners: Aspire PockeX, Innokin Endura T20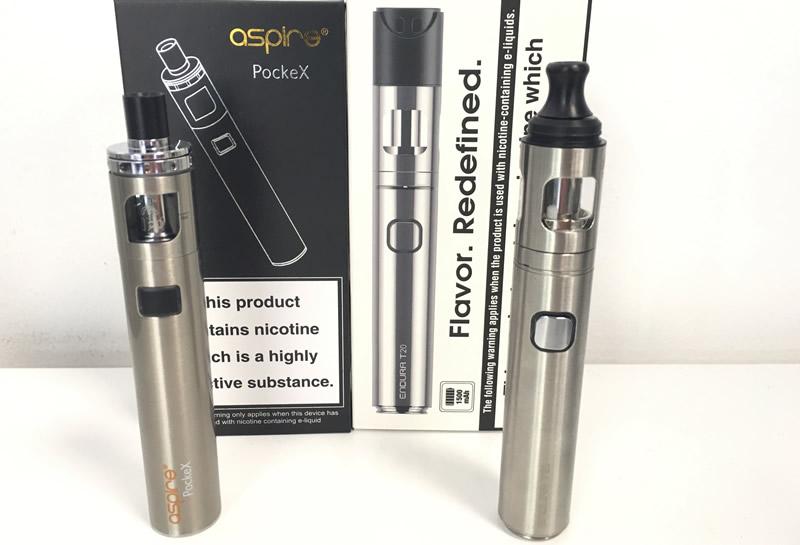 Intermediate – Box Mods
Looking for the next step after a pen style vape kit? Need extra battery life?
Intermediate kits offer you extra features and are usually housed in a box style unit! This is due to them either having bigger internal batteries or taking external 18650 batteries.
Some other features you will find include variable wattage/voltage control allowing you to change the rate the e liquid is heated allowing for larger clouds & hits, temperature control, quick charge features and much more.
Vapour production on these bigger units does increase as more power is being used to power the tank so therefore more liquid is being heated through!
Examples of Intermediate Kits: Innokin iTaste Kroma-A, Smok Alien Baby AL85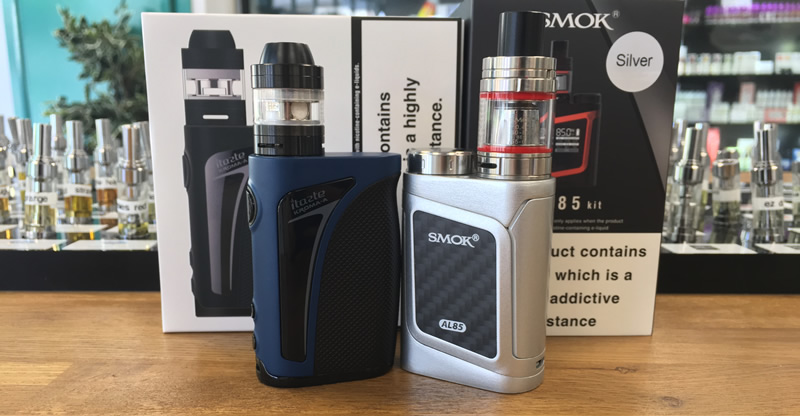 Advanced – Box Mods / Mech Mods
For those of you starting to think about purchasing RDAs and making your own coils, you're going to need a slightly more powerful battery to power that!
Most bigger box mods such as the Smok Alien 220W or the Vaporesso Revenger require power from two 18650 batteries which means longer battery life and an extended power range which is perfect for regular tanks, RDAs, RTAs or RDTAs!
Cloud Chasers are seen using mechanical mods as these allow for higher power outputs than most regulated digital devices. Mechanical mods do require you to have some knowledge on Ohms law and is it is highly recommended that you have a read up online and speak with a member of staff in store for advice before committing to purchasing one.
Examples of Advanced Kits: Smok T-Priv, Vaporesso Revenger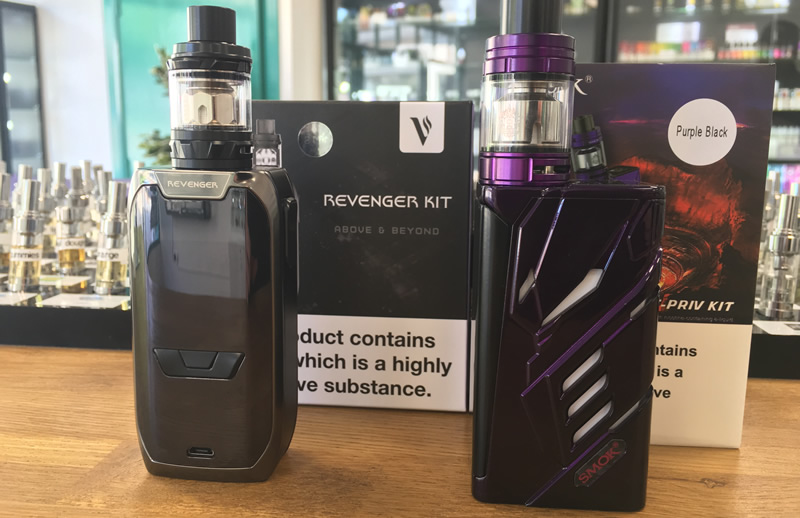 The most recent data from the Office for National Statistics (ONS) shows a 2.9% decrease from 2010-2015 of UK smokers down from 20.1% to 17.2%.
If you're ever in the need of help with choosing which device is best suited to you, visit your nearest Evapo vape store and speak with one of our vastly knowledgeable and easily approachable members of staff!
If you can't make it into store, you can also connect and message us on our social platforms Facebook, Twitter, Instagram; @EvapoHub.