Vaping Advice: Nic Salts
Nic salts are becoming much more popular in the UK and you may be wondering if they are right for you. This post aims to provide you with some advice for vaping with nic salts to help you make an informed decision about nic salts. If you would like to read more about nic salts, check out our What Are Nic Salts? Post.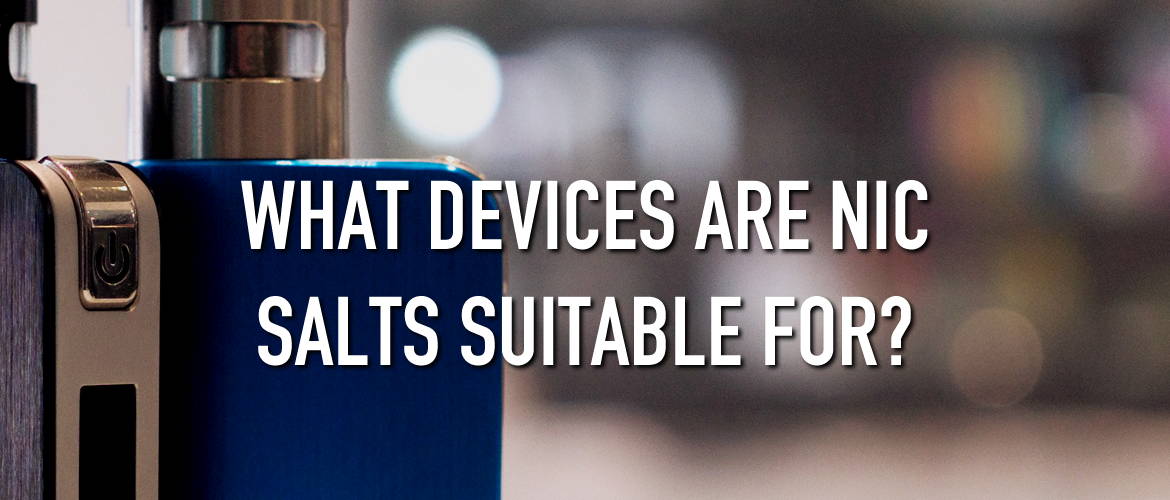 What Devices are Nic Salts Suitable For?
Nic salts are mainly aimed at new vapers and are ideal for use in most starter kits. Nic salt e liquid is commonly used in POD system style devices, the lower wattage and tight draw that a POD device provides is ideal for a higher strength nic salt. To learn more about POD systems check out our post on Vape POD Systems.
Alternatively, most starter kit devices will work well with a nic salt e liquid. For medium to high strength liquids, it is best to look for a device that has a mouth to lung draw, with a lower wattage, preferably below about 30 watts, with a high resistance coils. This way you can ensure you are getting a good nicotine hit, without providing too much.
The lower strength nic salt e liquids can be vaped in most devices, including higher wattage and sub-ohm devices. People even use 3mg nic salts in RDAs! Learn more about Sub-Ohming and RDAs on our blog.

What Strength Do I Need?
If you are new to vaping, you may be unsure what nicotine strength you will need. This is largely down to how many cigarettes you would normally smoke in a day, but also what type of cigarette you smoke. For example, your average cigarette has around 6-7mg of nicotine, whereas a hand rolled or light cigarette tends to be closer to 5mg. A good approximate guide would be;
Up to 5 cigarettes a day – 3mg
5 to 10 cigarettes a day – 6mg
10 to 20 cigarettes a day – 12 mg
More than 20 cigarettes a day – 18mg
However, it is important to remember that this guide will not necessarily suit everybody, and we highly recommend going into a store where you are able to try out different flavours and strengths to find which one feels comfortable to you. We also recommend that, over time, you strive to decrease your nicotine level. If you start off vaping a 12/18 mg, it's a good idea to eventually ween yourself down to a lower nicotine strength.
You may have previously tried a higher strength liquid and found it was very harsh and not particularly comfortable to vape on. Because of the acidic nature of nic salts, they can be vaped at a high milligram and still remain smooth, so could be a great option for heavy smokers who need the higher nicotine strength but do not want the harsh throat hit.
Advice for Vaping with Nic Salts
Many people who vape, find they do it more than they ever used to smoke. This could be partly because the free base nicotine in their liquid takes longer to absorb than that of a cigarette, and so they need to vape for longer to feel satisfied. Because e liquids made with nic salts deliver the nicotine more effectively to the bloodstream, you are able to vape them in the same way as you would have smoked, a few inhales over the course of a couple of minutes will replicate the feeling of smoking a cigarette, and curb the craving in the same way.
However, because of this it is not recommended that nic salt e liquids are vaped continuously for long periods, but rather in short bursts. If vaped continuously the body may absorb too much nicotine and it can make you feel a bit poorly.
If you think that nic salt e liquids could be the right choice for you and would like more advice and information, head into one of our 25+ UK stores to speak to a member of staff. If you would like to read more vape related advice, news and reviews, check out our other blog posts.