Evapo History
Forming in 2014, Evapo set out with a clear aim to create a community of vapers that reflects vaping culture in all of its creative diversity within the biggest growing industry in the United Kingdom.
Evapo stands as a multi-hub vaping company committed to professionalizing the industry with high quality, up to date & innovative products whilst retaining a fair price in both retail & wholesale.
By attending important trade fairs and conferences such as Vap Expo in Paris, Ecig London, UK Vape Jam & many more we are able to keep up to date with the newest products & companies within the vaping scene.
We at Evapo took this one step further & decided to travel to Shenzhen in China to meet all of our suppliers to see how their products are manufactured & continue building our relationship with them.
By building a stronger relationship with our suppliers we continue to be able to bring you the most innovative products at a fair price.
Beginning as an online vape store for vape kits, e liquid, vaping accessories & much more, Evapo quickly established itself with retail stores across the South East of the UK; which continues with new stores opening every month. To date, we've currently got 25 UK stores!
Evapo's First Store – Sutton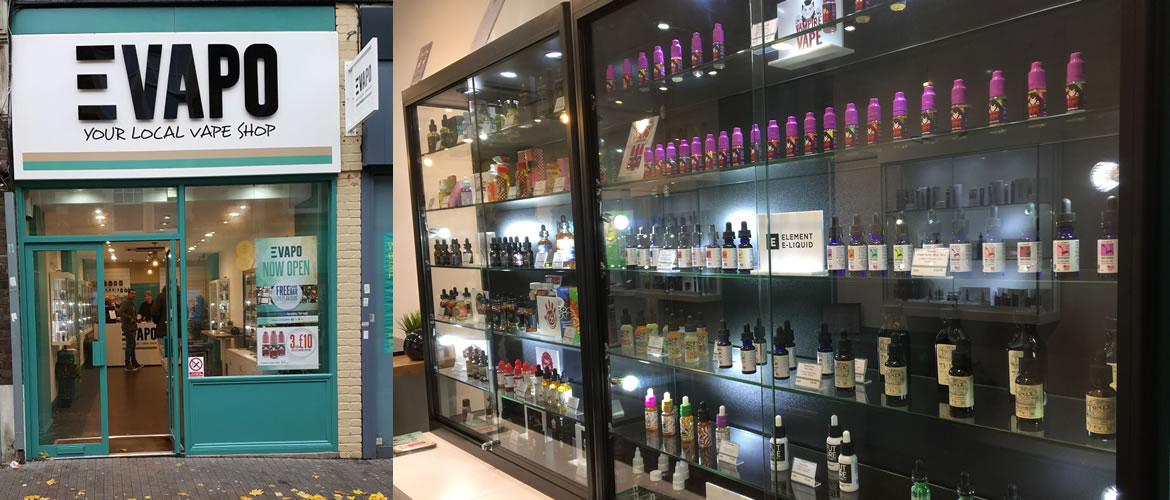 Offering a selection of contemporary products from a variety of reputable manufactures from around the world meant we were able to offer the best products, the best customer service whilst retaining that fair price due to our relationship with our manufacturers & suppliers.
Easily found on the Sutton High Street fairly close to Vodafone & Santander! A variety of vaping kits & hardware from you to choose from alongside our 180 flavours across our flavour bar so you can try before you decide on a purchase!
Evapo Southampton
Opened February 2016, our Southampton store found near the Disney store in Marlands Shopping Centre offers specialised advice & quality products in the busy city of Southampton.
Don't forget to subscribe to our YouTube channel by clicking here!
Evapo's 25th Store – Gloucester
On the 11th of November 2016 we opened our Gloucester store, with our new blue branding, to inform everyone of the vaping scene & offer a large range of products.
In-Store Events
From showing people how to build their own coils & understanding the safety of mechanical mods, to Riot Squad e liquid bringing chaos at our in-store events; we're always trying to find a way to give back to the vaping community as a thank you for keeping us as your favourite local vape shop!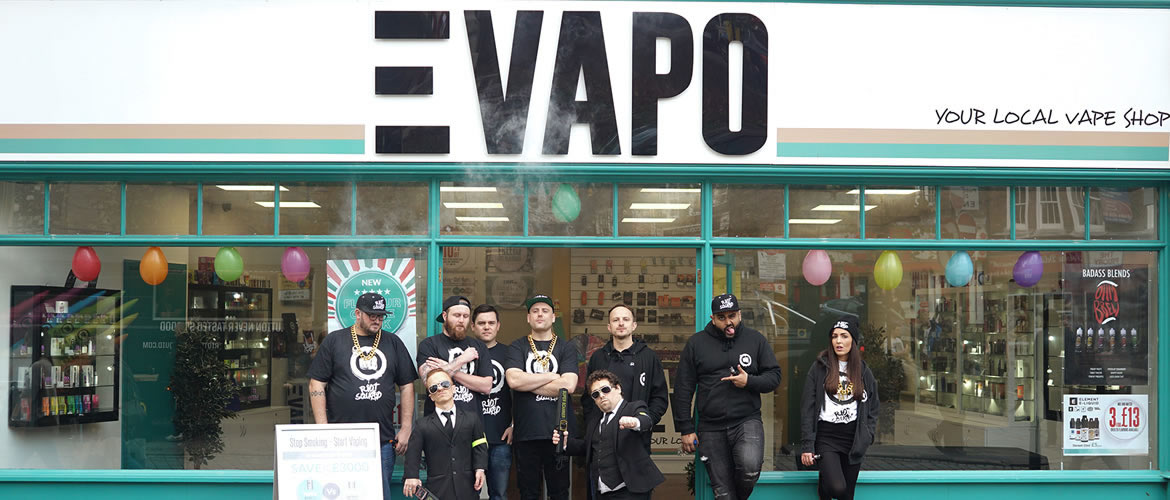 Interview with CEO Andrej Kuttruf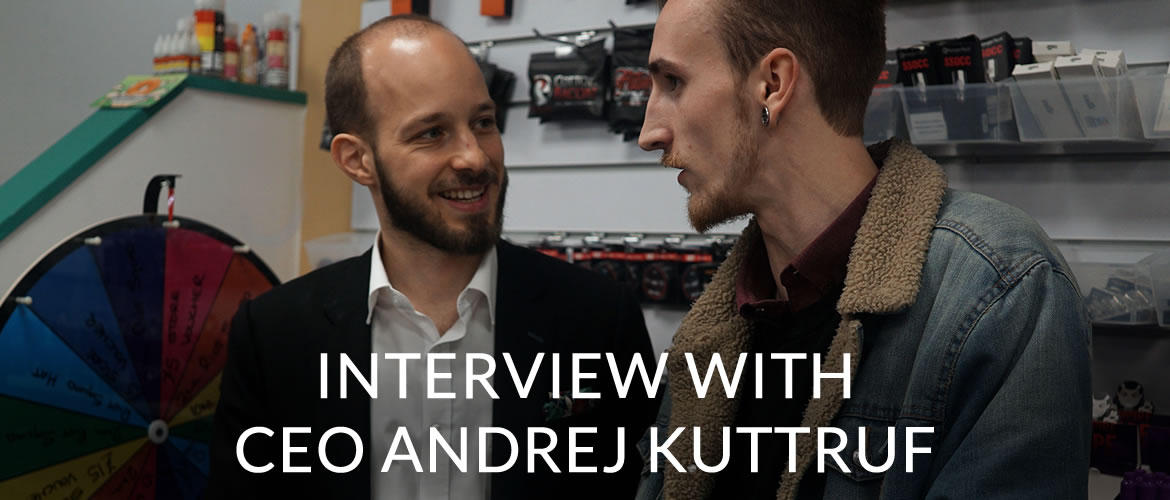 Evapo: How did you originally get into Vaping?
Andrej: A friend of mine, whom had stopped smoking using a vape kit, showed me his device and I was immediately fascinated by the potential! I can't think of any other consumer product which actually helps people's health by getting them away from smoking. Plus it tastes great, it's much cheaper than smoking!
---
Evapo: What made you decide that the Vaping industry was for you?
Andrej: In the Summer of 2014, I was in the final stages of a successful career as a professional poker player and I was looking for something new to get into. I realised the massive growth potential of this industry and enjoyed the prospective challenge of facing up against the Big Tobacco companies!
A friend of mine, Bao, had already started selling e-cigarettes on Ebay and Amazon so we decided to partner up and put all our effort into it.
---
Evapo: When did you open your first store?
Andrej: In September 2014, Bao and I came across an opportunity to buy a local business in Sutton; which subsequently became our first store. We experienced fast growth and decided to take this concept and roll it out. Bao then relocated to Germany to set up shops over there and I focused on setting up Evapo's UK stores.
---
Evapo: So how many Evapo stores are there in the UK & abroad?
Andrej: We now have 9 shops in Germany under the Hello Vape brand and I'm pleased to say that we have now opened our 25th store in the UK; our Gloucester store!
---
Evapo: What is your favourite vaping kit we stock?
Andrej: I'm a big fan of the Kroma & Kroma-A kit from Innokin. Simply due to it being compact, sits perfectly in your hand, easily refillable and produces great flavour!
---
Evapo: If you had to vape only one e liquid for the rest of time what would it be?
Andrej: That would be sad to only vape one e liquid for the rest of my life! I enjoy the massive variety of flavours out there! If I had to pick one, it'd probably be Ohmbrew's Groovy Grapefruit. I could drink that stuff! (Although I don't recommend it!)
---
Evapo: What would you say is the perfect vape kit for someone who's looking into getting into vaping?
Andrej: I would definitely suggest starting small, to allow you to get comfortable before getting into the bigger mod devices. The Aspire PockeX is a great little device, simple to use & very effective for its size!
---
Evapo Values
– We strive to create a special connection with everyone whom crosses our path.
– We believe in creating value. We are only in it if it's a win-win.
– We Go Beyond. We go beyond the ordinary; whatever we do, we aim to stand out with our products, services & communication.
---
Prestigious Brands
We are a proud stockist of some of the most prestigious brands vape kits such as Aspire, Innokin, SMOK & many more!
Aspire – PockeX
If you're looking for a starter vape kit that's super simple to use; then look no further than the Aspire PockeX!
PockeX's discrete size and low-profile sub-ohm vapor production makes the PockeX your must-have vape while indoors or on-the-go.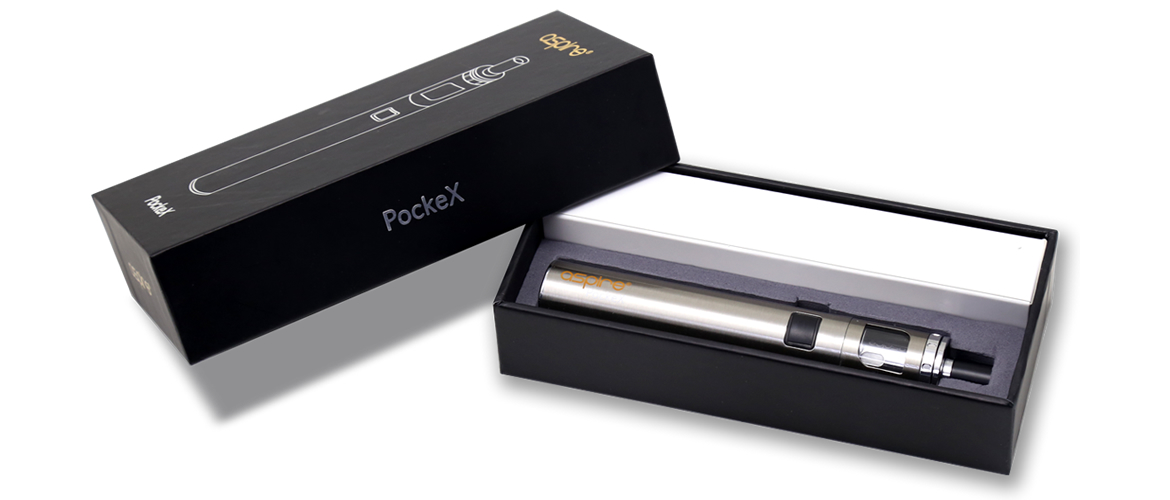 Innokin – T20
For the flavour chasers, whom wants to stick with stealth vaping, staying with a pen-style device; the Innokin T20 are designed and tested to wick well with high VG e liquids meaning you're not limited to what you can vape!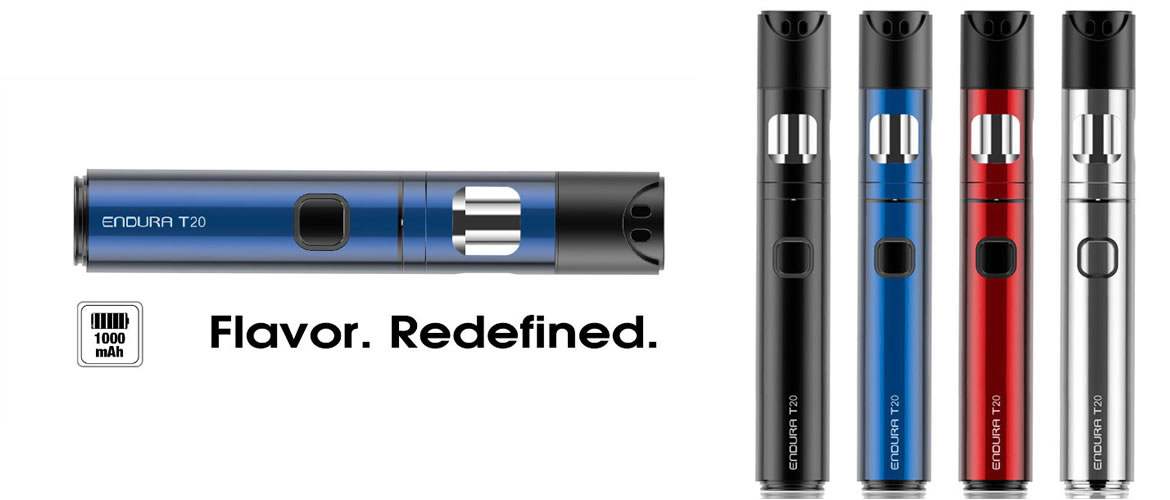 SMOK – T-Priv
For the advanced vapers looking for a device with loads of features, a huge 220 watts power range, LED lights & much much more the T-Priv has set itself out in the vape mod market.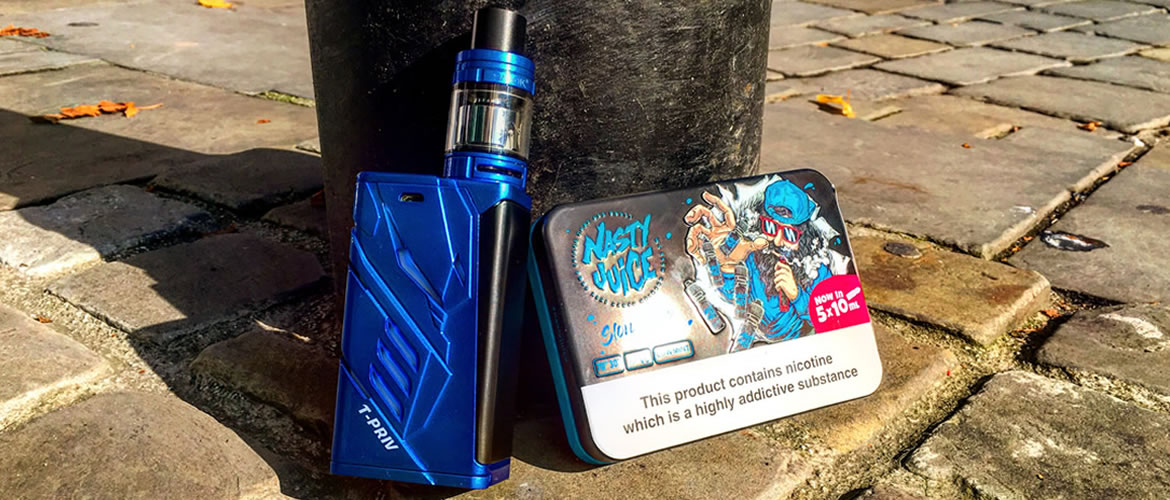 E Liquid
Element 
Awarded Best Juice Line at Vape Jam UK 2015, Element have always prided themselves on their American made, superior ingredients & ISO certified ranges. Element offer a 50/50, NS20 nic salt, Dripper 80/20, & Emulsion mixes; there really is something for everyone!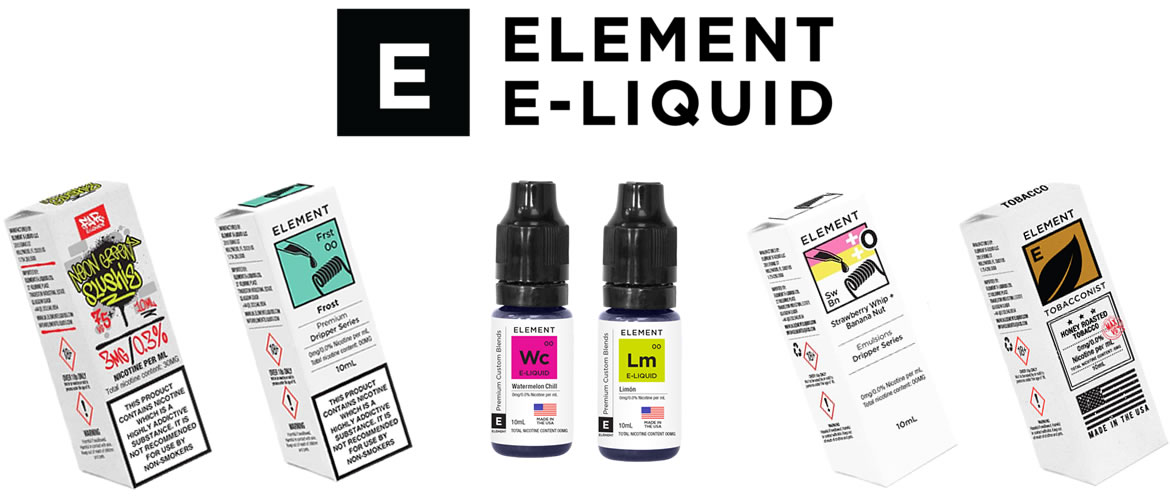 Vampire Vape
Formed in 2012, Vampire Vapes are the biggest & most recognised brand that they manufacture; alongside their 20 other different ranges.
Prestigiously recognised as the original creators of the two famous flavours Heisenberg & Pinkman! If you haven't tried them; add them to your 'To Try List' for sure!