JUULpods menthol pods 4 pack
A super strong and bold menthol flavour, perfect for smokers making the switch to vaping. Contains 4 x 0.7 ml prefilled JUULpods. Compatible with the original JUUL device kit only.
Free UK delivery on all orders over £20

Same day despatch - order by 5pm

X

Despatch and delivery



Orders placed before 5pm Monday to Friday using the next working day delivery service are despatched same day (excluding bank holidays).

For standard delivery services we also despatch orders placed before 5pm on the same day weekdays excluding bank holidays.

Next working day delivery available
Bold menthol flavour with an icy finish.
18 mg/ml nicotine strength. Each pack contains 4 pods.
JUUL e-liquid contains a proprietary formulation that combines glycerol, propylene glycol, natural oils, extracts and flavour, nicotine and benzoic acid. Together with temperature-regulated vapour technology, this proprietary chemistry enables JUUL to deliver a vapour experience like no other.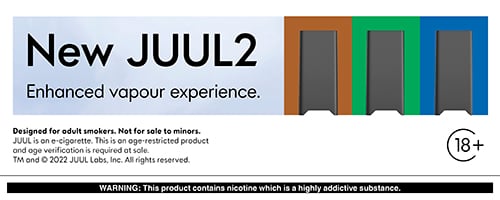 (The JUUL2 system is only compatible with JUUL2 pods. First generation JUULpods are not compatible with the JUUL2 device.)