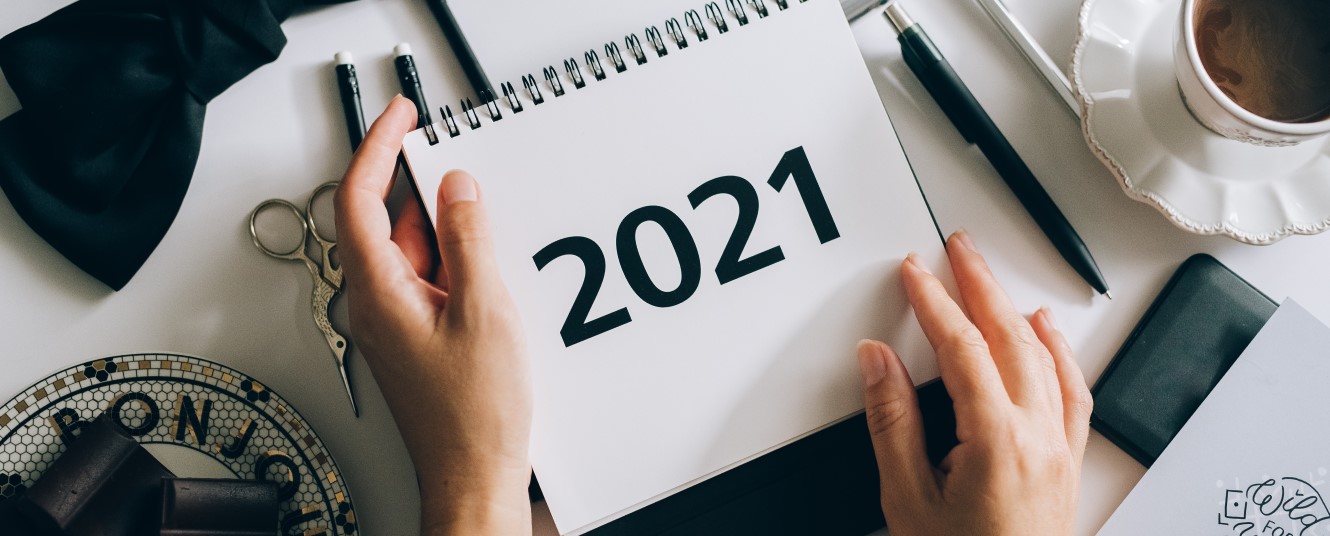 2021 has certainly had it's ups and downs, but fortunately, it has been a breakthrough year for vaping. There has been a lot of data and reviews in the past year showing how e-cigarettes are an effective and successful stop smoking aid, and they have even been discussed in parliament as a tool to help England reach our goal of being smokefree by 2030.
January
We started off the year with the Patient.info article 'The truth about vaping', which discussed the benefits of e-cigarettes as a stop smoking aid. The article accumulated data from a number of studies and addressed some of the misconceptions around vaping. You can read about it in our blog post 'UK Clinical Director agrees "E-cigarettes… can be a very effective quitting tool"'.
As we entered into the third national lockdown, we were working hard here at Evapo to support our customers in their stop smoking journey through our website and by offering call and collect services out of our retail stores.
February
February saw calls for EU policymakers to reconsider their stance on vaping, as discussed in our post 'Article calls for EU to rethink stance on e-cigarettes'. As the bank of data on the benefits of e-cigarettes compared with smoking continued to grow, and the correlation between the popularity of e-cigarettes and decreasing smoking rates became increasingly apparent, many agreed that it was high time that officials began endorsing e-cigarettes in the interest of a smokefree future.
We also saw the release of Public Health England's seventh independent report on vaping in England in association with King's College London. They found that not only were e-cigarettes the most popular stop smoking aid, but they are also much more effective than widely available NRT options like nicotine patches or gum. We delved into the report in our post 'Vaping better than NRTs - Public Health England'.
March
In March we set our sights on combatting vaping misinformation. Our blog post 'Debunking the 'gateway theory'' looked at evidence from Action on Smoking and Health (ASH). Where some have previously suggested that vaping is a gateway to smoking, it is in fact a gateway out of smoking. The data shows that year-on-year the number of vapers who are never-smokers remains extremely low, and smoking rates continue to decline.
King's College London also published a new study which identified a 'clear benefit' to using e-cigarettes daily to assist in a stop smoking attempt. They identified that those who used a refillable e-cigarette daily are over five times more likely to successfully remain abstinent from smoking after one month than those not using a quitting aid. Read more about it in our post 'Daily e-cigarette use shows 'clear benefit' in helping smokers quit'.
April
April saw the announcement of a promising NHS trial, where participating A&E departments would offer e-cigarettes to patients who identified as smokers, regardless of what they are being treated for. Research shows that e-cigarettes are an extremely effective stop smoking aid, so the trial aims to offer smokers the option to make an e-cigarette assisted stop smoking attempt with the support of their local stop smoking services and continue to monitor their progress for up to six months. This was a really important step in establishing e-cigarettes as an endorsed alternative to smoking, and foreshadowed exciting announcements to come later in the year. We detailed the trial in our post 'E-cigarettes given to smokers in A&E'.
Here at Evapo we opened two new retail locations in April, our Reading Services (westbound) kiosk and Horsham West Street store. We also spoke to some of our Evapo customers to discuss their stop smoking journey. Their individual stories offer a relatable and honest look at the many reasons people hold for making the switch to vaping, and how it can truly make a difference in peoples lives. Check out what they had to say in our blog post 'Our customer's success stories'.
May
In May we gave our you all a glimpse behind the scenes at our e-liquid manufacturing facilities and testing and compliance laboratory. Most of us use e-liquids every day, and we wanted to give you all an idea of how our e-liquids are produced and what steps we take to ensure they are of the highest quality and meet all of the UK regulations. We are really proud of the products we make, and a lot of hard work goes into each and every bottle, you can read more about it in our posts 'Our e-liquid manufacturing capabilities' and 'Our testing and compliance laboratory'.
June
June saw e-cigarettes being praised by a number of healthcare authorities and also in parliament, as covered in our post 'Benefits of vaping discussed in parliament'. In a discussion about the upcoming Tobacco Control Plan vaping took centre stage as MPs from both parties agreed e-cigarettes should play a crucial role in the Government's plans.
The All-Party Parliamentary Group then commissioned a report to reignite interest in the Government's smokefree 2030 target, in which e-cigarettes were identified as one of the most important tools and encourage a move to make them available on prescription for those attempting to quit smoking. We covered the report in 'Smokefree 2030 supports vaping'. The National Institute for Health & Care Excellence (NICE) also published guidance which reiterated the important role that e-cigarettes will play as discussed in our post 'New NICE guidance backs vaping'.
Finally, towards the end of June ASH released their annual Smokefree GB vaping statistics which showed that attitudes towards vaping were changing and an uptake in e-cigarette use with 3.6 million e-cigarette users in the UK. Take a look at all the stats in our post 'ASH releases latest Smokefree GB vaping statistics'.
July
A number of British healthcare experts spoke up to reject the World Health Organisations stance on vaping in July. In spite of all of the evidence on the benefits of e-cigarettes as an alternative to smoking, the WHO have continued to refuse to recognise them as a crucial tool in the fight against smoking. It was amazing to see so many authorities stand up to support vaping, we discussed this in our post 'British experts reject WHO vaping criticism'.
Queen Mary University of London also released their research in July, identifying that e-cigarettes are more effective at achieving long-term success in a stop smoking attempt than nicotine replacement therapies. This research showed that the previously identified efficacy of e-cigarettes for smoking cessation also applies in long-term abstinence, helping smokers maintain their quit attempt and remain smoke free. Read more about this research in our post 'New trial finds e-cigarettes more effective than NRT'.
Here at Evapo we have made a huge effort to become more sustainable. In July, we published our post 'Sustainability at Evapo' to share the steps we have taken to reduce our carbon footprint, move to more recyclable materials and help our customers safely dispose of batteries.
August
In August the International Longevity Centre UK released a report exploring the cost of smoking on the UK economy. The report revealed that every year smoking costs the UK's economy over £19 billion in healthcare and lose of productivity. This shed shocking light on the effects that smoking has not only to the heath of individual smokers, but on the health of this country's economy, we delved into it in our post 'The cost of smoking to the UK's economy'.
We also saw the rise in popularity of disposable devices, which come prefilled and pre-charged for a convenient back up device that is ready to use straight out of the box. We compared some of the most popular disposable devices to help our customers find the one that best suits them, check it out in our post 'Top disposable vapes compared'.
September
In September Evapo joined the UK Vaping Industry Association (UKVIA) and MHRA to help tackle the sale of illegal vaping products. Here at Evapo only ever sell approved and compliant products from trusted suppliers. Following reports of high nicotine disposable devices being sold illicitly in the UK, we helped our customers know how to identify if the products they purchase are legitimate, legal, and safe for use in our blog post 'Tackling illegal vaping product sales'.
October
In October a study by University College London in association with Cancer Research UK revealed the impact of the COVID-19 pandemic, disclosing that smoking rates had increased over the course of the national lockdowns. For many, the pandemic was a stressful time with much uncertainty, changing their day-to-day lives and playing a big part in the increase in smoking rates. In our post 'Smoking has increased during the pandemic' we discussed the study and offered advice on making the switch from smoking to vaping for those considering a quit attempt. We also did a deep dive on 'The effects of smoking on the body', exploring the many ways that smoking can impact our health, and even make us more susceptible to severe COVID infection.
However, it wasn't all doom and gloom, as a ground-breaking study identified that making the switch from smoking to vaping can reverse the damage to the lungs caused by smoking and help restore their defences against viral and bacterial pathogens. You can read more about the study in our post 'Switch to vaping restores lungs defence against infection'.
Here at Evapo we opened a new store in Chatham, making quality products available to more UK vapers and helping more smokers make the switch to a less harmful alternative.
November
November saw a phenomenal announcement from the Department of Health and Social Care that e-cigarettes could potentially be made available on NHS prescription. With nearly 7 million smokers in the UK, it is important to consider the best ways to support them in making a successful quit attempt, and e-cigarettes have been proved time and time again to be an effective stop smoking aid. In what would be a world first, the Medicines and Healthcare products Regulatory Agency (MHRA) published guidance that could pave the way for medically licensed vaping products to be available on prescription to smokers. Read more about this news in our post 'NHS could prescribe e-cigarettes to help smokers quit'.
Vaping also took centre stage in parliament once again in an APPG led backbench debate encouraging the use of e-cigarettes to support the smokefree 2030 target. They submitted a report which was backed by more than 50 organisation including Cancer Research UK, the Royal College of Physicians, and the British Heart Foundation, supporting e-cigarettes as a harm prevention tool. Read more about this in our post 'Ministers praise vaping in parliamentary debate'.
November also saw Brew Bar Ohm Brew disposable vapes hit the market. These handy disposable devices are available in your favourite Ohm Brew flavours, and unlike many other disposables, they are available in a choice of nicotine strengths so you can select the one that best suits your needs. Find out more about Brew Bars in our post 'Brew Bar - Ohm Brew disposable vapes'.
Finally, Evapo continued to grow, opening a new retail store in Hemel Hempstead to make our range of quality and reliable products available to even more UK vapers!
December
We ended the year on a huge high note that vaping rates in the UK have hit an all time high! In spite of the increased smoking rates during the pandemic, the latest smoking prevalence data from the Office of National Statistics found that this spike was short-lived and smoking rates have continued their decline, now below 14% of the population for the first time in years. There are now 3.3 million vapers in the UK, with more than ever having completely quit smoking in favour of an e-cigarette, a trend we hope to see continue in 2022! Read all about the report in our post 'Vaping rates hit all time high'.
To end the year our Ashford Evapo store received a refit, redecorated with our instantly recognisable blue colouring and new branding. Pop in and take a peek at Ashford's new look!
It has been a fantastic year for vaping news, with more support and glowing endorsements from healthcare authorities than ever before!
Happy New Year from all of us here at Evapo!
At a glance
UK vaping rates hit an all time high in 2021, with 3.3 million UK vapers
The Department of Health and Social Care announced that e-cigarettes could be made available on prescription
Vaping took centre stage in multiple 2021 parliamentary debates as a crucial tool to help reach the smokefree 2030 target
Sources
patient.info 04/01/2021
theparliamentmagazine.eu 29/01/2021
Public Health England 23/01/2021
King's College London 10/03/2021
parliament.uk 10/06/2021
ASH report 06/2021
Addiction 29/06/2021
ilcuk.org.uk 08/2021
ucl.ac.uk 25/08/2021
University of Catania study 12/08/2021
Department of Health and Social Care 29/10/2021
Office of National Statistics 07/12/2021