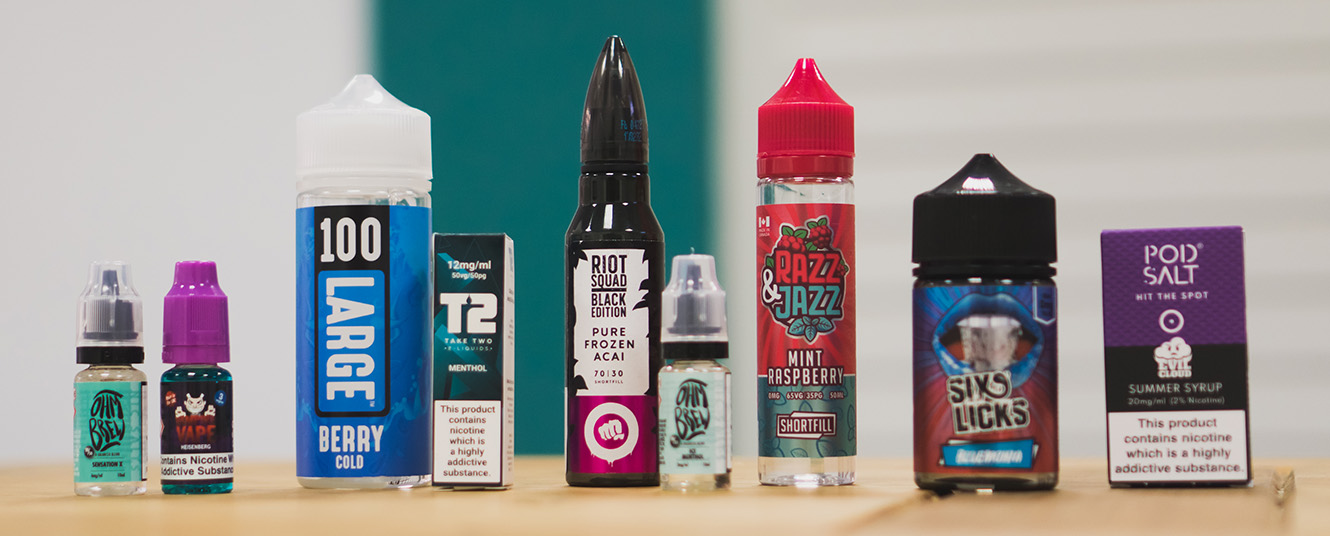 With the introduction of the menthol cigarette ban, we thought what better time to put together a list of our favourite menthol flavours in 2020?
We have split the list into two different categories; mints and menthols, which are the traditional, straight-forward menthol and mint flavours, and menthol medleys, which are a range of our favourite menthol flavours with a fruity twist.
Mints & menthols
Ohm Brew Baltic Extreme Sensation X-treme
Ohm Brew have recently released their new Baltic Extreme range, which features some of their most popular flavours with an extreme menthol finish.
This one is a real hard hitter, and they have taken their wildly popular Sensation X flavour truly to the next level!
Sensation X-treme is a secret recipe which combines a cold menthol with crisp peppermint, and now features an X-treme arctic twist that makes this menthol the coldest menthol I have ever sampled!
If you are a die-hard menthol lover, you really can't go wrong with this one. The high VG formula is perfect for sub-ohm vaping, and you'll be kicking out some serious cloud!
You can pick up Sensation X-treme in a 50ml shortfill, with 50ml of 0mg e-liquid in a 60ml bottle, with 10ml of space for a nic shot, if needed.
Ohm Brew Sensation X
If Sensation X-treme sounds a little too cold for you, but you still want a menthol that will blow your socks off, the original Sensation X is a fantastic place to start!
This flavour is available in a number of different formulas to suit different vaping styles and devices. For starter kits and mouth-to-lung devices they have a 50/50 nic salt option, available in 3mg, 6mg, 12mg, or 18mg nicotine strengths. Alternatively, if you are looking for a high nicotine strength this flavour is also available as part of the Signature Blends range, which are available in a 20mg nicotine strength with a mix of freebase and nic salt nicotine so you can enjoy the perfect combination of fast nicotine absorption and a nice throat hit.
For the sub-ohm vapers, Sensation X is also available as a high VG shortfill, with 50ml of 0mg e-liquid in a 60ml bottle. Finally, you can also get the flavour concentrate of Sensation X if you prefer to mix your own e-liquids.
T2 Menthol
T2 Menthol needed to be on our list because you can't go wrong with a great, no nonsense menthol flavour, like a breath of fresh air!

T2 is a lovely, budget-friendly range, with both high VG and 50/50 formulas. All strengths come in a 10ml bottle, with 0mg, 3mg, & 6mg in an 85VG/15PG formula, and 12mg & 18mg available in a 50/50 formula.
Double Drip Double Menthol
Double Drip is a new addition to the Evapo range, with a really diverse range of flavours.
The Double Menthol flavour combines the taste of freshly picked garden mint with a base of cooling menthol. The combination of mint and menthol is lovely because the garden mint has an ever so slight sweetness to it, and the menthol is so refreshing!
This flavour is available only online and you can pick it up in a 10ml bottle, with a 50/50 ratio in a 12mg nicotine strength.
A 50/50 e-liquid is perfect for use with starter kits and mouth-to-lung tanks. The thin consistency of these e-liquid is easy for small coils to absorb, and they are best used at lower wattages.
Ohm Brew Menthol Blast Iced Tobacco
The Menthol Blast range from Ohm Brew is a really recent release, and this flavour in particular is such a great option for new vapers looking to make the switch and beat the menthol cigarette ban.
Iced Tobacco is the perfect blend of cool menthol and mild tobacco, and really well replicates the taste of a menthol cigarette. This flavour combined with the nic salt formula means it will feel super familiar to former smokers, and is a great flavour to help you get started on your vaping journey.
You can choose between 3mg, 6mg, 12mg, or 18mg nicotine strength, so you can find the perfect nicotine level to keep your cravings at bay.
Pocket Fuel Menthol Mist
Pocket Fuel is a really budget-friendly range of shortfills that is an online exclusive. This flavour blends crisp peppermint with an arctic menthol breeze, and the 80/20 high VG formula makes for dense and flavourful clouds perfect for sub-ohm devices.
A shortfill is an e-liquid bottle larger than 10ml, in this case a 60ml bottle, containing 0mg e-liquid. The bottle is filled short to leave room for the addition of a nicotine shot/s to make the contents up to a 3mg.
In the case of Pocket Fuel, the 60ml bottle is filled with 50ml of 0mg e-liquid with 10ml space for one 18mg nic shot, to make 60ml of 3mg e-liquid.
Ohm Brew Ice Menthol
A pure menthol blast that has a super smooth inhale with an icy cold exhale, with a hint of mint candy to sweeten the deal.
This flavour is available as part of the Balance Blends range, which utilize a nic salt formula for a smooth and fast acting e-liquid.
Nic salts are the form in which nicotine naturally occurs in the tobacco leaf, and absorb super quickly into circulation to quash nicotine cravings, fast! They are characterized by their smooth feel, even at high nicotine strengths.
Ohm Brew Ice Menthol is available in a range of nicotine strength options from 3mg to 18mg and even comes in a nic free option if preferred.
Logic EPIQ Peppermint
The Logic EPIQ line is a great, wallet-friendly option for 50/50 e-liquids, perfect for starter kits and mouth-to-lung vapes.
This flavour is a nice and simple peppermint that will tickle your taste buds and give you a refreshing lift through the day. It has a nice coldness to it, but without the menthol found in many of the other mint flavours.
Ohm Brew Spearmint
The Ohm Brew Spearmint is a personal favourite of mine, it is deliciously sweet and minty fresh, and not too in your face if you don't like a mint that is too cold.
The 50/50 nic salt formula also makes it perfect for my small pod systems, I use a 12mg in this flavour and it is so smooth and I don't need to chain vape to satisfy my cravings.
You can choose between 3mg, 6mg, 12mg, or 18mg, to find what nicotine level will best suit your needs.
Menthol medleys
Razz & Jazz Mint Raspberry
Razz & Jazz is a new range from the creators of Twelve Monkeys, and features a range of various different twists on a freshly picked raspberry flavour.
Raspberry mint is a nice way to introduce a bit of mint into your routine. This mouth-watering mix of ripe and tart raspberries, sprinkled with a little hand-picked peppermint for a gently cooling and deeply delicious summertime all day vape.
You can pick the Razz & Jazz range up in 60ml high VG shortfills, with 50ml of 0mg e-liquid and room for a nic shot, if needed.
Heisenberg
Heisenberg is one of the all-time best-selling e-liquids out there. This blend is a secret recipe of divine, fresh fruit with a super cold menthol and just a hint of aniseed.
It's no wonder why so many people love this flavour, and it is the perfect way to dip your toe into the world of menthol vapes if you haven't previously used them.
This flavour is available in a hole range of formulas, so everyone can get their Heisenberg fix.
For 50/50 users, you can choose between the original Vampire Vape freebase range, where Heisenberg is available in a range of strengths from 0mg up to 18mg. Alternatively, you can choose the Vampire Vape nic salt formula where it is available in a 10mg or 20mg nicotine strength.
High VG users can choose between a small 10ml bottle of Vampire Vape 70/30 where Heisenberg is either 0mg, 3mg, or 6mg, or pick it up the KonceptXIX Heisenberg shortfill.

Six Licks Bluemonia
Six Licks are renowned for their range of e-liquids that are absolutely packed to the brim with mouth-watering flavour, and Bluemonia is no exception.
This flavour combines tart and juicy raspberries with sweet blueberries, on a bed of crushed ice. It might leave you feeling a little nostalgic for those blue slushies we all loved as kids, but don't worry, this flavour lets you enjoy all of the flavour without the bright blue tongue!
You can choose between the pocket-friendly 10ml 50/50 nic salt option which come in a choice of 10mg or 20mg, or pick it up in the high VG shortfills with the option of a 60ml bottle or 120ml bottle if you just can't get enough of this flavour!
Riot Squad Menthol Molotov
If you're looking for a menthol flavour that will really blow your socks off, look no further!
This is a tropical fruit and menthol explosion that will sabotage your senses and vandalise your taste buds. Okay, maybe that is a little dramatic, but seriously, in my opinion this is one of the coldest and most powerful fruity menthol flavours on the market.
What I really like about this flavour is that even though the menthol is so present, the tropical fruit flavours still shine through, it is a really well balanced flavour palette.
This one is for the cloud chasers, available in the distinct Riot Squad shortfill bottle with 50ml of 0mg high VG e-liquid that will produce some really thick, dense clouds in a sub-ohm tank.
100 Large Berry Cold
The Large e-liquid range is not just big in name, but also big in flavour.
Berry cold, as the name suggests, combines a mix of sweet and sharp berry notes with an icy, arctic exhale.
This is another flavour that caters to both 50/50 and high VG users. You can grab the 70VG/30PG shortfill, which comes in a box with 100ml of 0mg e-liquid in a box with two nic shots and a complimentary drip cloth.
Alternatively, mouth-to-lung vapers can also enjoy this flavour as part of the Large Salts range in a 50/50 20mg nic salt version.
Logic EPIQ Frosted Pear
If you fancy something a little different, frosted pear combines tantalizingly juicy pears with a crisp garden mint finish, with a budget-friendly price tag but a premium taste.
Pick this e-liquid up in a 10ml 50/50 format, in a range of nicotine strength, perfect for starter kits and small pod kits.
Riot Squad Black Edition Pure Frozen Acai
To finish off this list we have one of my absolutely favourite flavours, Pure Frozen Acai.
Acai is a deliciously deep and complex flavour, with a rich berry taste and subtle notes of chocolate.
It is a really unique flavour, and is perfectly paired with a whisper of koolada for an icy finish.
This is available in a high VG shortfill with 50ml of 0mg e-liquid in a 60ml bottle with room for a nic shot if desired.
Whether you are a menthol lover, or just want to try something a little different, you can shop all of the e-liquids in this post on our online vape store, or pop in to your local Evapo store.