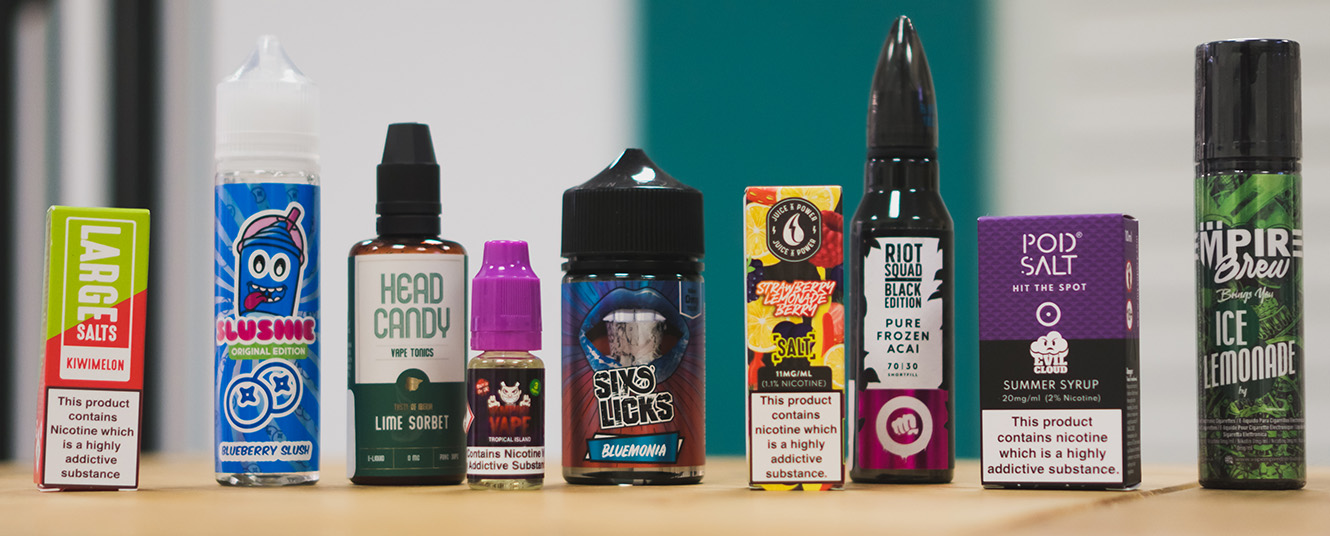 During the summer you might find that you are leaning more towards more refreshing e-liquids than the once you use during the winter months. Fruity and icy flavours are a big favourite around this time of year, as we tend to want something lighter and fresher than the sweet and comforting desert flavours that are popular when it is colder. So, we have curated a list of our top 20 favourite summer flavours this year, with a mix of old favourites and new loves, to help you find your summertime all day vape.
What is the difference between high VG and 50/50 e-liquids?
We have tried to keep a nice mix of both high VG and 50/50 e-liquids, so there are options for all different devices and vaping styles.
It is important to know what ratio e-liquid is best suited to your device, so before we get started, we want to give a little overview of the difference between high VG and 50/50 e-liquids.
High VG e-liquids work best with larger, sub-ohm tanks on intermediate or advanced devices. This is because they have a higher ratio of VG to PG, most commonly 70/30, making them a thicker consistency. Because the e-liquid is thicker, smaller coils can have trouble absorbing them as quickly as they would a thinner, 50/50 mix which can result in dry hits and coils burning out much faster than expected.
All of the high VG e-liquids mentioned in this post come in the form of shortfills. These are larger bottles of e-liquid, most commonly 60ml or 120ml bottles, which contain a 0mg e-liquid. The bottle is filled short of the top, to allow room for the addition of enough nicotine shots to bring the e-liquid to a 3mg strength. For example, a 60ml shortfill will contain 50ml of e-liquid, with 10ml of space for one nicotine shot, and a 120ml shortfill with contain 100ml of e-liquid with 20ml of space for 2 nicotine shots.
Smaller devices such as starter kits and smaller pod systems work best with a 50/50 e-liquid, as these are a thinner consistency that allows the coils to absorb the e-liquid easily. 50/50 e-liquids are also available in a much wider variety of nicotine strengths, giving new vapers the chance to choose the strength that will best suit their previous smoking habits and keep any cravings at bay.
If you are unsure what e-liquid would best suit your device, head to our YouTube channel or website for more information on your specific device, or pop in to your local Evapo store and speak to a member of our team for advice and recommendations on e-liquids to suit both you and your device.
Citrus flavours
You can't go wrong with a citrus vape during summer, whether it is lemon, lime, or something a little more exotic.
IVG Fresh Lemonade
If you are looking for something to help you get into the summer spirit, you can't go wrong with a traditional lemonade!
Sticking with the lemonades, IVG have taken a slightly different approach by keeping it simple yet classic. The combination of freshly squeezed lemons with a dash of sugar is perfectly balanced.
Fresh Lemonade is a 50/50 ratio, perfect for starter kits and smaller devices, and is available in a 10mg nic salt formula which offers a smooth inhale and rapid relief from nicotine cravings.
Juice & Power Strawberry Lemonade Berry
For a twist on the traditional lemonade flavour, try Strawberry Lemonade Berry, a thirst-quenching lemonade infused with strawberries and other freshly picked berries.
The e-liquid is available not only as a 0mg high VG shortfill, but also as a 50/50 11mg nic salt. So, if this flavour takes your fancy, there is a formula to suit any device type.
Ohm Brew Lemon & Lime Lolly
Lemon & Lime Lolly is one of the most popular flavours in the Ohm Brew Balanced Blends range. It is a masterful blend of citrus with a light and sweet vanilla finish. I love this flavour in summer for how refreshing and balanced it is, it is a definite all day vape for me!
Lemon & Lime Lolly is available in a few different formulas;
The Balanced Blends nic salt version is fantastic for starter kits and small pod kits and is available in a whole range of nicotine strengths from 0mg up to 18mg.
The Ohm Brew Balanced Blends range is my top recommendation for new vapers as the nic salts help ease nicotine cravings fast and the strength range and huge variety in flavours means there is something for everyone.
For those looking for a high nicotine strength, this flavour is also available in the Ohm Brew signature blends range, which are a range of 20mg e-liquids with a combination of freebase and salt nicotine, so you can have the best of both worlds.
You can also pick it up as a flavour concentrate so you can mix up 60ml in your preferred VG/PG ratio.
Head Candy Lime Sorbet
This e-liquid was inspired by the cool shade that can be found in the shadow of orange groves in southern Spain during summer.
This artisanal juice pairs the absolute best Mexican limes with sweet Valencia oranges, all served over crushed ice.
Head Candy Lime Sorbet is a high VG e-liquid that comes in a 60ml shortfill with room for a nic shot.
Twelve Monkeys Harambae
Harambae is a citrus lover's dream! If features grapefruit, lemon, lime, and blood orange, with refreshing undertones of guava, all working in unison for absolute citrus synergy.
Harambae is available in a 60ml high VG format, perfect for sub-ohmers and cloud chasers, or in a 10ml, 20mg nic salt formula that is ideal for small pod kits and mouth-to-lung tanks.
Big Drip Raspberry Mojito
If you are partial to something with a bit of zing, I highly recommend the Raspberry Mojito, I do love a good cocktail!
This gorgeous flavour features fresh and tart raspberries with sweet sugarcane, and drizzled with freshly squeezed citrus, talk about mouthwatering!
The Big Drip range is available in 120ml shortfills, with 100ml of 0mg e-liquid in the bottle. This leaves room for two nic shots, to make 120ml of 3mg e-liquid.
Exotic Fruits
Nothing says summer quite like a tropical blend of exotic fruits, just close your eyes and you'll think you're on a beach getaway.
Twelve Monkeys Jungle Secrets
Delve into the depths of the jungle with the exotic mix of mango and lychee.
Jungle Secrets is available in a high VG shortfill with a 65VG/35PG ratio, great for sub-ohming. It comes with 50ml of 0mg e-liquid in a 60ml bottle with room for a nicotine shot if desired.
Jack Rabbit Rio
This truly tropical blend of exotic fruits is like a summer holiday in a bottle, with juicy pineapple, papaya, mango, and a hint of coconut, all drizzled with lashings of cream. It is fruity and fresh, but also sweet, creamy, and light.
For the sub-ohmers, this is available in a 60ml shortfill with 50ml of 0mg e-liquid and room for a nic shot, and it also comes in a 10ml, 20mg nic salt option which is great for small pod systems and starter kits.
If you wanted to really maximise your flavour, you could even use the nic salt version as a nic shot alternative in the shortfill, for 60ml of 3mg e-liquid that is bursting with flavour!
Vampire Vape Tropical Island
Be whisked away on a tropical getaway, or at least, get a little pick me up on a rainy day with the Vampire Vape Tropical Island e-liquid.
This mix of exotic fruits is available in a 10ml bottle in a wide range of nicotine strengths; 0mg, 3mg, 6mg, 12mg & 18mg. The freebase nicotine formula is characterized by its satisfying throat hit, and the 40VG/60PG ratio is perfect for starter kits and pod systems.
The range of nicotine strengths in the Vampire Vape range makes it a perfect place to start for new vapers.
Double Drip Mango Tropic
If you are looking for something fruity for summer, but prefer something that is also sweet and creamy, Mango Tropic might just be for you. It pairs deliciously tropical mango, with pineapple and papaya, finished off with creamy banana and coconut. Like a refreshing fruit smoothie, it has the perfect combination of sweetness and zest.
Mango Tropic is available in a 60ml shortfill with room for a nic shot, with a 70/30 high VG ratio.
Pocket Fuel Lemon Papaya
Papaya is a large berry that is native to South America with a creamy, almost buttery, sweet taste which is similar to mango or cantaloupe melon.
Pocket Fuel have utilized this delicious fruit perfectly by cutting through some of the buttery sweetness with a generous squeeze of fresh lemon. This sunny juice is fresh and fruity, and to me it really represents summertime!
Lemon Papaya is available in a 60ml shortfill, with 50ml of 0mg e-liquid and room in the bottle for a nic shot if needed.
Large Juice Kiwimelon
Get some bang for your buck with the Large Juice Kiwimelon, which is absolutely packed with flavour! With a base of juicy watermelon, complemented by sweet dragon fruit and the distinctive taste of lychee, and rounded off with notes of sharp kiwi fruit.
Kiwimelon is available as both a high VG 60ml shortfill in the 50 Large range, or a 20mg nic salt version as part of the Large Salts range.
Koolada kick
Like an ice lolly or slush puppy while hanging out at the beach, an icy finish will keep you feeling refreshed during those hot summer days.
Ohm Brew Baltic Extreme Iced Summer Fruits
Ohm Brew have done it again with their latest release, the Baltic Extreme range offer a really cold menthol kick that will really blow your socks off!
Iced Summer Fruits is a mouth-watering mix of tropical fruit juices with a big scoop of ice to cool you down on even the hottest of summer days. Kick back with this medley of mandarin, golden apple, and melon, drizzled with citrus juice and finished off with a truly arctic kick!
You can pick up the Ohm Brew Baltic Extreme range in 60ml 0mg shortfills, with room for a nic shot if needed.
Riot Squad Black Edition Pure Frozen Acai
The acai berry is hailed as a superfood for its natural antioxidants, but it also has a very distinct and delicious flavour that is not only fruity but also has notes of chocolate, making it both sweet and tart.
If you are looking for something a little different this summer, Pure Frozen Acai is a refreshing mix of mouthwatering acai berries with an icy koolada finish and is a personal favourite of mine!
It comes in a 60ml shortfill with room for a nic shot, with a 70/30 high VG ration perfect for intermediate and advanced devices.
Pod Salt Summer Syrup
This collaboration between Pod Salt and Evil Cloud encapsulates the flavour of summer, I mean, it's literally in the name!
Summer Syrup is a mouth-watering mix of fizzy grape soda and limeade rounded off with fresh pineapple juice and a squeeze of lemon, and a subtle icy finish.
This zesty juice will have you dreaming of cocktails on the beach. It is available in 10ml of 20mg nic salt, perfect for small pod systems and starter kits.
Rachael Rabbit Pomegranate, Kiwi & Watermelon
Another delicious range that offers both high VG and 50/50 options is Rachael Rabbit. They have curated a range of fantastic fruity flavours that really could all be a part of this list, but today we have chosen this mix of pomegranate, kiwi, and watermelon, with a subtle icy finish.
In my opinion pomegranate is not something we see enough of in e-liquids, and the kiwi and watermelon in this juice complement the sweetness of the pomegranate impeccably.
You can pick it up as either a high VG shortfill or a 20mg 50/50 nic salt, whichever suits your preferences and device.
Six Licks Bluemonia
This is a definite favourite among the vaping community, and it is not hard to see why! Bluemonia is a classic pairing of sweet yet tart blueberries and raspberries, with a delightfully crisp, menthol finish. It is incredibly refreshing, perfect for any day of the year, but even more so during the hot summer months.
This flavour is available in a 50/50 nic salt formula which offers a super smooth inhale in both the 10mg or 20mg nicotine strength options, or, if you have a sub-ohm tank it is also available in a high VG formula, with the choice of either a 60ml or 120ml shortfill with room for nic shots.
Slushie Blueberry Slush
Nothing says nostalgia like a classic blueberry slush! With a refreshing cool hit on the inhale and a sweet blast of blueberry on the exhale, this flavour is sure to keep your taste buds tingling all day long!
You can pick this e-liquid up in both a high VG shortfill or a 10mg 50/50 nic salt formula.
Ohm Brew Baltic Blends Iced Mango
Iced Mango combines the deliciously exotic and sweet taste of mango, with a super cool Baltic breeze that will send a shiver down your spine!
This is a truly cold vape that will cool you down, even on the hottest of day! It is available in a 60ml shortfill, with room for an optional nic shot.
Aisu Pink Guava
This is one of my personal all time favourites, the whole Aisu range is a beautifully curated group of flavours, but the pink guava really takes it for me!
Guava has a really unique flavour, that has been perfectly captured in this e-liquid, and the pink guava provides a delightfully sweet taste on the inhale, with a real icy kick on the exhale.
You can pick up the Aisu range in 60ml high VG shortfills with room for a nic shot.
Ohm Brew Blue Slush
One of our all time best selling e-liquids to finish this list off is the Ohm Brew Blue Slush. This features deliciously zingy raspberries and juicy blueberries smashed together and drizzled over lashings of ice. Just like the slushies we all loved as a child!
This classic flavour is available in both a high VG shortfill and a 50/50 nic salt option, as well as a 20mg freebase/nic salt mix in the Signature blends, as we know Ohm Brew are really great for catering to all types of vapers.
If you are a fan of a really cold vape blue slush is also available in the Baltic Blends range as Iced Blue Slush, for an even cooler koolada kick!
If you fancy any of the flavours mentioned in this post, head to our website or pop in to your local Evapo store to pick up your new all day vape for summer!