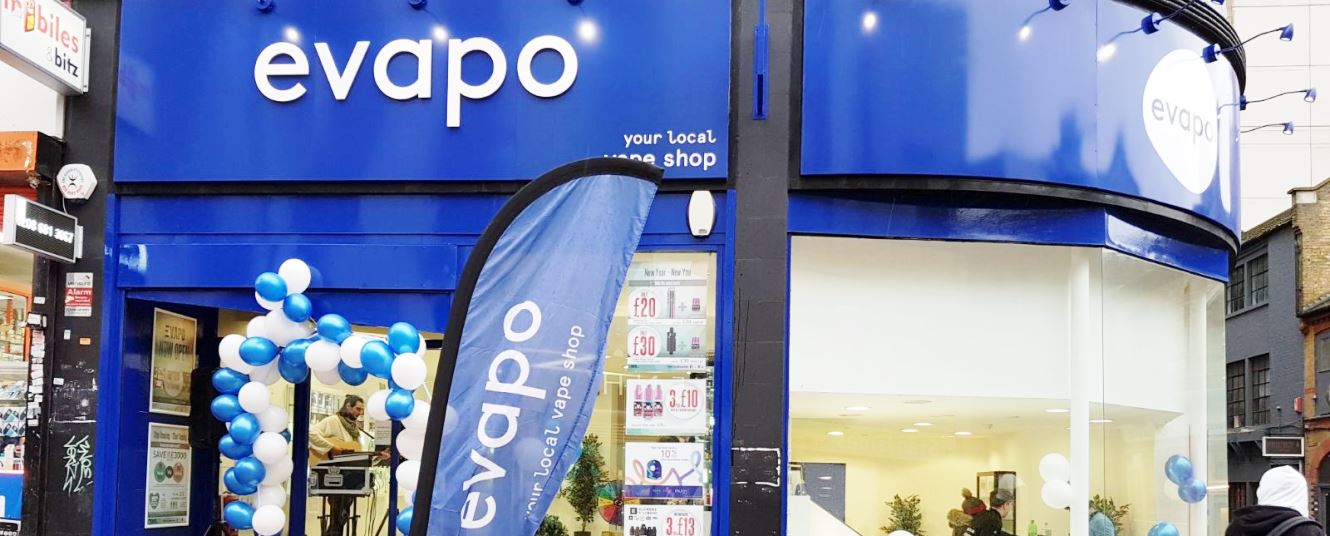 In line with government guidance most of our UK retail shops have reopened as lockdown measures are gradually relaxed. 35 Evapo stores have reopened. Our store in Chelmsford remains temporarily closed.
For the time being we will only be able to allow two customers into the store at the same time and ask that you help us by respecting this policy whilst following social distancing guidelines and staying two metres (6ft) away from other people at all times. We have temporarily suspended the use of our in-store flavour bar and tester devices and apologise for the inconvenience this may cause.
Revised opening hours
Most stores are operating with revised opening hours. To check the opening hours of your local store please visit our vape shops page or search for the store in Google.
Shopping safely during coronavirus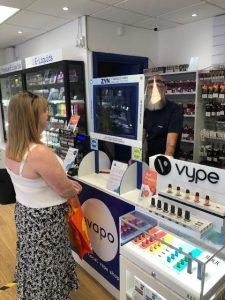 As our stores reopen we will be strictly adhering to government guidelines to ensure both our staff and are customers are safe during their time in store. We have completed a COVID-19 risk assessment to outline how we will be doing this, and what precautions will be taken in store to ensure a controlled and safe return for colleagues and patrons.
Hand washing
All of our store locations will be ensuring that colleagues strictly follow the handwashing guidelines that have been set out, including washing hands thoroughly for 20 seconds, using disposable hand towels to ensure hands are dried effectively and avoiding touching their faces unnecessarily.
We will also be providing tissues in store, so both colleagues and customers can protect those around them should they need to cough and sneeze, using the Catch it, Bin it, Kill it initiative.
Cleaning
All stores will be keeping a regular schedule of frequently cleaning and disinfecting the shop, paying particular attention to areas of frequent use, such as door handles and light switches.
Social distancing
As with all public areas, we will be strictly adhering to social distancing guidelines and helping ensure there is a 2 metre space between individuals, both on the shop floor and in the back of house areas. Our stores will all have posters with advice for social distancing, and we will be marking the shop floor to show customers where to stand to maintain this distance when queuing. Maintaining a one in, one out policy with only two customers in store at a time will also help both customers and staff maintain a safe distance.
Rota management
In accordance with the government advice, all members of staff who can do so will continue to work from home, and we will be constantly reviewing rotas and shift changes to ensure both safe running of the store and a smooth transition. Where possible, some members of our team have been assigned other tasks to assist with the smooth running of the business when they are not in store.
PPE
All of our staff members will have access to PPE such as face masks, visors and gloves, but would like to stress that PPE and glove wearing should not be seen as a substitute for social distancing and good hand washing practices. Store tills have also been fitted with sneeze guards to protect our team when serving.
Payment methods
While we will still be accepting cash, we would like to request that where possible, customers pay for their purchase by card and preferably via contactless payment. The limit for contactless payments has been increased during this time from £30 to £45 and our stores also accept both apple and android pay.
COVID-19 symptoms
We are asking all members of our team to be constantly monitoring themselves for signs of symptoms, making clear the things to look out for and ensuring that should anyone feel unwell we always have members of the team available so members can take the time to recover.
We are also asking that our colleagues monitor their mental health, as well as other members of the team, and will be operating and 'open door' policy should anyone feel they need extra support during these difficult times.
Staying COVID-19 secure in 2020
We confirm we have complied with the government's guidance on managing the risk of COVID-19 and followed their five steps to safer working together.
We have carried out a COVID-19 risk assessment and shared the results with the people who work in each shop
We have cleaning, handwashing and hygiene procedures in line with guidance
We have taken all reasonable steps to help people work from home
We have taken all reasonable steps to maintain a 2m distance in the workplace
Where people cannot be 2m apart, we have done everything practical to manage transmission risk
We look forward to opening our doors once again to our customers, as well as welcoming some new customers who may be considering making the switch to a less harmful alternative to smoking. We have taken all the steps we can to ensure a safe and controlled reopening, and ask that our customers support us and respect the guidelines set in place when shopping in store. Find your nearest Evapo store here.
Sources
https://www.gov.uk/guidance/working-safely-during-coronavirus-covid-19/shops-and-branches