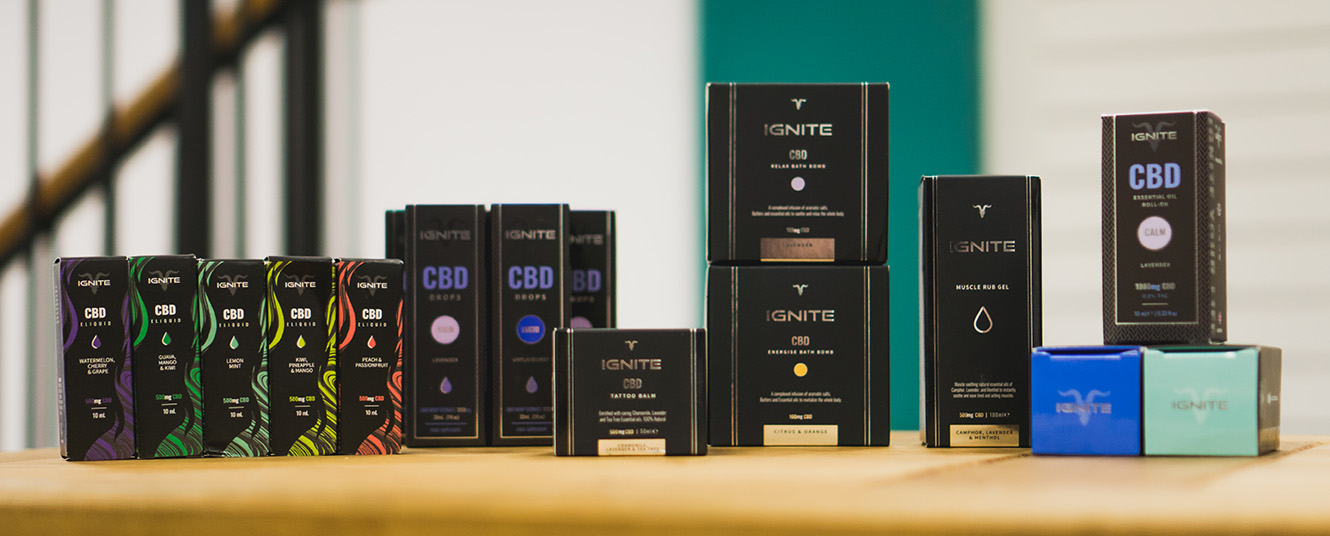 CBD is quickly becoming a staple supplement for many people, so having a wide range of options available helps you find the CBD solution that best suits your needs and fits in to your lifestyle. Ignite CBD understand that not one solution fits all needs, so they have expanded their range to include even more options for flavours, strengths and product types.
Ignite CBD e-liquids
CBD e-liquids are one of the most efficient ways to take your CBD supplement. As the vapour can fill a large surface area, the CBD is more easily absorbed into the circulatory system.
The Ignite CBD range now includes six different flavours, all available in 10ml bottles at a 500mg CBD strength.
These e-liquids are ready to use and do not need to be mixed with any other e-liquids. However, should you wish to dilute them with another e-liquid it is important to note that they should not be mixed with a nicotine containing product, as the nicotine can counteract the CBD.CBD e-liquids are best used in a mouth to lung tank, and run between 10-20 watts so as not to burn the active ingredients.
The delicious range of flavours has a bit of something for everyone;
Guava, Mango & Kiwi
Watermelon, Cherry & Grape
Lemon & Mint
Kiwi, Pineapple & Mango
Pomegranate Citrus
Peach & Passionfruit
Tongue drops
If you would prefer not to use an e-cgiarette for your daily CBD dose, another effective way to take CBD is through tongue drops. These drops can be held under the tongue, we recommend for around 60 seconds, and the CBD is absorbed through the sublingual glands and into the circulatory system.
The Ignite CBD tongue drops are available in 30ml bottles with a choice between 500mg or 1200mg CBD strength. There is an unflavoured option which has the natural, herbal taste, similar to green tea.
If you would prefer flavoured drops, Ignite have a range of five different flavours; Blood Orange, Lemon & Mint, Tropical Fruit, Lavender, or Cucumber Lemon Mint.
Topical CBD solutions
As well as their e-liquids and tongue drops, Ignite also have a range of CBD enriched topical treatments, so you can reap the benefits of CBD both inside and out.
Essential oil roll-ons
For a little pick me up or a moment of relaxation, the essential oil roll-ons are infused with 1000mg of CBD and are perfect for rolling on your pressure points throughout the day.
The soft and soothing scent of aromatherapy oils combines with the gentle massaging rollerball to moisturise skin and relieve discomfort.
These roll-ons are available in three different scent profiles; Subtle citrus, Lavender and Rosemary lemon.
Bath bombs
Take your bath time to the next level with the Ignite bath bombs!
They combine the benefits of CBD with essential oils like evening primrose and rosehip, balmy butters like shea and cocoa, and aromatic salts.
Choose from the energise bath bomb for an uplifting way to start your day, or the relax bath bomb to help you unwind after a long day.
Creams and balms
For more targeted topical treatments, Ignite have released their joint cream, tattoo balm and muscle gel rub.
The joint cream can be applied directly to problematic areas to help nourish the skin and penetrate the epidermis to soothe joints.
It is important to keep new tattoos moisturised, so the Ignite tattoo balm helps hydrate the skin while promoting healing to help your art, both old and new, stay vibrant.
The muscle rub gel is perfect for a post workout wind down, keeping the skin hydrated while also easing tired muscles.
You can shop the full Ignite CBD range on our online store. Head over to our blog to learn more about CBD and which products would be best suited to you.